Welcome to Emory Law
Congratulations on your acceptance to Emory Law. Our job is to feed your intellect and challenge you to think. We are pleased you have decided to undertake this journey at Emory, a welcoming community that offers an engaging, supportive environment.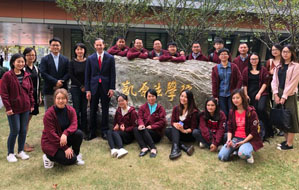 Key Dates
MCL Orientation: January 4, 2019 | Registration »
Classes Begin: January 7, 2019
New Student Checklist
As you prepare to join us at Emory Law, please make sure to complete the following:
Orientation: Register for Orientation that will be held on January 4, 2019.
Set Up Your Network ID and Password: Your NetID allows you to access OPUS - our student web portal. 
Create an Emory Email Account: Your Emory Email address will be available later this semester. You will access your account using the same NetID and password that you use for OPUS access. Your email address is your NETID@emory.edu
Upload Your Photo for Your EmoryCard (Student ID): The EmoryCard is the official ID card of Emory It permits access to facilities and events and can be used to purchase goods and services at the university and at a wide range of merchants throughout the community. The image you upload must be on a white or solid neutral background. More information regarding your EmoryCard can be found here » Photos must be uploaded and approved by January 1st. Cards will be available for pickup during Orientation.
Health Forms and Insurance Requirements: Complete all required student health information and health forms online, including required immunizations. Click here »
Review our Laptop and Computer Recommendations: Emory Law students are required to own a computer. We recommend that you invest in a new notebook computer from a reputable manufacturer with a three-year warranty. Try to purchase a notebook computer that balances light weight and long battery life. Most exams are taken on computer and most faculty members permit students to take notes on computer in class. The law school supports both Mac and Windows systems. The University provides anti-virus software and Microsoft Office365 to students. For more info »
Sexual Assault Prevention Training: Complete the Sexual Assault Prevention for Graduate Students. All incoming Emory University students are required to complete the Sexual Assault Prevention for Graduate Students. Part 1 takes approximately 45 minutes to complete.
Part 1 of the module must be taken before February 1 and part 2 must be taken before March 29. To sign in, go to: https://shib.everfi.net/login/default.aspx?id=emorysapg. Select "School of Law (All Programs)" under Group/Class. For more information, click here »
OPUS: Log In to OPUS (Online Pathway to University Students), your portal to student accounts, the registrar, and many other services at Explore OPUS and get familiar with the resources you will use as an Emory Law student.
Course Registration: Read MCL Course Listings. Students must review the course electives (including course descriptions) and determine which elective they would most prefer, as well as alternative courses in the event their first choice elective course is full. After reviewing the available electives, students must make an appointment for academic advising with Assistant Dean Jessica Dworkin. Students must complete their appointments between December 3 and December 20, 2018. Students may self-schedule an appointment here: https://calendly.com/jrdworkin/mcl-academic-advising.
Duo Authentication: Many services at Emory require Duo authentication before you can log in from off-campus. Duo provides extra security by checking an app on your phone before allowing you to login to important Emory services, such as Email and Opus. Learn more about Duo here and install the software on your phone.
Student Accommodations: Emory University School of Law provides all persons an equal opportunity to participate in and benefit from programs and services afforded to Sei Yoshioka-Cefalo is a Licensed Professional Counselor at the School of Law and is the primary liaison to Emory University Access, Disability Services, and Resources (ADSR). He can assist qualified students with obtaining a variety of services and ensures that all matters of equal access, reasonable accommodation, and compliance are properly addressed. Please contact Sei directly by sending an e-mail to: sei.yoshioka@emory.edu. When you contact Sei, please provide your full name, Emory ID number, and the program you will be enrolled.
Housing
Emory University does not provide on-campus graduate housing. Emory's Off-Campus Housing website can assist you in finding housing in the area. 
You may also want to network with peers via the Class of 2021 or Class of 2020 Facebook pages for roommate opportunities.
Nearby Apartment Complexes
Students with disabilities can contact Emory's Office of Disability Services for specific information on obtaining an Individualized Accommodation Plan.