Welcome to Emory Law
Congratulations on your acceptance to Emory Law. Our job is to feed your intellect, challenge you to think, and relate to you the excitement of the law. We are pleased you have decided to undertake this journey at Emory and promise you will not do so alone.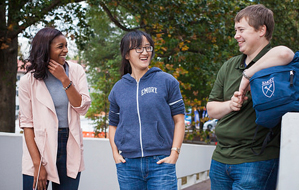 Key Dates
Classes Begin:  TBD Fall 2018
Dates are estimates.
Fall 2018 
 
Residency
Aug 23 - 26, 2018
Lawyers as Leaders
Aug 28 - Oct 15, 2018
Fall break
Oct 16 - 22, 2018
Law and the Legal Profession
Oct 23 - Dec 10, 2018
Winter break
Dec 11, 2018 - Jan 14, 2019
 
 
Spring 2019
 
Elective course
Jan 15 – Mar 4, 2019
Spring break
Mar 5 – 13, 2019
Elective course
Mar 14 – May 6, 2019
Spring break
May 7 – 13, 2019
 
 
Summer 2019
 
Administrative Law
Alternative Dispute Resolution
May 14 - Jul 1, 2019
Summer Break
Jul 2 - Aug 14, 2019
 
 
Fall 2019
 
Residency
Aug 15 - 18, 2019
Elective course
Aug 20 - Oct 7, 2019
Spring break
Oct 8 - 14, 2019
Elective course
Oct 15 - Dec 2, 2019
 
 
Spring 2020
 

Capstone residency

Mar 5 – 8, 2020

Commencement
May 11, 2020