An engaged and growing global alumni community
With more than 12,000 alumni, Emory Law graduates can be found throughout the United States and around the world. Our alumni are accomplished individuals practicing law, leading businesses, teaching, governing, advocating, developing legal theory and policies, raising families, and engaging with their communities.
The strength of this global network continues to grow through the participation and support of these alumni, who contribute their expertise and resources and who benefit from the resources and expertise that Emory has to offer. We invite you to get involved!
A Message from Interim Dean James B. Hughes Jr.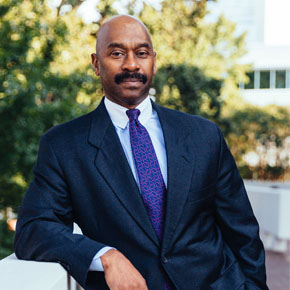 I am pleased to welcome all members of our ever-growing and diverse alumni community to the Emory Law alumni website. We have much to offer our graduates in the way of alumni benefits and services, events, programs, and volunteer opportunities at Emory and around the world.
Emory Law is your law school, and it draws strength from your engagement with alumni, students, and faculty. Our core values invite us to sustain a dynamic and inclusive community of integrity that fosters respect, collegiality, and collaboration; that builds on diverse traditions, heritages, and perspectives; that maximizes the potential of all its members; and that approaches challenges with creativity and innovation. It is through your active participation in this community that Emory Law will continue to benefit from your wisdom and expertise.
I encourage you to share your remarkable accomplishments with us – we are eager to hear of them. I also look forward to greeting you at reunions and other alumni events. Please consider how you may engage even more fully with the law school – by staying in touch with fellow Emory Law alumni, talking with prospective or current students, hiring students, and attending events or serving on panels. We are eager to foster and preserve the strong bond you share with Emory Law and your classmates now and throughout your career.