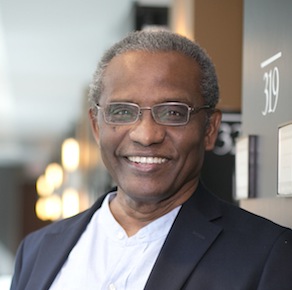 Abdullahi Ahmed An-Na'im
Charles Howard Candler Professor of Law
Areas of Expertise
Human Rights, Islamic Law, Comparative Law, Comparative Constitutional Law, International Law, International Human Rights Law, Law and Religion
Assistant: Eadie Bridges
Abdullahi Ahmed An-Na'im (from Sudan) is the Charles Howard Candler Professor of Law at Emory Law, associated professor in the Emory College of Arts and Sciences, and Senior Fellow of the Center for the Study of Law and Religion of Emory University. An internationally recognized scholar of Islam and human rights and human rights in cross-cultural perspectives, Professor An-Na'im teaches courses in international law, comparative law, human rights, and Islamic law. His research interests include constitutionalism in Islamic and African countries, secularism, and Islam and politics. Professor An-Na'im directed the following research projects which focus on advocacy strategies for reform through internal cultural transformation:
Women and Land in Africa
Islamic Family Law
Fellowship Program in Islam and Human Rights
The Future of Sharia: Islam and the Secular State
The websites for these projects can be accessed through Professor An-Na'im's personal homepage at law.emory.edu/aannaim »
Professor An-Na'im's current research projects include a study of Muslims and the secular state, and of human rightsfrom state-centric to people-centered. He continues to further develop his theory of Islam and the Secular State (Harvard University Press, 2008), also published in Arabic and Indonesian. Translations of this manuscript in Bengali, Persian, Urdu, Bengali, Turkish and Russian, are available for download free of charge at sharia.law.emory.edu »
Education: PhD (Law), University of Edinburgh (Scotland), 1976; LLB (Honours) and Diploma in Criminology, University of Cambridge (England), 1973; LLB (Honours), University of Khartoum (Sudan), 1970
Books
What Is an American Muslim? (Oxford University Press, 2014).
Muslims and Global Justice (University of Pennsylvania Press, 2011).
Islam and the Secular State: Negotiating the Future of Shari'a. (Harvard University Press, 2010).
Journal Articles
"Complementary, Not Competing, Claims of Law and Religion: An Islamic Perspective," 39 Pepperdine Law Review 1231 (2013).
"Globalization and Jurisprudence: An Isalmic Law Perspective," 54 Emory Law Journal 25 (2005).  
"Human Rights in the Arab World: A Regional Perspective," 23 Human Rights Quarterly 701 (2001).   
Book Chapters
"The Interdisciplinarity of Human Rights," in The Cambridge Companion to Human Rights Law, edited by Conor Gearty and Costas Douzinas (Cambridge, UK: Cambridge University Press, 2012), 97.
"Islam and Human Rights: Beyond the Universality Debate," 94 American Society of International Law Proceedings 95 (2000).
The Contingent Role of Islam in Political Legitimacy,
Monday May 20, 2013.  At 6th (Annual) Reset Dialogues Istanbul Seminars, May 16-22, 2013.  The Sources of Political Legitimacy: From the Erosion of the Nation-State to the Rise of Political Islam.
Listen to audio »