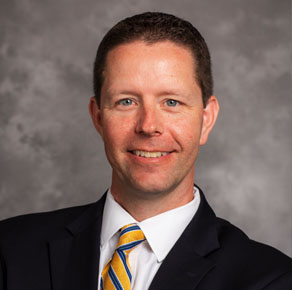 Timothy R. Holbrook
Professor of Law
Areas of Expertise
Intellectual Property, International Patent Law, Patent Litigation, Patent Law, Property Law, Trademark Law and Policy
Professor Timothy R. Holbrook is one of the nation's leading patent law scholars. He has authored over thirty publications and has given over one hundred presentations around the world on patent law. His recent work has explored the impact of 3D printing on patent law, the extraterritorial reach of US patent law, and the function of patent disclosures. He frequently comments on issues of patent law, appearing in various media, including CNN, the Wall Street Journal, Forbes, and Fortune. Professor Holbrook's work has been cited in briefs before the US Supreme Court, the US Court of Appeals for the Federal Circuit (the court that hears all appeals in the US arising under the patent laws), and various district courts. The Federal Circuit and district courts have cited his work favorably. He is an elected member of the American Law Institute (ALI).
Professor Holbrook has also been an advocate for the rights of the lesbian, gay, bisexual, and transgender (LGBT) community. His commentary has appeared in various outlets, including CNN, the Atlanta-Journal Constitution, and Huffington Post.
Professor Holbrook graduated summa cum laude and as valedictorian from North Carolina State University, earning a BS in chemical engineering with a life sciences concentration. He received his JD from Yale Law School, where he served as a lead editor and publications director of the Yale Journal on Regulation. After law school, he clerked for the Honorable Glenn L. Archer Jr. of the US Court of Appeals for the Federal Circuit. Following his clerkship, Professor Holbrook worked in Budapest, Hungary, with the Hungarian patent law firm Danubia. Upon his return to the United States, he associated with the Washington, DC, law firm of Wiley, Rein & Fielding (now Wiley Rein), where his practice focused on patent and appellate litigation.
Professor Holbrook's work appears in a variety of journals, including the Emory Law Journal (twice), Minnesota Law Review, Indiana Law Journal, Harvard Journal of Law and Technology, William and Mary Law Review, Washington University Law Review, UC Davis Law Review (twice), SMU Law Review, and Science magazine (twice). He is the co-author of Patent Litigation and Strategy (4th ed.) with Judge Kimberly A. Moore of the US Court of Appeals for the Federal Circuit and John Murphy of BakerHostetler.
Before joining the Emory faculty, Professor Holbrook was a tenured professor at the Chicago-Kent College of Law. He served as the Edwin A. Heafey Jr. Visiting Professor of Law at Stanford Law School and also has taught as a visiting professor at the University of Denver Sturm College of Law and Washington University School of Law in St. Louis. He was a scholar-in-residence at the Center for Media and Communication Studies at the Central European University (CEU) (Budapest, Hungary) and served as a visiting professor in CEU's Legal Studies Department.
While in Chicago, Professor Holbrook was a founder and the program chair for the Richard Linn Inn of Court. Upon arriving in Atlanta, he helped found the Atlanta Intellectual Property Inn of Court, serving as its first president. He also has served as an expert or consultant in a variety of patent litigation cases in the United States and abroad.
Professor Holbrook has worked to advance the rights of the LGBT community. He presently serves on the board of the Stonewall Bar Association of Georgia and previously served in advisory positions to groups advocating for the rights of persons with HIV/AIDS and members of the LGBT community in Washington, DC, and Chicago. He was co-counsel for former National Football League players on briefs before the US Supreme Court advocating for marriage equality.  In recognition of his work on diversity and inclusion, he has been awarded the Chesnut LGBT Person of the Year Award at Emory University, the Outstanding Service to the Community Award by the Stonewall Bar Association, the Friends in the Faculty Award from the Division of Campus Life at Emory, and the Professor of the Year by Emory's Black Law Students Association.  
Education: JD, Yale Law School; BS, Chemical Engineering, North Carolina State University (summa cum laude)
Books
Patent Litigation and Strategy (4th ed., West 2014) (with Kimberly A. Moore and John F. Murphy).
Book Chapters
"The Risks of Early Commercialization of an Invention: the On-Sale Bar to Patentability," in Intellectual Property and Information Wealth (Yu, P., ed., 2007).
Journal Articles
"Patent Anticipation and Obviousness as Possession," 65 Emory Law Journal __(forthcoming 2016).
"Digital Patent Infringement in an Era of 3D Printing," 48 University of California Davis Law Review 1319 (2015) (with Lucas Osborn). 
"Patent Law's Audience," 97 Minnesota Law Review 72 (2012) (with Mark D. Janis). 
"Territoriality and Tangibility after Transocean," 61 Emory Law Journal 1087 (2012). 
"Patents, Presumptions, and Public Notice," 86 Indiana Law Review 779 (2011).
"Equivalency and Patent Law's Possession Paradox,"  23 Harvard Journal of Law and Technology 1 (2009).   
"Extraterritoriality in U.S. Patent Law," 49 William & Mary Law Review 2119 (2008).
Invited Works, Symposia, And Other Contributions
"Expressive Eligibility," __ University of California Irvine Law Review __ (forthcoming 2015) (with Mark D. Janis).
"Patent-Eligible Processes: An Audience Perspective," 17 Vanderline Journal of Entertainment & Technology Law 349 (2015) (with Mark. D. Janis)
"Is the Supreme Court Poised to Assess the Extraterritorial Scope of US Patent Law?," 36 European Intellectual Property Review 212 (2014).
"The Written Description Gap," 45 Loyola University Chicgao Law Journal 345 (2013) (symposium).
"Explaining the Supreme Court's Interest in Intellectual Property," 3 IP Theory 32 (2013) (symposium).