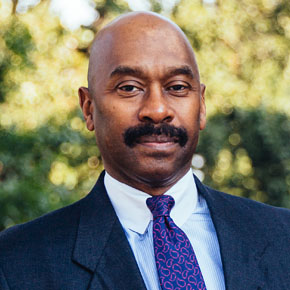 James B. Hughes, Jr.
Interim Dean and Associate Professor of Law
Areas of Expertise
Professional Responsibility, Property Law, Real Estate Sales and Finance
Assistant: Beth Damon
James B. Hughes Jr. received his undergraduate degree from the University of Connecticut, where he graduated with honors, and earned his law degree from Yale University.
Before joining the Emory faculty in 1992, he was a partner in the Atlanta firm of Trotter, Smith & Jacobs, where he practiced in commercial real estate finance and development and related areas of law. At Emory, he teaches courses in property, real estate sales and finance; and professional responsibility. Professor Hughes has been selected as the Most Outstanding Professor by the Emory Student Bar Association (2002) and Professor of the Year by the Black Law Student Association (2005).
Professor Hughes has served on the State Bar of Georgia's Formal Advisory Opinion Board (1999-2014) and serves on the Atlanta and Fulton County Recreation Authority (member, 2007-present; chairman of the board, 2011-2014).
Education: JD, Yale University, 1979; BS, University of Connecticut, 1976