Experiential and practical learning programs take students out of the classroom and place them into a world of opportunity.
Real-world work experience
---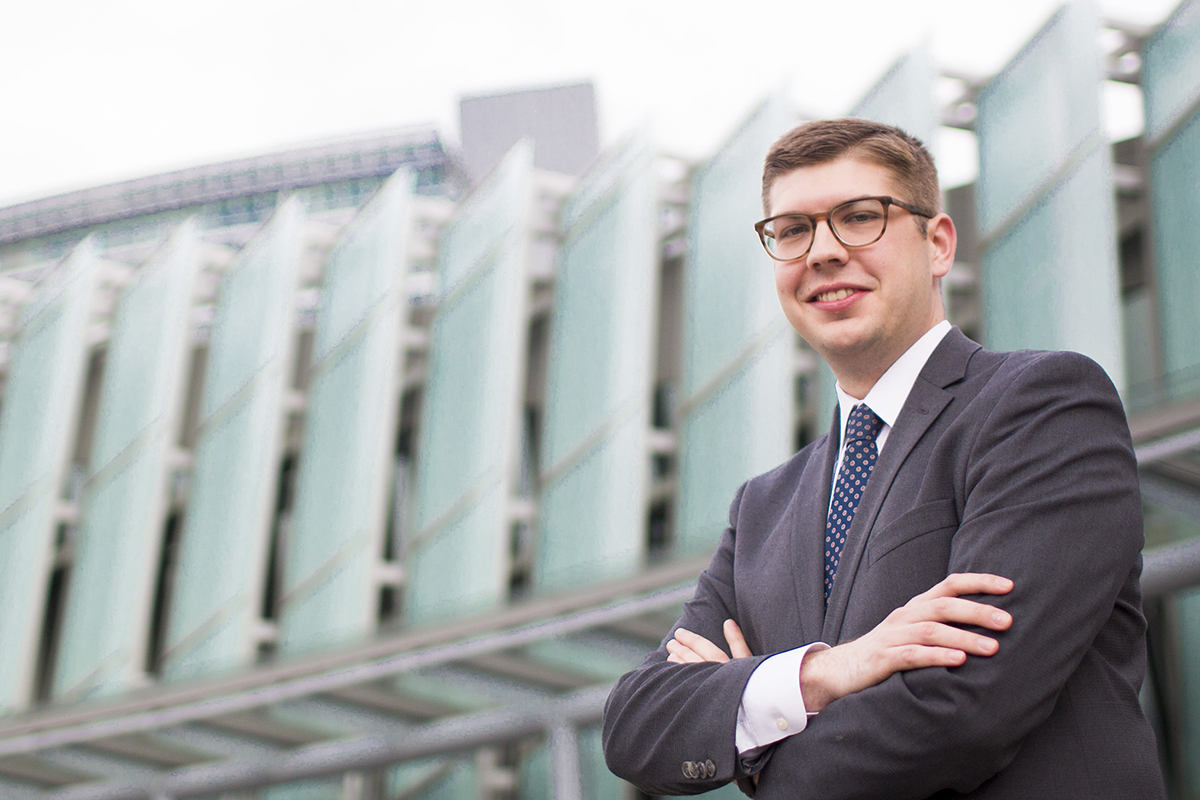 For new lawyers entering the profession, experience is both a differentiator and confidence-builder.
"When you're sitting in an interview and somebody asks you something specific, and you can respond and say I've actually done that, I think it's extremely important," says Cody Keetch 19L. Emory Law's varied experiential opportunities were part of the reason he chose to attend, and he's completed four externships in three years. In fall 2018, he was an extern at Arshack Hajek & Lehrman in New York City, where Lynn Hajek 85L is a partner. He expects to join Garfunkel Wild as a health care associate in their New York offices this fall.
Keetch worked with Director of Externships and Professor of Practice Sarah Shalf to structure the 2018 externship, where he was typically in the office three to four days a week.
"It was absolutely incredible. Being there almost full time allowed me to have my own caseload—under supervision, of course—but I was treated like an associate," Keetch said. "I got to go to court with them and see everything—see a case develop from start to finish. I got to sit in on strategy meetings and have my voice heard, meet judges, and see how the entire New York court system operates." Another benefit was networking in the city on his days off.
"I had multiple interviews during the fall, and in each of those I was able to basically say . . . I've had five intern/externship experiences. So if you count all of that time together, I have had almost a year of full-time experience just in law school," he said.
Keetch also was an extern at the Centers for Disease Control and Prevention in spring 2018, where he saw three major federal organizations collaborate—the CDC, the Department of Justice, and Health and Human Services.
CDC litigation is handled by the DOJ, Keetch said, and he spent four weeks in the CDC medical malpractice rotation. He drafted motions and observed depositions, and also "got exposed to how the CDC operates with HHS, and HHS operates with the DOJ, and how that entire system supports local health institutions receiving federal funds," he said.
About 170 to 185 Emory Law students participate in externships each semester. Most apply directly to preapproved externship positions, Shalf said, just as they would for a job.
"A few students bring opportunities to us and we have a process for evaluation and approval of a placement if that happens," she said. That was the case with Keetch's NYC internship. It evolved from his own initiative— he researched Emory Law graduates who specialized in medical malpractice, approached Hajek, and they met for coffee.
"At that point, I wasn't looking for a job or an externship, it was just a casual 'How did you get here?' Then in May I was thinking about doing this . . . I emailed Lynn after I got permission from Professor Shalf, and Lynn agreed to let me be an extern for her."
Emory Law also offers a small-firm externship program that exposes students to the business of running a small practice. Students apply and rank preapproved firms they're interested in, and the firms, in turn, rank students.
"Then I match them based on their respective rankings of each other," Shalf said. "If I run out of positions with firms we've worked with before, I reach out to other firms I know of or who have been recommended to me, who work in the practice areas the student is interested in. Those attorneys provide the content for the course—they come to the class and do Q-and-A with the students on topics related to small-firm practice."
Since moving from Bondurant, Mixson & Elmore to Emory in 2011, Shalf has expanded Emory's web of opportunities in the Atlanta area and beyond. One of her favorites is at The Coca-Cola Company, which offers legal externships only to Emory Law students.
"They take 9 to 10 students every semester, in everything from commercial litigation to global marketing. They have a weekly meeting for externs where they hear from leaders throughout the company about their perspective on the business and the work that the lawyers at the company do," Shalf said. She also mentioned Atlanta Legal Aid, which placed about 10 Emory Law students this past semester in offices throughout metro Atlanta.
Another unique opportunity is with US District Court Judge Amy Totenberg, who onboards two students each semester for a six-credit externship that involves about 20 hours per week.
"It's a clerkship-like experience," Shalf said. "They get to see trials and hearings, including in high-profile litigation, help the court with opinions, and learn about docket management."
There are numerous opportunities for experiential and practical learning at Emory Law. Traditionally, these include Moot Court. They also include the Kessler-Eidson Program for Trial Techniques to teach advocacy skills; The Technological Innovation: Generating Economic Results (TI:GER®) Program, which unites law, business, engineering, and science PhD students from Emory and Georgia Tech in learning how to take innovative ideas from the lab to the marketplace; and the Transactional Law Certificate Program, which teaches contract drafting and critical deal skills.
The Barton Child Law and Policy Center, founded in 2000, is another well-regarded pillar of the law school's experiential side. "I think what sets Emory Law apart is having a clear path to specialization in this area of practice around children, in both child advocacy and juvenile law," said Melissa Carter, the clinic's executive director.
"We're a multidisciplinary child law program pursuing multiple aims simultaneously," Carter said. "Altogether it's about promoting and protecting the legal rights and interests of children who are involved in the juvenile court, child welfare, and the juvenile justice systems. We offer a range of opportunities to really experience what it means to be a child advocacy professional and to have impact — from the classroom, to the courtroom, to the capitol." Students get a holistic experience because of Emory Law's international reputation for academic analysis of family law.
"We have some of the top scholars in child law and children's rights," she said. "That doctrinal work and those studies complement what we do here on the experiential learning side. Students can gain both knowledge and practice solving real-world problems on behalf of real clients—and do so in a way that feels fulfilling and that deepens their knowledge and expands their skills."
"The [Barton} Juvenile Defender Clinic gave me practical experience that other courses often cannot provide, such as writing briefs, examining witnesses, interviewing clients, preparing for hearings, and even tracking hours—which is often required as a practicing attorney," said Alixandria Davis 18L, now an associate at Baker Hostetler in Atlanta. "The clinic also allows you to work with real clients, which provides a sense of fulfillment because you can see how your legal knowledge directly helps a child in need."
"Day-to-day, students in our clinics are doing the important work of general child law practice and appellate advocacy on behalf of our clients," Carter said. "Our child-clients experience great value from having an advocate in the courtroom, telling their version of the story and standing up for them. There is a tremendous amount of benefit from the experience of procedural justice that comes from being well-represented."
Lukas Alfen 19L attended Emory Law after working for Teach for America in Memphis.
"Being the first person in my family to enroll in law school, incorporating a clinic into my Emory experience was important for learning the range of career opportunities provided by a legal education," he said. "I knew I wanted to use my law degree to pursue a career advocating for underserved youth. The Barton Center gave me the opportunity through meetings with elected leaders, policy initiatives, as well as exposure to every step of the legislative process."
That kind of experience obviously benefits students post-graduation, but they can also be proud of the clinic's overarching mission.
"The work of the Barton Center, whether it be in our direct representation clinics or our system improvement efforts, is really about making sure that the institutions and agencies that are there to serve and protect vulnerable children do so with integrity," Carter said.
Emory Law's experiential learning opportunities provide work experience in different types of practice so students can determine which suits them best and develop relationships—and confidence in their abilities—that will continue as they begin their legal careers.
Email the Editor
Share This Story