Alumni and advisory boards encourage, guide, and inspire
In the lead
---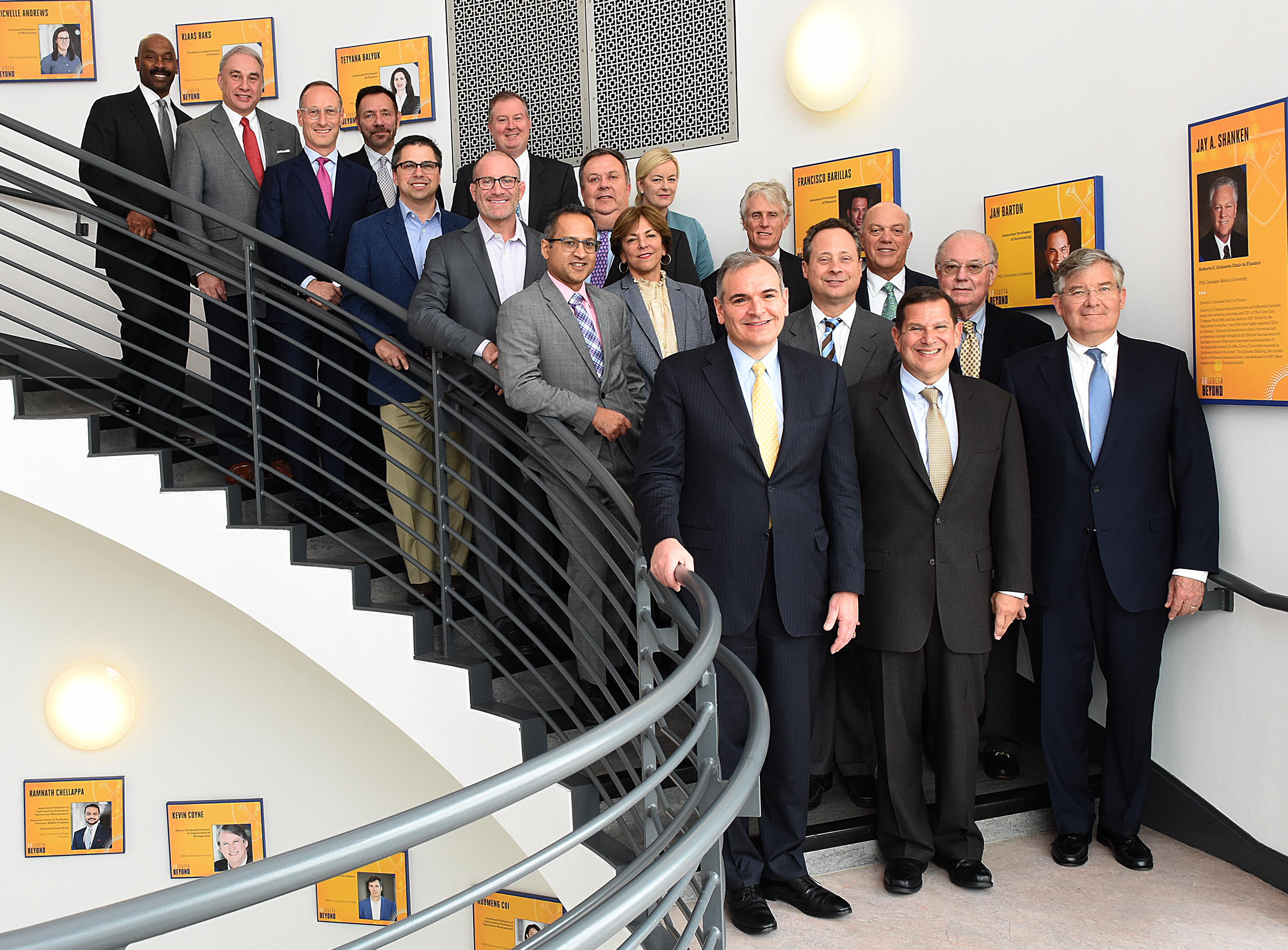 THE 3L ON THE SKYPE CALL was anxious and in need of advice from an experienced lawyer. She received a job offer in Atlanta, but she turned the position down when her spouse got a job in Washington, DC. How should she explain this to prospective employers in DC?
Michelle Weisberg Cohen 92L, a member of the Emory Law Alumni Board and a Certified Information Privacy Professional (CIPP), assured the student that turning down an offer for the sake of a spouse is common and not something she needed to over-explain. "Just be positive about the firm that offered you the job," advised Cohen, who worked two decades in big law before jumping six years ago to Ifrah Law, a boutique firm in DC.
"People get stuck on that first move," said Cohen, a former Fyr Scholar. "But I tell them, you are not choosing a life partner, you are choosing a job."
Advising current students on their career paths through mock interviews is one of Cohen's favorite ways to contribute to the law school as a member of the Alumni Board. She also enjoys twice-annual meetings in Atlanta where members learn about programs such as the Volunteer Clinic for Veterans and the Barton Child Law and Policy Center. Such information helps board members serve as informed ambassadors for Emory Law. "Ultimately we are here for the students," Cohen said, adding that socializing with students in Bacardi Plaza was a highlight of the last Alumni Board meeting. "We are here to help current and future students succeed."
EMORY UNIVERSITY SCHOOL OF LAW has two primary boards made up of distinguished alumni: the Alumni Board and the Advisory Board. Each has up to 36 members, representing alumni around the country in all types of careers, including big law, in-house counsel, small firms, private practice, public-interest law, and entrepreneurship.
Members of the Alumni Board tend to be mid-career professionals who focus on reunion strategy, alumni awards, and helping students launch their careers. Members of the Advisory Board have reached the upper echelons of their careers and serve as advisors to the dean and the dean's cabinet on matters ranging from admission to fundraising to the search for a permanent dean. They also serve on the Student Conduct Court.
Both boards help Emory Law faculty and staff stay abreast of trends in the legal field, which is essential for preparing students for the workforce. Members of both boards are encouraged to get involved in ways they feel they can make a difference. "We want everyone to have a prescribed path for their involvement that draws on their expertise, availability, and passion," said Courtney Stombock, associate dean for Advancement and Alumni Engagement. "We want them to have direction as they move forward that is both exciting to them and advances the mission of the law school."
Some board members are comfortable meeting with their former classmates to ask for gifts to Emory Law. Others enjoy hosting alumni gatherings at their firms. "That is invaluable," Stombock said. "It lends gravitas to what we're doing to host an event at a notable firm."
Mark D. Wasserman 86L, chair of the Advisory Board, sees the board's role as bringing together different perspectives that add to the experience of the faculty, staff, and students. "We have members of the board practicing around the country in small and large firms, in-house with leading corporations, as judges in some of our leading courts, and in other positions where their law degree has been invaluable," said Wasserman, managing partner at Eversheds Sutherland (US) and co-chief executive officer of Eversheds Sutherland Limited. "The board provides ideas and support for programs to enhance the student experience and the impact the law school has on the various communities it serves."
Through his board service, Wasserman, a former Woodruff Fellow, has had the opportunity to "interact with the amazing faculty and learn about the cutting-edge research and clinical work they are doing across many areas."
He added: "It has also allowed me to see the dedicated work of the students in participating in numerous pro bono, diversity and inclusion, and community service activities that benefit Atlanta and other communities around the US and the world."
Leo M. Gordon 77L, judge at the United States Court of International Trade in New York City, currently serves on the Advisory Board and previously served on the Alumni Board. "I love the law school, and I am happy to help," he said. "It's a way that I can continue to give back in a meaningful way."
Gordon enjoys the in-depth discussions Advisory Board members have on questions posed by the dean. "It's an advisory board, not the Board of Trustees," he said, adding that his knowledge of how nonprofits work gives him perspective on issues such as fundraising and the financial strains institutions of higher education face. Like many members of the Advisory and Alumni boards, he has extensive experience serving on boards, including his synagogue and former prep school.
EMORY LAW IS CURRENTLY updating the governance documents for the Alumni and Advisory boards to clarify members' roles and ensure everyone gets the most out of the experience. Board members serve three-year terms and are chosen through a nominating process. To be considered for a board, an alumnus must have a history of philanthropic support of Emory Law and a demonstrated passion for the law school. The boards value diversity in all forms, including background, career, and geography.
Cohen was recruited to the Alumni Board by a board member after an informal chat about law school reunions. She serves on the board of the National Woman's Party, an organization founded in the early 1900s to advocate for suffrage, as well as other organizations, experiences that equipped her to be an effective Alumni Board member. She appreciates the opportunity to demonstrate how a lawyer can transition mid-career from big law to a smaller firm.
"I have a strong interest in the law school and in helping students explore their career options," she said. "The more career pathways we can represent, the better. . . . For me, it has been an honor to serve."
Email the Editor
Share This Story