Emory Law honors five alumni for distinguished service
By Emory University School of Law | Emory Law | September 30, 2013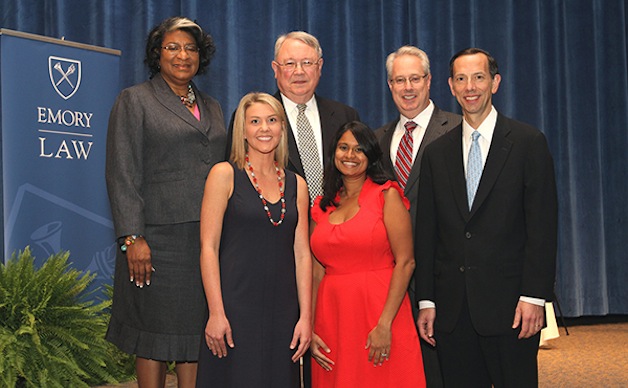 Emory University School of Law honored five alumni on Friday, Sept. 27, for distinguished work in public service and volunteer efforts on the law school's behalf.
Barrett K. Hawks 60B 63L, Samuel S. Olens 83L, Patrise Perkins-Hooker 84B 84L, Leslie A. Powell 09L and Priya B. Vivian 04C 09L received awards at an evening reception held at Emory Law during the university's Homecoming Weekend.
Perkins-Hooker received the Eléonore Raoul Greene Trailblazer Award, named for the first woman admitted to Emory University. Greene was a national leader in the women's suffrage movement, and the award goes to an alumna "who has blazed a trail for others through her own professional and personal endeavors."
Perkins-Hooker is vice president and general counsel for the Atlanta Beltline. She is the first African-American to serve as president-elect of the Georgia State Bar and has been an elected member of the State Bar Board of Governors since 1996. Perkins-Hooker is chair of Atlanta's Hosea Feed the Hungry Board of Directors, a member of the Emory Black Law Students Association's advisory board, and a member of the Georgia Association of Black Women Attorneys since 1986.
In addition to her juris doctor from Emory Law, Perkins-Hooker holds a master's degree from Emory's Goizueta Business School, and has served as president of its alumni association. She earned her undergraduate degree at Georgia Tech, and was named outstanding young alumna by its alumni association in 1988.
Hawks received the Alumni Service Award, an honor for sustained leadership and outstanding service to the Emory Law community.
Hawks joined Sutherland Asbill & Brennan LLP in 1965 after earning his LLM from Harvard Law School. He established a national practice in the energy field, representing electric cooperatives. He retired as a partner in 2009 and continues of counsel. Hawks is vice chair of the Dispute Resolution Committee of the American Bar Association's Public Utility Law Section and recently served on the Board of Advisors of the Strauss Institute for Dispute Resolution at Pepperdine University.
Hawks has served as chair of the Law School Council, secretary and president of the Emory Law Alumni Association, chair of Emory Law's Barristers' Club and the annual fund campaign, chair of his 30th reunion committee (which established Emory Law's largest class scholarship to date), co-chair of his 50th reunion committee, member of the Emory University Board of Visitors, and charter member of the Emory Legacy Society.
Olens received the Distinguished Alumni Award, given to an alumna or alumnus who embodies the values of the school and has demonstrated extraordinary achievement in the legal profession and in service to society.
Olens is attorney general for the State of Georgia. Previously he was chair of the Cobb County Board of Commissioners, chair of the Atlanta Regional Commission, vice chair of the Metropolitan North Georgia Water Planning District, and a member of the 6th Congressional District on Georgia's Department of Community Affairs Board.
He received the 2007 Excellence in Public Service Award from the University of Georgia's Carl Vinson Institute of Government, the 2008 Tom Bradley Leadership Award from the National Association of Regional Councils, and the 2011 Living the Dream Award from the Cobb County NAACP. In 2011, the Cobb Chamber of Commerce renamed its annual service award the Sam Olens Business Community Service Award.
Olens has served as a member of the Emory Board of Visitors and is an active Emory Law alumni volunteer who often speaks to student and alumni groups about public service and the law.
Powell and Vivian, both class of 2009, received the Young Alumni Award, which recognizes outstanding achievement and service to the law school by alumni who have graduated within the past 15 years. In 2011, Powell and Vivian cofounded the Emory Law Young Alumni Committee, which provides outreach to hundreds of recent graduates in Atlanta.
Powell is an associate with Kutak Rock LLP in the firm's Atlanta office, and focuses on banking and public finance. She serves as an alumni advisor to the Emory Law Banking and Finance Practice Society and was recently elected to the Emory Law Alumni Board. Powell also co-chairs the Legislative Committee for the Young Lawyers Division of the Georgia Bar, and is a member of the Board of Directors of the Red Clay Democrats.
Vivian is an associate with Wargo French, LLP, based in Atlanta. She focuses on labor and employment law, class and collective action litigation, and complex commercial litigation. She serves on the Emory Law Alumni Board and is active within the Emory Law Intellectual Property Alumni Society.