Professor Tim Terrell releases book on legal reasoning
By A. Kenyatta Greer | Emory Law | December 8, 2016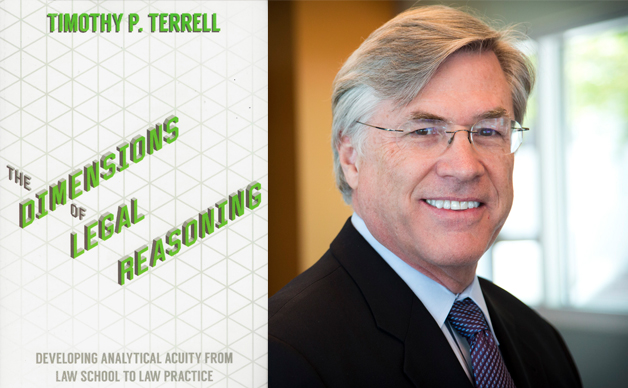 Emory Law Professor Timothy P. Terrell has released his newest book on legal reasoning, "The Dimensions of Legal Reasoning: Developing Analytical Acuity from Law School to Law Practice."
The book, for both legal beginners and veteran practitioners, begins with some basics of legal thinking, then explores fundamental issues of legal theory and current legal conflict.
Terrell explains, "For me, legal reasoning -- at least the way I have taught it for years -- does indeed have a set of four dimensions, or elements, that together create a complex and nuanced analytic enterprise that is unique to the world of sophisticated lawyering: language, context, subtext, hypertext." 
"The Dimensions of Legal Reasoning" gathers in one place the message of the first 40 percent of Terrell's Jurisprudence course. "I can now concentrate my approach and make it more accessible to law students. With this book, I try to present a comprehensive picture of what a thorough and ambitious argument would entail in a difficult case or policy argument," he says.
Terrell has three distinct areas of teaching and scholarly reputation: legal writing, legal ethics and legal theory. He has published extensively on these topics, and frequently conducts continuing legal education programs on them as well.
He is the leading presenter of programs on legal writing for practicing lawyers and judges, not just in the United States, but around the world. He has consulted often for law firms on issues of legal ethics and has served as an expert witness in litigation involving issues such as conflicts of interest, confidentiality and lawyer malpractice.
At Emory, Terrell teaches the first-year course in property, and upper level courses in legal ethics, jurisprudence, and advanced legal writing. His publications, most often involving the intersection of legal theory and legal doctrine, have appeared in law journals at the law schools at Georgetown, Duke, Northwestern, California, and Emory, among others. He has organized conferences at Emory on topics such as "Rethinking Liberalism," "Human Rights and Human Wrongs: Investigating the Jurisprudential Foundations for a Right to Violence" and "The Role of General Counsel."