Warnock to MLK lecture crowd: The work we do will be finished by others
By A. Kenyatta Greer | Emory Law | January 12, 2018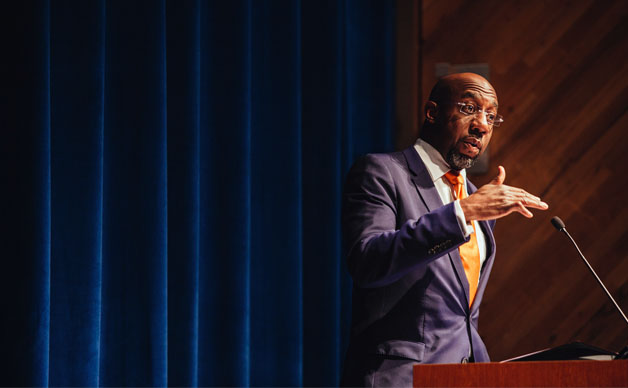 Dreary weather didn't stop a crowd from gathering to hear Rev. Raphael G. Warnock PhD, senior pastor of Historic Ebenezer Baptist Church, address the Emory Law community Thursday night as part of the university's Martin Luther King Jr. Day celebratory activities. In this year's edition of the annual lecture, Warnock spoke on the topic of Unfinished Business.
 "No person, dead or alive, in the history of our republic has managed to capture more eloquently and powerfully – and demonstrate through his life witness more effectively – the meaning and power of the American Dream than Martin Luther King Jr.," Warnock opened. The "rear view mirror of history," he said, looks at King's victories as though they happened in a vacuum, but they were actually part of a long, prophetic tradition. His father was an activist in his own right, and the church that raised him nurtured in him a belief that one cannot talk about the freedom of the spirit while keeping the body in bondage.
 This belief allowed him to lead the struggle of civil rights until, Warnock asserts, the law became an instrument of liberation. He suggested that the triple evils of racism, poverty, and war were paramount to King and are still the primary struggles today. Those evils are best found in the inequity within our criminal justice system, the criminalization of the poor, and impediments to legal citizenship.
"We have so stigmatized poverty in our nation that it's almost impossible to talk about poor people in a sustained way while running for the highest office in the nation – from either side of the aisle," Warnock said, noting that the language we use, even when we're trying to help poor people, can contribute to their demonization. And he was once one of those poor people, growing up in housing projects in Savannah, Georgia, in the 1980s before making his way to Morehouse College on what he called a "faith scholarship" – a situation in which he didn't have enough money to make it through the first semester. But he did, and four years later, he was standing before a sea of his peers accepting his diploma. His beginning did not determine his end.
 Warnock reminded those assembled, "If any of us is engaged in a project that we can complete in our own lifetimes, that project is not large enough." He added that while the work we do will be finished by others, "It is our job, responsibility, and sacred obligation to use what gifts we have to finish Dr. King's unfinished work to build the beloved community."
Warnock and Historic Ebenezer Baptist Church are planning a training called Doing Justice for next week, including a segment on the difference between charity and justice. More information is available here.