Emory Public Interest Committee (EPIC)
EPIC was formed in 1989 by students committed to making public interest jobs accessible to Emory students. EPIC has successfully undertaken a major fundraising effort that has provided summer grants for students who accept volunteer positions or clerkships in public interest organizations.
EPIC has the benefit of Emory Law alumni who are dedicated to public service and serve on EPIC's Advisory Board. These attorneys work in legal aid, nonprofits, the public defender's office, and law firms throughout Atlanta.
Sarah Babcock 07L, Lawyers for Equal Justice
S. Derek Bauer 00L, BakerHostetler LLP
Daniel A. Bloom 94L, Richardson Bloom & Lines LLC
Carolyn R. Bregman 82L, Retired
Brandon Bullard 07L, Georgia Public Defender Council
Mary Carole Cooney 75L, Attorney at Law
Joann M. Yoon Kang 02L, CDC
Elisa Kodish 99L, Nelson Mullins Riley & Scarborough LLP
Joel M. Langdon 14L, Jones Day
Sue McAvoy, EPIC Advisor Emerita
Paul J. Murphy 86L, King & Spalding LLP
The Honorable Mary Margaret Oliver 72L, Attorney at Law
Megan Ross Pulsts 09L, Georgia Legal Services Program
Claudia Saari 87L, DeKalb County Public Defender's Office
Haley Schwartz 05L, Abrams, Davis, Mason & Long LLC
Debbie Segal 79L, Kilpatrick Townsend & Stockton LLP
Eric Robert Ellis Jr. 11L, Eversheds Sutherland  (US) LLP
--
Rita A. Sheffey, Assistant Dean for Public Service, EPIC Advisor
The EPIC Book and Supplement Sales are held at the beginning and middle of each semester.
To volunteer to sort or sell books, contact EPIC's treasurer.
Why Buy From the EPIC Book and Study Guide Sale?
You don't want to pay $130 per textbook multiplied by five classes.
Upperclassmen don't want to continue to store books they'll never read again, especially on topics for which they have no interest.
Nobody likes getting $25 back from the bookstore for a $130 book, and when the new edition comes out or the professor changes the text, you get nothing.
EPIC needs money to pay for its event speakers, lunch at meetings, etc.
What About Old Books?
In the spirit of public interest, and cleaning out our closet, EPIC will donate any books more than one edition older than the current edition in use to Liberian law students.
Why?
Liberia's justice system is actually modeled after ours, so they use all American textbooks, American secondary sources, and even cite our Supreme Court cases in their opinions. The law students have very few books and no library. So we want to help out!
How Can I Donate?
Drop your books, supplements, study guides, flashcards, etc. in EPIC's donation bins. The bins are located at the bottom of the stairs connecting Gambrell Hall to the law library, just behind the small elevator.
If I donate books, can I get a receipt for my taxes?
Yes you can! Contact the EPIC secretary for information about receipts and recognition: epicsecretary@gmail.com »
The EPIC lunch series brings public interest attorneys practicing in various fields to the law school for a casual lunch with a small group of students. The attorneys usually talk about their experience in their current position, experiences that helped them prepare for their job, and other good public interest advice. This semester, we will have lawyers from the Georgia Innocence Project, Atlanta Legal Aid, and the Georgia Asylum and Immigration Network. Each lunch is capped at 10 students to ensure an intimate conversation and plenty of time for questions. EPIC provides lunch and students provide their own beverage.
Stay tuned for more info!
Emory Law
Public Interest Research
Whether you are a current law student looking for a legal research topic for a class or law review note or you're a public interest attorney who has a need for legal research that a student could complete over the course of a semester, ACS ResearchLink can be just what you're looking for. If you have any questions, contact Virginia Marentette at vmarentette@acslaw.org »
Training Opportunities
New Leaders Council: The mission of the New Leaders Council (NLC) is to train and support the next generation of progressive political entrepreneurs—those who are leading industries, setting trends, and building institutions that support robust civic and political life in a global America. NLC Fellows engage in an intensive ten days of training over a five-month period to learn cutting-edge entrepreneurship, leadership, and political management skills from over 150 industry-leading volunteer faculty. Upon graduation, Fellows are paired with career mentors, join a national alumni network, and agree to fundraise to support the next class of Fellows. Learn more »
SUMMER 2018 GRANT SPONSORS
Frank & Joan Alexander
Alston & Bird LLP
Anonymous
Paul S. Davis Endowed Fund
Eversheds Sutherland (US) LLP
Fish & Richardson P.C.
Laura S. Huffman
Robert & Lillian Schapiro
Debbie Segal & Randy Cadenhead
Ben and Nancy Shapiro Endowment
H.A. Stephens Public Interest Endowment Fund
PLATINUM
Charles Loridans Foundation
Kilpatrick Townsend & Stockton LLP
Paul J. Murphy & Gia M. Partain
Nelson Mullins Riley & Scarborough LLP
Elisa & Thad Kodish
GOLD
Anonymous
Henry R. Bauer, Jr. & Mary Carole Cooney
Bondurant Mixson & Elmore
Benjamin J. Chapman
The Coca Cola Company
Ruth Greenberg Fawley
Jessica & David Felfoldi
David Gambrell
Melba & James B. Hughes, Jr.
Howard & Susan Hunter
Jones Day
Jennifer W. Mathews
Rep. Mary Margaret Oliver
Paul, Weiss, Rifkind, Wharton & Garrison
Michael J. Perry & Sarah A. O'Leary
Polly J. Price
Mary F. Radford
Philip Syng Reese Teresa Wynn Roseborough
Rita A. Sheffey
Anand Sithian
John Witte Jr. & Eliza Ellison
David A. Zimmerman
SILVER
Silas Allard & Rebecca Spurrier
Barton Child Law and Policy Center
Better Georgia Fund
A. Paul Cadenhead
John A. Chandler
John H. Fleming
King & Spalding LLP
John Marcus Meeks
Veer Seetin Neslund
Megan & Matthew Pulsts
Claudia S. Saari
Jae Il Shim
Julie & Jeff Seaman
Jane L. Sheffey
Joanna Mehlhop Shepherd
William C. Thompson & Jenny Mittelman
BRONZE
Anderson Rupani & Smith, LLC
Thomas C. and Carolyn Arthur
Honorable Dorothy Toth Beasley
Daniel Bloom & Barry Golivesky
Carolyn R. Bregman
Norman Michael Brothers, Jr.
Lynne Chandler
Todd Wollerton Cramer
George (Buddy) Darden
Nancy R. Daspit
Sean M. Diamond
Deborah S. Ebel LLC
Martha Williams Fagan
Paula J. Frederick
Georgia Appleseed Center for Law & Justice
Mark Holladay & Mary Giliberti
Hubert and Joann Yoon Kang
Stephen T. LaBriola
Joel M. & Sydney Langdon
Charles T. Lester, Jr.
Aliza Lipson & Seth Finck
Bruce Maloy & Leslie Bryan
Sue McAvoy
Judith McKay
J. Christopher Miller
Spencer F. Preis
Jeannine Weil Privat
Elizabeth Ann Reimels
Melinda M. Renshaw
Rose Family Fund
Ryan S. Rummage
Haley A. Schwartz
Briggs Lovell Tobin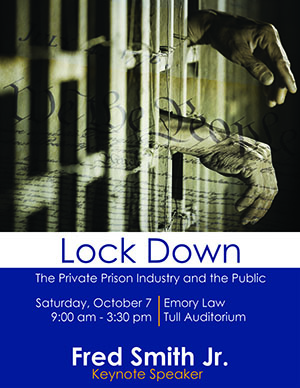 About EPIC:
EPIC was formed in 1989 by students committed to making public interest jobs accessible to Emory students. EPIC has successfully undertaken a major fundraising effort that has provided summer grants for students who accept volunteer positions or clerkships in public interest organizations.
EPIC has the benefit of Emory Law alumni who are dedicated to public service and serve on EPIC's Advisory Board. These attorneys work in legal aid, nonprofits, the public defender's office, and law firms throughout Atlanta.
About the conference:
The Emory Public Interest Committee is pleased to announce our EPIC 2017 Conference, on October 7th, from 9:00am - 2:45pm. 
Entitled Lockdown: the Private Prison Industry and the Public, the conference will feature panels and talks designed to spark conversation on the private prison industry and its impact. We're excited to hear from Emory Law Professor Fred Smith, during his keynote speech.
Lockdown: the Private Prison Industry and the Public is a CLE certified conference. Dress is business casual. Breakfast, lunch, and refreshments will be served throughout the day. We look forward to seeing you!
EPIC Conference 2017 will be held in Tull Auditorium, located in Gambrell Hall at the Emory School of Law.
Our address is:
Emory University School of Law
Gambrell Hall
1301 Clifton Road NE
Atlanta, GA 30322-2770
Emory University has several parking lots and decks on campus with designated visitor parking areas. The visitor parking area nearest the law school is the Lowergate parking deck, where there is a fee for parking. The parking costs are:
0–30 minutes: Free
30 minutes–1 hour: $4
1–2 hours: $5
2–3 hours: $6
3–4 hours: $7
4–7 hours: $8
7–24 hours: $12
Lost Ticket Fee: $25
Private Prisons and the Public Interest in Practice
Moderator: Seth Church, Criminal Law Practice Society                
Seth Church is a third-year student here at Emory Law. Originally from the small town of Cave City, Kentucky, he attended Western Kentucky University for his undergraduate degree before making it here to Atlanta. His interest areas include Administrative Law and the regulatory process, Constitutional Law, Criminal Law, Civil Rights Law, and appellate litigation generally. During his 1L summer, he worked for the Criminal Section of the Civil Rights Division of the United States Department of Justice in Washington, D.C. During his 2L summer, he was a Summer Legal Intern (SLIP) for the Northeast Regional Office of the Federal Bureau of Prisons. This fall, he is an extern for the Honorable P. Harris Hines, Chief Justice of the Supreme Court of Georgia. After graduation, he will be clerking for the Honorable Charles R. Simpson III in the United States District Court for the Western District of Kentucky. 
Chris Joyner, Atlanta Journal Constitution Watchdog Blog Reporter
Chris Joyner began his newspaper career in 1996 at The Times-Georgian in Carrollton, Ga., and has worked at newspapers in Georgia, Tennessee and Mississippi. Prior to coming to the AJC, Joyner was an investigative and enterprise reporter for The Chattanooga Times Free Press and The (Jackson, Miss.) Clarion-Ledger. He was Mississippi correspondent for USA TODAY and a special assignment reporter for Gannett Content One. He covered Hurricane Katrina from the Mississippi Gulf Coast and the Deep Horizon oil disaster in the Gulf of Mexico. More recently as an investigative journalist at the AJC, Chris has written articles about the exploitation of prison inmates and their families for profit..
Courtney O'Donnell, Georgia Federal Defender's Office
Courtney O'Donnell is a Staff Attorney at the Federal Defender's office. Prior to her current position, O'Donnell was an Assistant Public Defender at the DeKalb County Public Defender's Office, and before that worked at the International Criminal Court in The Hague for 6 months. Courtney graduated from Georgia Tech in May 2010 with a Master's degree in International Affairs. At the same time, Courtney graduated from Emory University School of Law with a Juris Doctor and a Graduate Certificate in Human Rights. During graduate school, Courtney focused on international human rights, gender-based violence issues, and indigent criminal defense. She did summer internships at the Global Justice Center in New York and at the Sexual and Gender-based Violence Crimes Unit within the Ministry of Justice in Monrovia, Liberia. She also interned at the Federal Defender's Office and the DeKalb County Public Defender's Office. Before graduate school, Courtney worked as an English teacher in Bangkok, Thailand and as an immigration law paralegal in Atlanta. She earned her Bachelor's degree in International Studies from Emory University in 2003. While in college, Courtney studied abroad in Dublin, Ireland and did internships at Amnesty International and The Carter Center.
Mario Williams, Civil Rights Attorney
Mario Bernard Williams, partner at Williams Oinonen LLC, primarily works in the areas of Plaintiff's wrongful death, civil rights, police misconduct, employment and business litigation. Mr. Williams also has a joint venture with Nexus Caridades Inc. where he heads their civil rights division. In addition to his legal work, Mr. Williams' political clients include federal, state, and local elected officials throughout Although Mr. Williams predominantly represents injured civil rights plaintiffs in police misconduct and police department corruption cases, Mr. Williams and the law firm of Williams Oinonen LLC are also proud to have represented police officers and law enforcement as clients throughout the state of Georgia in various legal matters. Mario Williams has an extensive understanding of police matters throughout Georgia and thus is able to effectively advocate justice for his clients on either side of the blue line. Additionally, Mr. Williams is a graduate of the FBI Citizens Academy. Mr. Williams has spent his life devoted to human rights work. He is a fellow at the Center for Advocacy and Dispute Resolution at Emory University School of Law, in the area of human rights. Prior to his work at the law firm of Williams Oinonen LLC, Mr. Williams served in the Peace Corps in Honduras and worked for years in Santiago, Chile for a variety of international human rights NGO's working together with the Chilean government to find cooperative resolutions for major issues that affected poor people. Mr. Williams' international human rights work includes co-authoring one of the first human right class actions ever presented in Chile. Moreover, Mr. Williams has submitted international human rights petitions to the Inter-American Commission on Human Rights on issues related to indigenous rights and affordable housing in South America, as well as a successful international petition on behalf of poor people in Atlanta, Georgia regarding access to healthcare.
Alexander Volokh, Associate Professor of Law, Expert on the Law and Economics of Privatization
Professor Volokh is an associate professor at Emory University School of Law. Before coming to Emory, he taught at Georgetown University Law Center and University of Houston Law Center. Before that, he clerked for (now-Chief) Judge Alex Kozinski of the Ninth Circuit and Supreme Court Justices Sandra Day O'Connor and Samuel Alito. An economist by training, Professor Volokh has written numerous articles and commentaries on law and economics, privatization, antitrust, prisons, constitutional law, regulation, torts, and legal history.
Fred Smith, Associate Professor of Law
Fred Smith, Jr. is an associate professor at Emory University School of Law. Fred is a graduate of Stanford Law School, where he was a member of the Supreme Court Litigation, was a finalist in the annual Kirkwood Moot Court Competition, as well as the American Constitution Society's National Moot Court Competition, served as President of the Black Law Students Association, and served as Articles Editor for the Stanford Law and Policy Review. Fred has clerked for Judge Myron Thompson of the Middle District of Alabama; Judge Barrington D. Parker, Jr. of the US Court of Appeals for the Second Circuit; and Justice Sonia Sotomayor of the United States Supreme Court. He is a scholar of the federal judiciary and constitutional law. His research focuses on representative democracy and state sovereignty in the American political system.
Presentation on Private Probation
Speaker: Sara Totonchi, SCHR
Sara Totonchi is the Executive Director of the Southern Center for Human Rights (SCHR), a nonprofit law firm that provides legal representation to people facing the death penalty, challenges human rights violations in prisons and jails, litigates to improve legal representation for poor people accused of crimes, and advocates for criminal justice system reforms on behalf of those affected by the system in the Southern United States. Sara joined SCHR in 2001 as the Public Policy Director and became the organization's Executive Director in 2010. For more than a decade, she represented SCHR on a full range of criminal justice and public safety issues at the Georgia General Assembly. Sara led coalition efforts and legislative advocacy to establish Georgia's statewide public defender system and enact criminal justice reforms, specializing in building partnerships with unlikely allies such as law enforcement, survivors of crime, and conservative elected officials. As Executive Director, Sara leads SCHR in carrying out its mission to dramatically transform the criminal justice system. 
Impact of Privatized Detention Centers on the Immigrant Community Panel
Moderator: Christina Zeidan, 3L, Immigration and Refugee Assistance Project, International Law Practice Society
Christina Zeidan is a 3L at Emory Law. She grew up in Tennessee and graduated with a Bachelor's degree in Political Science and Anthropology from the University of Kentucky. Currently, she holds the position of Vice President for Emory's Immigration Law Practice Society and is a Notes and Comments Editor for the Emory Law Journal. This semester, she is also externing at the Georgia Asylum and Immigration Network (GAIN). Formerly, she was President of Emory's International Refugee Assistance Project and Co-Conference Chair of EPIC's 2016 Conference, Justice for All? How the Law Handles Civil Disobedience. Immigration law is her passion, and she is dedicated to building a career serving the public interest.
Azadeh Shahshahani, Project South
Azadeh Shahshahani has worked for a number of years in the Southeast to protect the human rights of immigrants and Muslim, Middle Eastern, and South Asian communities. She previously served as National Security/Immigrants' Rights Project Director with the ACLU of Georgia. Azadeh is a past president of the National Lawyers Guild. Through the NLG, Azadeh has participated in international delegations, including to post-revolutionary Tunisia and Egypt, a delegation focused on the situation of Palestinian political prisoners, and election monitoring delegations to Venezuela and Honduras. She has also served as a member of the jury in people's tribunals on Mexico, the Philippines, and Brazil. Azadeh also serves as Chair of Georgia Detention Watch, Co-chair of the US Human Rights Network Working Group on National Security, and on the Advisory Council of the American Association of Jurists. She is the author or editor of several human rights reports, including a 2017 report titled "Imprisoned Justice: Inside Two Georgia Immigrant Detention Centers" as well as law review articles and book chapters focused on racial profiling, immigrants' rights, and surveillance of Muslim-Americans. Her work has also appeared in the Guardian, the Nation, MSNBC, Aljazeera, the Atlanta Journal Constitution, and the Huffington Post, among others. Azadeh received her JD from the University of Michigan Law School where she was Article Editor for The Michigan Journal of International Law. She also has a Master's in Modern Middle Eastern and North African Studies from the University of Michigan. Azadeh is the recipient of the 2016 Georgia WAND Peace and Justice Award, American Immigration Lawyers Association 2012 Advocacy Award, and the University of Georgia Law School 2009 Equal Justice Foundation Public Interest Practitioner Award. She has been recognized as one of 100 Influential Georgia Muslims and as an attorney who is "On the Rise" by the Fulton County Daily Report.  In 2016, Azadeh was chosen by the Mundo Hispanico Newspaper as an Outstanding Person of the Year for her activism on behalf of the Latino community and defending the rights of immigrants in Georgia.
Nora Benavidez, Private Practice
Nora Benavidez is a litigator who specializes in civil rights and criminal defense, from consultations through appeals. She has successfully won every criminal case and appeal she has taken on. From advocating for clients facing misdemeanor or felony charges to defending against constitutional violations that individuals may face, Nora Benavidez is a tireless and zealous believer in equal rights for all and she has developed a practice to help provide broader access to justice for her clients. Recently, Nora worked with the American Civil Liberties Union of Georgia, where she managed the office's constitutional litigation and legal caseload. While at the ACLU, she also supported the office's legislative advocacy program, working with partner coalitions, organizations and elected officials on issues related to the ACLU civil rights and liberties agenda, such as criminal justice reform, voting rights, reproductive freedom, juvenile justice in schools, and privacy/freedom of speech rights. Nora has also worked with the Georgia Office of the Attorney General, where she helped prosecute white collar and public official crimes in the Special Prosecutions Unit. She investigated bankruptcy cases as a clerk with the Department of Justice's Office of the U.S. Trustee.
Nora attended Emory University School of Law and was, upon graduation, committed to staying in Atlanta to serve the civil rights and criminal justice communities. While in law school, she studied constitutional litigation, criminal law and white collar crime, as well as international human rights law. Nora received the Dean's Public Service Award for her commitment to public interest and representation, as well as the Pro Bono Service Medal for her advocacy work throughout law school. Before moving to Atlanta, Georgia to attend Emory University School of Law, Nora attended New York University's Gallatin School where she graduated magna cum laude with a Bachelor of Arts in political theory and international development. She worked for several years in New York City, on international human rights issues as an intern with Human Rights First, as well as public engagement and education reform efforts with Public Agenda. Nora grew up in Los Angeles, California.
Anton Flores, Alterna Community
Anton Flores-Maisonet is the cofounder of Alterna, a Christian missional community based in Georgia and comprised of U.S. citizens and Latin American immigrants. In 2006, Flores-Maisonet left his tenure-track faculty position at a private college to follow a call to a life of solidarity with newcomers from Latin America, especially unauthorized and unwelcomed immigrants. Anton and his wife, Charlotte, have been married since 1994 and have two wonderful sons, Jairo and Eli. Anton is a past chair of the steering committee of Christian Peacemaker Teams. He has also served on the boards of directors of DOOR (a ministry of Mennonite Mission Network) and Jubilee Partners and has taught courses at the Central America Study and Service program (CASAS) of the Latin American Anabaptist Seminary (SEMILLA) in Guatemala.
Natalie Lyons, SPLC
Natalie Lyons received her law degree from the Golden Gate University School of Law and currently serves as a staff attorney at the Southern Poverty Law Center (SPLC). The SPLC is a nonprofit civil rights organization that combats hate and intolerance, and fights for the rights of the most vulnerable in our society. As an attorney for the SPLC, Natalie served on the trial team for Braggs v. Dunn, a class action lawsuit against the Alabama prison system for the failure to provide adequate medical and mental health care to prisoners and the trial team for J.W., et al. v. Birmingham Board of Education, et al. challenging the use of pepper spray against kids in the Birmingham City Schools. She also served on the team advocating for Ashley Diamond, a transgender woman formerly housed in the Georgia Department of Corrections
Political & Economic Determinants of the American States' Reliance on Private Prisons
Presented by: Anna Gunderson, Doctoral Candidate in Political Science, Emory University
Anna Gunderson is a fourth-year Ph.D. student studying political science at Emory University. Her dissertation concerns the development of private prisons in the American states over the last few decades and probes how various actors and institutions, including voters, state government officials, private prison companies, and prisoners themselves, contributed to the rise of privatized correctional institutions. She next hopes to branch out her research to examine federal use of private prisons. In addition to this topic, Anna is currently working on projects analyzing state corrections spending, city and state adoptions of Ban the Box initiatives, and fatal police shootings. Her work aims to explore carceral governance at all levels and how various political institutions interact to produce various punitive outcomes.
Privatization of Prison Healthcare Providers
Moderator: Creighton McMurray, 3L at Emory Law, Health Law Practice Society
Creighton McMurray is a third-year law student here at Emory and is the former President of Health Law Practice Society. He has a Master's degree in Medical Ethics. Academically, he examines how the structure of business entities and the utilization of technology influences access to care and medicines. He is also a Certified Sommelier. 
Danny Robbins, Investigative Reporter for the Atlanta Journal Constitution
Danny Robbins attended the University of Texas at Austin and previously served as a writer for the Associated Press for five years. Robbins is currently an investigative reporter at the AJC, writing extensively about mistreatment of prisoners and their access to and quality of healthcare within the US prison system.
Brad Gardner, Georgia Capital Defender
Brad Gardner is a Senior Staff Attorney for the Georgia Capital Defender, a Division of the Georgia Public Defender Standards Council. Following his time at Emory Law, Brad joined the law office of Dwight Thomas where he tried criminal cases throughout the State of Georgia and in federal court, acting as lead or co-counsel in over twenty death penalty cases. Before returning to the Capital Defender Office in 2010, he managed his own law office while serving as an Associate Magistrate Court Judge in Clayton County, Georgia. 
Latrice Latin, Latin Law Group
Latrice Latin received a B.A. from Georgia State University and a J.D. from Walter F. G. School of Law at Mercer University. She began her legal career serving the community as a Public Defender in Fulton County and entered into private practice as a litigation associate litigating matters in numerous Superior and State courtrooms across the Metro Atlanta area. Attorney Latin has argued before every presiding bankruptcy judge in the Northern District. Ms. Latin later became the first attorney confirmation supervisor at one of the largest bankruptcy filing firms in the Metro Atlanta area. She is currently focused on upholding debtor's and consumers rights. Ms. Latin had recently expanded her practice to include immigration, small business representation, and personal injury. In addition, she is actively fighting credit card companies and debt collection agencies under the Georgia Fair Business Practices Act and the Fair Debt Collection Act.
Kem Kimbrough, 00L and Former Sheriff of Clayton County
Kem Kimbrough is a graduate of Emory Law, the Former Sheriff of Clayton County, an Adjunct Professor at Clayton State University, and the Chief Executive Officer of the Southern Crescent Habitat for Humanity (SCHFH). The SCHFH helps low income families find opportunity, achieve stability, and improve their futures. They accomplish these goals through homeowner education which includes financial literacy and by partnering with donors and volunteers to construct attractive, affordable homes and to repair existing homes.
Justice John Paul Stevens Public Interest Fellowship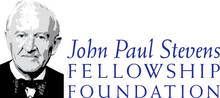 Emory Law is pleased to administer the Justice John Paul Stevens Public Interest Fellowship Program. This program is generously funded by the Justice John Paul Stevens Foundation »
Stevens Fellowships provide financial assistance to students who will spend their summer volunteering at a public interest organization. First- and second-year students who have secured a full-time (40 hours/wk for 10 weeks) volunteer summer law position with a public interest organization may qualify.
Qualifying employer organizations include legal services agencies and government offices (judicial externships do not qualify). Private sector "public interest" law firms will also be considered as qualifying employers as long as the position is unpaid and the firm provides a letter or other descriptive material that supports their "public interest" status.
All applicants submit a letter from their employer confirming their summer position. The essay portion of the application should describe the applicant's commitment to public interest law.
2018 Fellows:

 

Lukas Alfen 19L; Anna Leigh Keith 20L; Linden Wait 20L
2017 Fellows: Carly Rabner 19L; Brandon Scheck 19L
2016 Fellows: Morgan Bridgman 18L; Amanda Quiles 17L
2015 Fellows: Kaitlyn Barnes 17L; Amelia Todd 16L
2014 Fellows: Rachel Berman 15L; Caitlyn Wade 15L
2013 Fellows: Rebecca J. Hallum 14L; Margaret L. Riley 14L
2012 Fellows: Ruth W. Dawon 12L 12MPH; Jamie C. Schickler 13L