Main content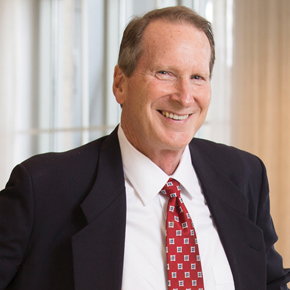 Areas of Expertise
Civil Litigation, Complex Litigation, Products Liability, Medical Malpractice, Defamation, Intellectual Property
---
Biography
Judson Graves is a nationally recognized jury trial lawyer and a 1975 graduate of Emory Law. He has taught Advanced Civil Trial Practice as an adjunct faculty member and now teaches Pre-Trial Litigation. He also served for several years as faculty for Emory's Kessler-Eidson Program for Trial Techniques. His practice expertise is in civil jury trial work in complex cases in state and federal courts, especially in the areas of products liability, medical malpractice, defamation, and intellectual property. He retired from Alston & Bird's Atlanta office in 2013 after nearly fourty years of practice. While at Alston & Bird, he tried over 100 civil cases to verdict and served as chair of the firm's Medical Products & Services Practice Group, co-chair of all litigation practice groups, chair of the Pro Bono Committee, and chair of the Associates Committee.   
Graves has led the design and implementation of a formal training program for Alston & Bird litigation associates firm-wide in civil trial practice and tactics since 2014. He has organized and/or served as speaker for dozens of educational programs and seminars on topics such as jury trial tactics and strategy; legal ethics; litigation management for judges; handling catastrophic injury cases; medical malpractice; jury selection; deposition taking; basics of healthcare law; all aspects of discovery; First Amendment; and juror persuasion.
In 2016, Graves was listed in Best Lawyers in six separate litigation practice areas: medical malpractice, personal injury, First Amendment, securities, products liability, and bet-the-company. He received the Tradition of Excellence and Service to the Public and the Bar Award from the General Practice and Trial Section of the State Bar of Georgia in 2014. In 2009, Best Lawyers named him as one of three "Lawyers of the Year" in Georgia. Three of his defense verdicts were selected by The National Law Journal as being among the "most difficult defense wins" in the country in three separate years. In 2000, he was recognized by the National Law Journal as one of "Ten Top Trial Lawyers" in the United States.
Graves is a past member of the Board of Trustees for the Bolles School in Jacksonville, Florida, and is immediate past chair and current board member of Atlanta's Covenant Community, a residential facility for homeless men recovering from addiction. He is also a former chair and board member of the Training and Counseling Center at St. Luke's Episcopal Church, a non-profit, church-based, sliding-scale counseling center in downtown Atlanta.
Graves is a member of the State Bar of Georgia. He earned his undergraduate degree from Dartmouth, and served as a line officer in the US Navy prior to attending law school. As a student at Emory Law, Graves was assistant articles editor of the Emory Law Journal and a member of Order of the Coif.
---