Our most exceptional class ever
Meet the Class of 2024
---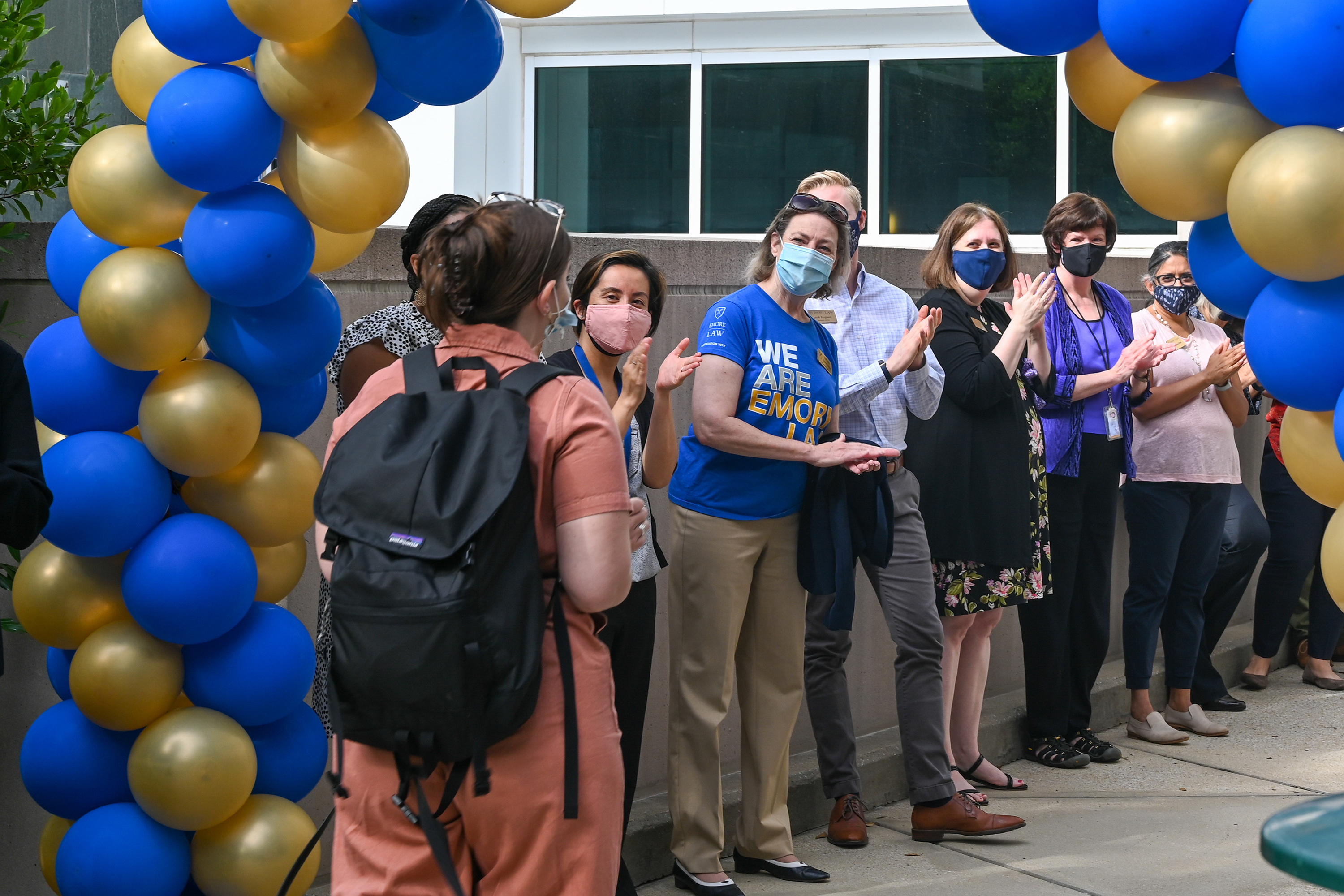 Across the United States, admission to higher education programs shifted substantially in 2020. A process typically marked by cross-country travel, the buzz of recruitment fairs, and lively campus tours would instead be conducted completely online.
"It gave us the opportunity to reach a lot more students, says Jenna Otokawa 10L, senior director for admission and financial aid at Emory Law. "I think it also gave the students more flexibility to hop easily into a virtual event from wherever they were without having to prepare a resume or to speak in person," she says. "It fed right into this younger group of people who like having immediate access, and in that way was really helpful." 
Without the constraints of travel budgets, distance, or time, Emory Law's admission team was able to attend events with more schools and in more locations. Otokawa also credits the marketing team at the law school with a successful cycle, noting, "They made us really relevant with the digital components we added, and we were very thoughtful and put-together in the experience we could provide." 
With increased access, though, came a surge in law school applications. The Law School Admission Council reported that a total of 71,095 people applied for the 2021 enrollment year, an increase of 12.6% over 2020. They also submitted more applications: US News and World Report counted almost 481,000 applications, calculating a 27% increase over the previous year. At Emory Law, Otokawa reported an approximately 33% increase in application volume, attributed to factors such as national recognition of Emory Law's JD program, heightened student interest in law, and a change in the administration of the LSAT, which was offered remotely on a more frequent basis in the last year. 
On August 10, 2021, Emory Law welcomed the JD Class of 2024, a diverse, talented group of students that Dean Mary Anne Bobinski stated "possesses the strongest academic credentials of any class in recent history." 
Access and Success
For Stephanie Dingle, director of Student Life, students' first impression of an in-person Emory Law was a key moment for celebration. "I had about 40 orientation leaders who were super excited to be back," she shared. "They wanted to have conversations, they wanted to talk after 18 months of virtual — barely any contact — and so it was easy to build connections because people were excited." 
In addition to gathering a large group of second- and third-year law students to help guide and greet the new students during Welcome Week, Dingle and her team worked to ensure that the larger-than-average class felt comfortable and connected. In addition to ensuring extra classroom space for social distancing, increased outdoor seating, and other facility concerns, Dingle wanted to capitalize on the community's energy to invigorate Emory Law's more than 60 student organizations and practice societies. Previously held in September, the annual Student Activities Fair was moved to the week after classes began, and Dingle says that made a significant impact on increased membership and engagement with lapsed members. 
Conversely, Rhani Lott Choi 10L, director of bar success and academic advising, describes the connections that technology has improved for students. While it has always been a priority for students to be able to talk to Dean's Teaching Fellows about topics like how to study for a specific class, preparation strategies, or specific professors, their appointment availability was previously more limited. "We have broad coverage now Monday through Thursday," Lott Choi explains. "Almost any time a student wants to talk to a Dean's Teaching Fellow, they can find them in a Zoom room and don't have to make an appointment — they just pop in and talk, and with a large class, virtual makes a lot of sense." 
Lott Choi also shares changes made to workshops offered by the Office for Academic Engagement and Student Success, noting that they have adopted a hybrid format. She says, "We offer them in-person and stream them live over Zoom because many students are doing things like externships or don't have classes on campus on Monday, so we think this makes it easier for them." She also notes that she and colleague Cody Teague, assistant director for Student Support and supervisor of the Houses Program, have found that students are more comfortable meeting over Zoom than in person, and they are seeing more student engagement as a result.  
Looking Forward
In the summer months, Otokawa notes, Emory Law provided access to a number of low- or no-cost preparatory programs, including Harvard's 0L program and the Council for Legal Education Opportunity's Pre-Law Summer Institution. She said, "In some ways, I would say that this class is one of the strongest academically and one of the most prepared academically going into this year, which I'm really proud of and is exciting for the class." 
Already, Emory Law is working to ensure Class of 2024's needs are anticipated over their next three years. Dingle described efforts made in the students' first semester to anticipate financial and communication needs as well as leadership opportunities available to students. 
Typically, Emory Law has one first-year student representative position on the Student Bar Association, elected by the 1L class. This year, says Dingle, SBA has added a second position to share the responsibilities and ensure the class feels confident that their collective voices are adequately represented. "What do students need as leaders?" Dingle asked. "As graduate students, they've been through Round 1 of some form of leadership opportunity — but what does Round 2 look like?" For her, this skill development is key for student success. "That is the biggest thing: getting ahead of student needs and thinking about how I guide them better." 
In addition to considering students' extracurricular activities and upper-level class needs, the school is also looking forward to the 2024 bar exam. "In three years, we will have 300 students taking a bar exam," Lott Choi said, "We're going to have to provide all of them the same individual, highest-touch support that we provide now, so we are already thinking about that." 
Emory Law's recently published strategic plan further commits to preparing students for their future careers. Part of this includes expanding practical experiences for students: seeking a broader range of externship placements in a program that already offers a wide variety of opportunities, the possible addition of clinical offerings, and further developing simulation programs and short courses that can help students gain skills that reflect current and future trends in legal practice.  
Making an Impact
With students from a wide variety of backgrounds who hold a broad set of opinions and experiences, the Class of 2024 is an engaged partner in their law school careers. "One area 
where we see a benefit from having a larger class is in a diverse set of interests and what students want out of their experience," Lott Choi remarked. "I wouldn't be surprised if we saw students develop new student organizations," she says, noting there may already be a group forming around aviation law. She also commented on the impact students would make for those that matriculate after this class. "And these students are go-getters; they're talented; they're smart — they're going to go out there and find an externship or job, and while they might be the first law student to do that particular thing, they won't be the last." 
The diversity of the class brings other benefits to students' experience in the classroom and through their law school careers. "Diversity is especially important in law school, when you're sharing ideas," Otokawa says, "These will be your colleagues forever, and I think the level of diversity in this class will make it a lot stronger." 
"I think we're all really proud of this class," Otokawa said, expressing a sentiment common among faculty and staff. Recruiting for the Class of 2025 began only weeks after Welcome Week, and after such a unique, challenging year at law schools across the US, Emory Law seems well-prepared to take on whatever comes next. 
Class of 2024 Profile
Enrolled Students: 304 
Female students: 56% 
LSAT Range (25th%, median, 75th%): 160, 167, 169 
GPA Range (25th%, median, 75th%): 3.47, 3.80, 3.90  
Ethnicity

 

Caucasian/white, 56% 

Hispanic/Latino, 12% 

Black/African American, 10% 

Asian, 8% 

Non-US citizen, 6% 

Multiracial, 4% 

Unknown, 3% 
Top Undergraduate Schools
13 University of Florida 
9 Emory University 
9 University of Georgia 
8 Georgia State University  
8 University of Alabama 
7 Florida State University 
7 Georgia Institute of Technology  
7 Tulane University  
JD Student Body Profile
812 Enrolled Students 
54% Female students  
Ethnicity 
Caucasian/white, 57% 

Hispanic/Latino, 10% 

Asian, 9% 

Black/African American, 8%  

Non-US citizen, 8% 

Multiracial, 4%  

Unknown, 4% 
Regions Represented

 

West, 7% 

Central, 7% 

Northeast, 3% 

Mid-Atlantic, 14% 

Georgia, 35% 

Southeast (non-Georgia), 20% 

South Central, 8% 

International, 6% 

Email the Editor
Share This Story