Faculty renewal and eminence at Emory Law
---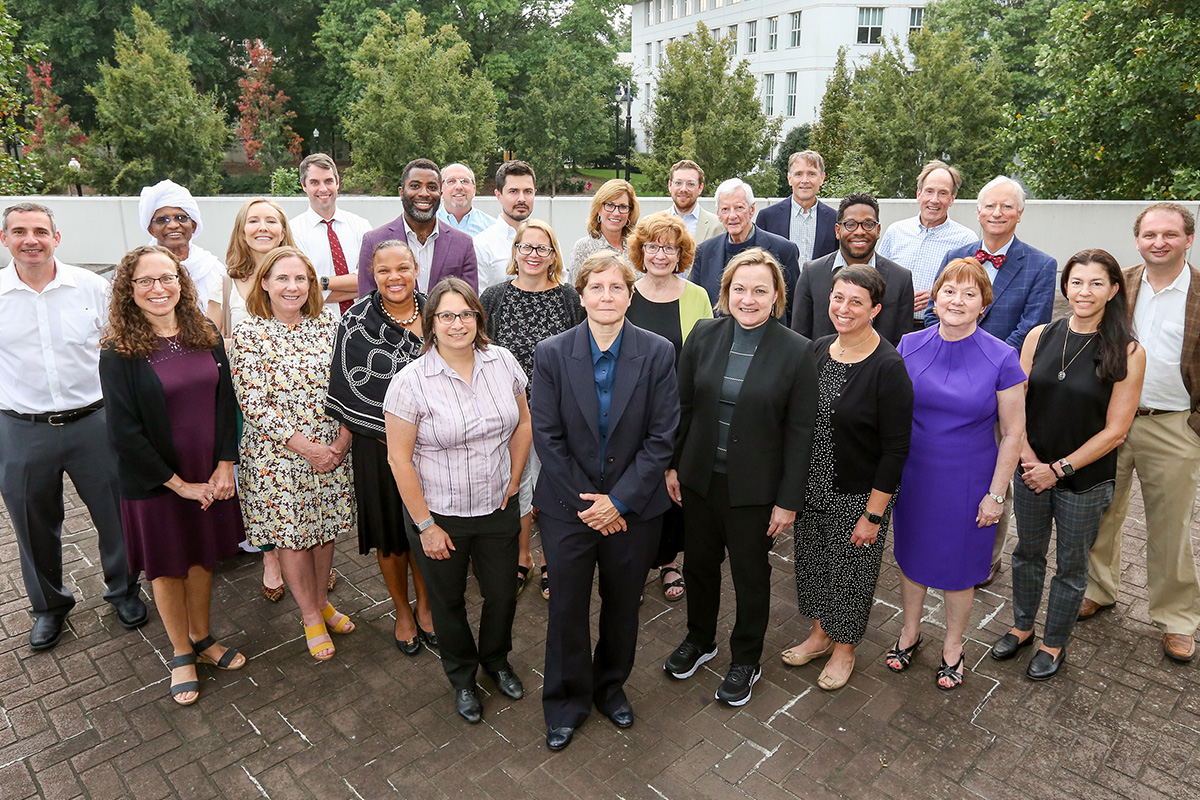 Emory Law has achieved national distinction and global reach in its 106-year history. Academics, lawyers, and judges across the United States rank Emory Law in the top 20 law schools in the country in the reputational sub-rankings published by US News and World Report. The law school has also achieved recognition in specific fields, such as Business and Corporate Law and Contracts and Commercial Law (both ranked #23), Health Care Law (#23), and Constitutional Law (#26).
 Emory Law's prominence stems in significant part from its outstanding faculty. Each new generation of law students has benefited from our faculty's leadership in their fields of expertise and their commitment to teaching. Our current tenure-stream faculty have a combined total of more than 770 years of legal scholarship and teaching at Emory Law. Our faculty complement has been shaped by the development of new areas of law — ranging from environmental law to the regulation of novel financial instruments — and by our continuing responsibility to educate future lawyers to meet the needs of their clients and our society in the decades ahead.
Emory Law is poised for a period of significant faculty transition and renewal, with a dozen faculty members scheduled to retire within a two-year period. These planned retirements represent a significant inflection point for the law school. The law school is celebrating the accomplishments and impact of longstanding faculty leaders, beginning with Abdullahi An-Na'im, Frank Vandall, and Barbara Woodhouse.
At the same time, the law school is keenly focused on the future. The Strategic Plan (2021 – 26) established the scope of our ambitions:
We will take advantage of transformations in the makeup of the faculty to develop a multiyear hiring plan to recruit and retain outstanding and diverse faculty members who have assumed or will assume leadership in their fields of scholarly expertise and who will serve as inspirational teachers for students preparing to use their legal knowledge on behalf of their clients and society.
With strong university support, the law school has developed a multi-year hiring plan that carries out several key objectives. First, the law school seeks to hire faculty whose research and teaching will ensure Emory's continued prominence in litigation, corporate and transactional law, IP and innovation, health law, and civil rights and social justice. Second, the law school's hiring strategy is based on a careful study of its curricular needs. Third, the law school is drawing on existing and potential philanthropic support to recruit top faculty members with endowed professorships and a named chair. Fourth, and finally, the law school is benefiting from university resources, such as the new AI.Humanity initiative to recruit 40-60 new faculty members with expertise in the implications of developments in AI in a broad range of fields, including law. Overall, the law school plans to hire 4 to 6 tenure stream faculty members per year over the next 3 to 4 years.
The law school's faculty hiring cycle typically begins in late summer and ends by May of the following year. New faculty members join the law school in the summer. The law school's ambitious 2021 – 22 hiring season is still underway. As of April 2022, Emory Law has successfully recruited three new tenure stream faculty members (Tonja Jacobi, Mark Nevitt, and Matthew Sag, featured later in this issue) and an outstanding visitor (Sheldon A. Evans, currently an Assistant Professor at St. John's University School of Law) to join the law school in the 2022 – 23 academic year.
"We looked for leaders in their fields who excel in scholarship and teaching. The individuals we successfully recruited are truly stars," says Professor Fred O. Smith Jr., chair of the Faculty Appointments Committee. Marshall Sampson, division director of human resources, notes, "The faculty members serving on the Faculty Appointments Committee have spent an incredible amount of time reviewing the qualifications of the more than 150 qualified applicants for our faculty positions. In this competitive job market, our faculty have ensured that Emory Law continues to attract high-impact scholars during our national searches. Their tireless work has led to significant hires who will not only define the future of Emory Law but also the legal education field."
The plan to grow the Emory Law faculty is ambitious, not unlike the ambitious plan to raise Emory Law's rankings amongst its peer schools across the nation. As Dean and Asa Griggs Candler Professor of Law Mary Anne Bobinski focuses on the future of the law school, she says that the law school owes a sincere debt of gratitude to those who have invested so much in our success thus far. She says, "Faculty recruitment is an intensely competitive process. Our ability to recruit and retain eminent faculty members will depend on the strong support of alumni, who will ensure that Emory Law is able to establish endowed professorships in key areas of law and practice."
---
Retiring faculty
By Andrew Faught
Email the Editor
Share This Story