Give back
New mentorship programs
---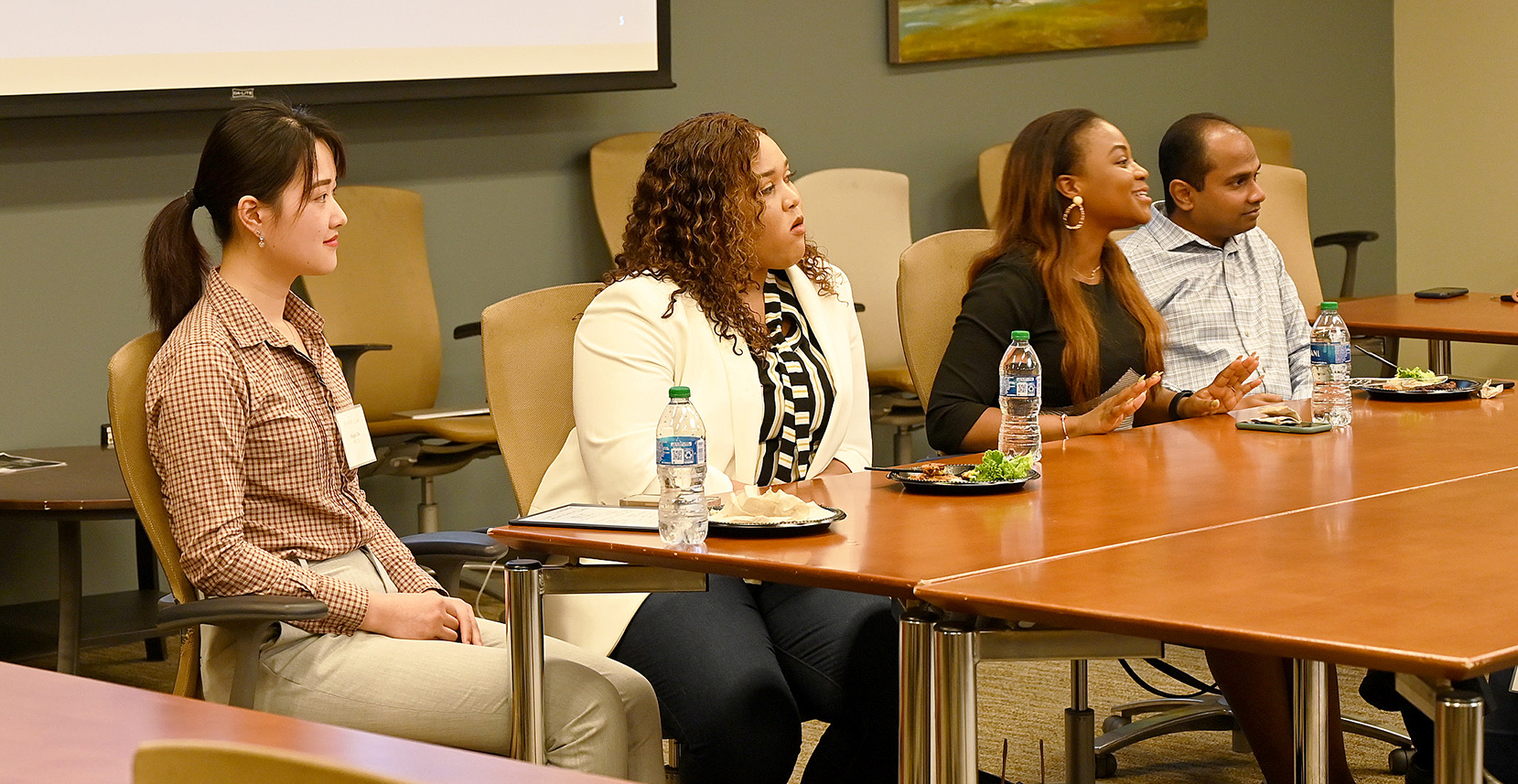 AS EMORY LAW CONTINUES to be a gateway for professional success and service to society, it is ultimately fueled by alumni philanthropy and engagement.
Here, students can flourish and develop into the world-class legal professionals of tomorrow, while making a difference today.
With diversity, intention, and collaboration at the forefront, mentorship programs form and direct the path for future alumni of Emory Law. There are various programs, servicing different needs.
The Bar Mentor program offers immense resources for students as they embark on the strenuous journey of bar study and preparation. This program focuses on pairing students with young alumni mentors who can advise them on strategies, offer support, provide study tips, answer frequently asked questions, or give encouragement. Alumni mentors are matched with students based on which bar exam the students are preparing to take, along with the study software each student is using. This program is the longest standing mentorship program at Emory Law.
When law school leadership led the strategic planning process and determined to prioritize increased alumni engagement, the Office of Advancement and Alumni Engagement closely studied the Bar Mentor program and created the LLM Mentor program. The program started with a pilot group of 40 students, with the encompassing goal of matching every LLM student with a mentor. Mentors help students with their transition to the United States, help them to determine their practice areas if they remain in the US, and help students decide how to best use their LLM education. The Real Estate Mentor program is groundbreaking, as it is the first mentor program in conjunction with a practice society. Here, students are encouraged to build connections with practitioners in real estate law. This program allows students and mentors to build their own schedules and develop relationships. As both an alumnus and associate director of alumni engagement, Ricardo Horne 21L grasps how meaningful alumni/student mentoring relationships can be. "Emory Law alumni play a critical role in supporting our students and preparing them to be capable lawyers. As mentors, they provide invaluable advice and guidance." 
He also understands that alumni giving is critical to graduating students who, in turn, are inclined to give. Horne explained, "As donors, alumni help alleviate the financial burden of paying for law school, allowing students to focus on course material. Their engagement directly contributes to the students' ability to flourish in Gambrell Hall and beyond." The need for customizable mentorship opportunities grows constantly. A unique mentorship program that fits some of that need is the Black Law Students Association (BLSA) Alumni Flash Mentor program. Formed by the BLSA Alumni Advisory Board, it is a short-term mentor program that pairs students with lawyers who are BLSA alumni to aid students with goals ranging from securing a summer position to working in big law to discerning what kind of law they are interested in practicing — and many concerns in between. Once those goals are met, the pair can choose to continue their relationship as mentor/mentee.
Affinity group mentorship through opportunities including the South Asian Law Students Mentor Program provides mentors who serve as speakers or panelists, providing guidance and networking opportunities. The tradition of alumni mentorship is one that is integral to Emory Law. Jennifer Crabb-Kyles 98OX 00C, former managing senior director of the Office of Alumni Advancement and Engagement, conveyed how alumni engagement is in direct alignment to students thriving. "The mentor programs created are not only a call to action from students and alumni eager to connect with each other, but also in support of Emory's Campaign-2O36." She added, "The core area of Student Flourishing calls for helping students realize their potential. One of the ways we do this at Emory Law is by connecting students to our incredible alumni who already serve humanity through the legal education gained at Emory Law."
The future of Emory Law rests in the hands of dedicated alumni who are agents of action. There are several ways to get involved by sharing your talents, time, and your experience gained at Emory Law. 
Email the Editor
Share This Story