Main content
Honors and Awards
Emory Law Honors Distinguished Grads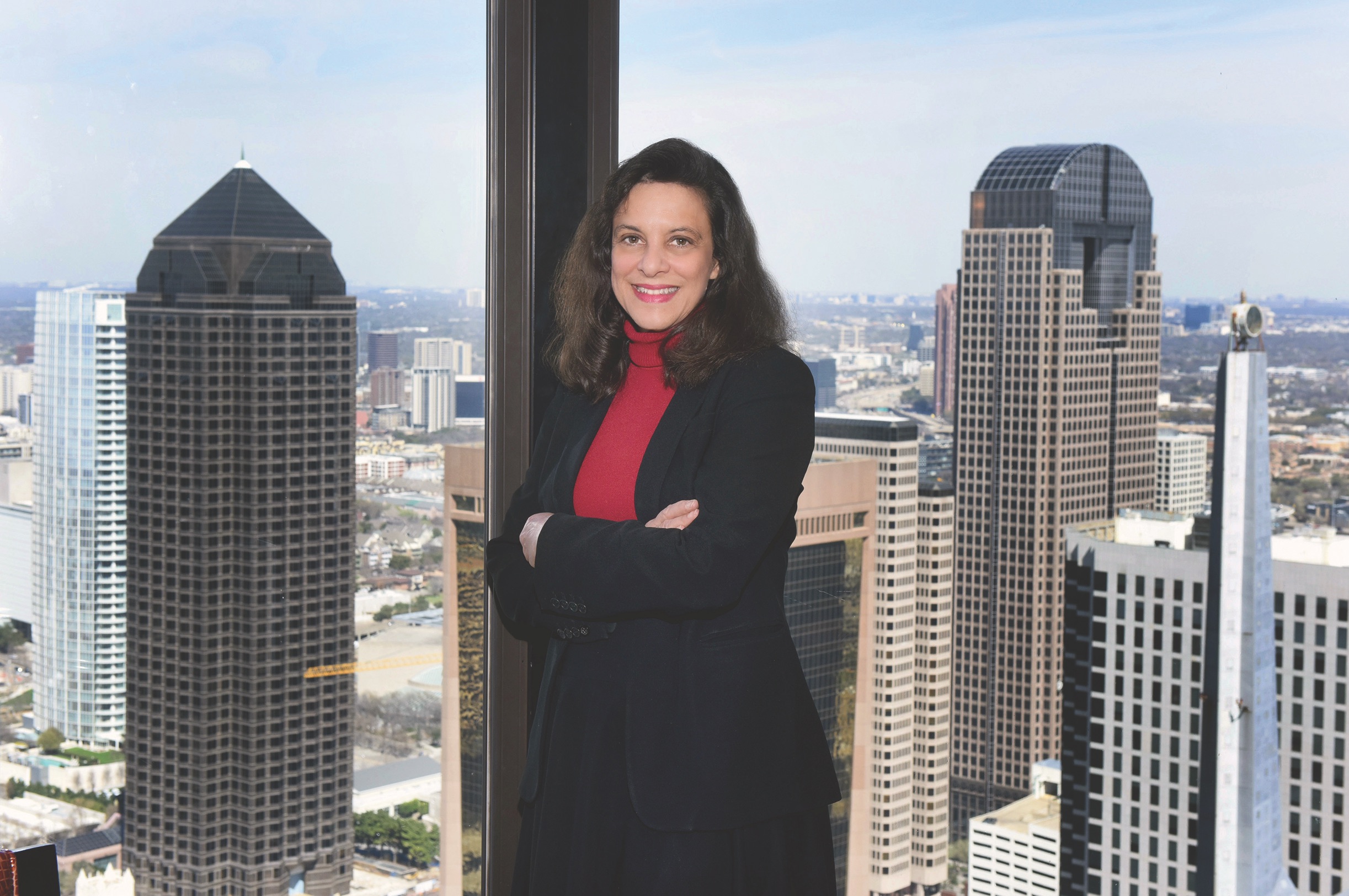 On Friday, April 27, 2018, Emory University School of Law hosted the annual Alumni Awards, bestowing honors on four distinguished graduates in recognition of their achievements in the field of law.
DISTINGUISHED ALUMNI AWARD
This year's Distinguished Alumni Award - an honor given to an alum whose extraordinary achievements in the legal profession and whose service to society embody the values and principles of the School of Law - was awarded to Judge Catharina Haynes 86L. From an early age, Haynes says she had a strong sense of the importance of justice for all, leading to her decision, at age 10, to pursue a career in law. That same passion for justice still drives her choices today. In the early part of her eminent career, she graduated with distinction from Emory Law and then spent a dozen years as a trial lawyer, including four years as a partner in Baker Botts's Dallas, Texas, office. In 1998, she was elected as a Texas state district judge in Dallas, where she served for eight years. As a state judge, she served as chair of the Texas Court Reporters Certification Board for three years. In 2008, President George W. Bush appointed her to her current position as a judge on the US Court of Appeals for the Fifth Circuit. In 2016, Haynes was appointed to the Judicial Conference Committee on the Administration of the Bankruptcy System, where she currently serves as Diversity Working Group Chair. Additionally, she serves on Emory Law's Alumni Advisory Board, is the immediate past chair of the Appellate Judges Conference of the ABA's Judicial Division, and is the current chair of the Appellate Judges Education Institute.
ALUMNI SERVICE AWARD
Carolyn Bregman 82L received the 2018 Alumni Service Award, given for a lifetime of outstanding leadership and service to the Emory Law community. Bregman practiced law for more than a decade before returning to her real passion — furthering the work of the School of Law — in 1993. For almost 15 years, she took on various roles, including a position as assistant dean for career services and working as a career adviser to 3Ls and alumni. In 2008, she joined the Emory Alumni Association, becoming senior director for alumni career services, where she created a robust alumni program until her retirement in 2015. Throughout her distinguished career, Bregman put her passion to work even outside of the office, logging countless volunteer hours in service of Emory Law. Among her many volunteer activities, she served as chair of the advisory board for Emory's Center for Women, as chair for the Women in Leadership Committee of Emory's President's Commission on the Status of Women, and as chair of Emory Law's Loan Repayment Assistance Program committee. She is also a member of the Emory Law Alumni Board, the Emory Public Interest Committee (EPIC) Advisory Board, and is on the editorial board for Emory Lawyer magazine.
ELÉONORE RAOUL TRAILBLAZER AWARD
Throughout her career, this year's Eléonore Raoul Trailblazer Awardee, Judge Dorothy Toth Beasley 08L, has exhibited that same pioneering spirit the eponymous Raoul 1920L embodied as the first woman admitted to Emory University and later as a national leader in the women's suffrage movement. In 1977, Beasley was the first woman appointed and then elected as judge to the State Court of Fulton County, where she introduced civil mediation and community service sentencing. Thereafter, she was appointed in 1984 as the first woman on the Court of Appeals. After leaving that court in 1999, Beasley served as a mediator and arbitrator with Henning Mediation and Arbitration Services Inc., until retiring in 2017. Notable achievements include earning an Emory LLM degree in international law in 2008, then serving four months with the United Nations International Criminal Tribunal for Rwanda; championing an amendment to the Court of Appeal's motto to include women; cofounding Atlanta's Table, a project of the Atlanta Community Food Bank; raising awareness of child sex-trafficking; and serving on the Emory Law Alumni Board and the EPIC Advisory Board, as well as on other boards and committees. Among current involvements, she assists refugees through the Lutheran Services of Georgia Refugee Program and, as a member of the Georgia State Bar iCivics Committee, seeks to persuade school districts in Georgia to adopt iCivics, a teaching program founded by Justice Sandra Day O'Connor, as part of their curriculum.
YOUNG ALUMNI AWARD
The 2018 Young Alumni Awardee was Justin K. Victor 10L, attorney with the Labor and Employment Practice Group of Morgan, Lewis & Bockius in their Philadelphia, Pennsylvania, and Wilmington, Delaware, offices. This award honors recent graduates (within 15 years) whose leadership and service contributions have elevated the legal profession and Emory Law. When an Emory alumnus stepped in to help Victor secure his first post- graduation position, working on corporate governance and whistleblower litigation, Victor says it inspired in him a strong desire to give back in the same way. Each year, he commits to making introductions, forwarding resumes, and helping at least two or three Emory Law students find work in the Philadelphia area. In his current role, Victor assists a wide array of employers, from start-ups to Fortune 500 companies, find efficient business solutions through the law — everything from putting labor and employment policies in place to trade secret litiga- tion. Additionally, he serves as adjunct professor at Emory Law and has served as adjunct professor at Rutgers University–Camden; lectures every year at Emory's Kessler-Eidson Trial Techniques Program; was selected to participate in Leadership Philadelphia's Keepers Program; and was chosen to participate in the Anti-Defamation League's Glass Leadership Institute. Victor is also an active member of Emory Law's Alumni Board.
---
Tags