Main content
Alumni
Emory Law Celebrates Alumni Award Winners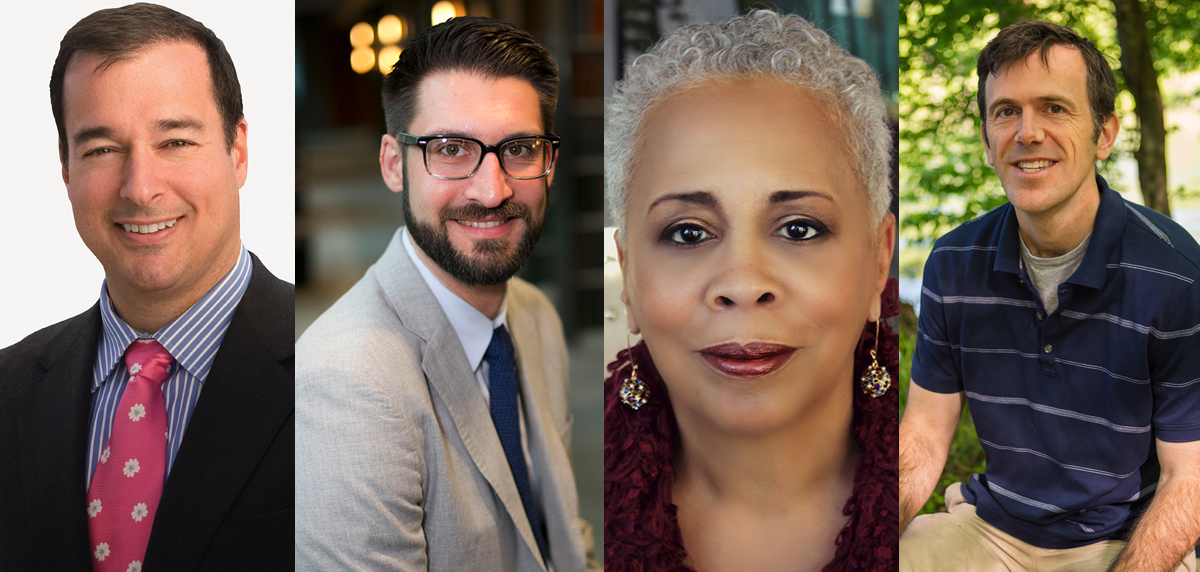 Each year, the Emory Law Alumni Awards recognize outstanding alumni who have achieved distinction in legal practice, teaching, research, or public administration and who have demonstrated distinguished service to Emory Law, the Emory Alumni Association, or Emory University. This year, we recognize four alumni for the distinction and honor they have brought to the law school through their service and achievements.
Distinguished Alumni Award
Established in 1985, the Distinguished Alumni Award is given to an alumna or alumnus who embodies the values of the school and has demonstrated extraordinary achievement in the legal profession and in service to society.
Facundo L. Bacardi 96L is chair of the board of Bacardi Limited, the largest privately held spirits company in the world. He was elected chair in 2005, at age 38. The company is now headquartered in Bermuda but was founded in Cuba in 1862 by his great-great grandfather, Don Facundo Bacardí Massó. Bacardi is also managing director of Apache Capital, a Florida-based company that invests in a diversified class of public and private assets. He is a member of the advisory board of Noro-Moseley Partners, the largest venture capital firm in the Southeast. Bacardi is a trustee of the Lubee Bat Conservancy, an international nonprofit founded in 1989 by his late brother, Luis. The organization works to save fruit and nectar bats and their habitats through conservation, research, and education. (The bat is part of Bacardi history and inspired its distinctive logo.) Bacardi is also executive director of the Facundo and Amalia Bacardi Foundation, named for his great-great grandparents. It benefits South Florida citizens by funding programs that support food and housing; education; medical research and health; the environment; and historical preservation. An Emory trustee, Bacardi began his generous support of his alma mater as a third-year law student. Emory Law's Bacardi Plaza bears his name, and he also established scholarships to honor two of his favorite professors — Nathaniel Gozansky and the late David Bederman. His gifts also aided the construction of the Hugh F. MacMillan Law Library. In addition to his law degree, Bacardi received a BS/BA in finance from American University. He is a member of the Georgia Bar.
Young Alumni Award
The Young Alumni Award recognizes the professional and personal achievements of an alumna or alumnus who graduated within the past fifteen years and has made notable leadership and service contributions to Emory Law and to the legal profession.
Silas W. Allard 11L 11T 25G is Harold J. Berman Senior Fellow at the Center for the Study of Law and Religion and managing editor of the Journal of Law and Religion. Allard's work focuses on migration and belonging, with special attention to the role that law and religion play in forming inclusive and exclusive communities. His writing has appeared in the journals Refuge and Political Theology and in edited collections on vulnerability, global law, international law, and migration. Allard is also a doctoral student in ethics and society at Emory University's Graduate Division of Religion. Allard joined CSLR, his alma mater, in 2013, following a two-year clerkship with Chief Judge Donald C. Pogue at the United States Court of International Trade. He served as CSLR's associate director and managing director from 2013 – 2019. Allard was editor-in-chief of the Emory International Law Review, and received the university's highest student honor, the Marion Luther Brittain Award. In addition to his JD and master of theological studies from Emory, he holds a bachelor's in religious studies from the University of Missouri.
Eléonore Raoul Trailblazer Award
The Eléonore Raoul Trailblazer Award commemorates Eléonore Raoul 1920L, the first woman admitted to Emory University and a national leader in the women's suffrage movement. It is given to an Emory Law alumna who has blazed a trail for others through her own professional and personal endeavors.
Prior to her 2008 appointment to the Michigan Court of Appeals, the Honorable Cynthia D. Stephens 76L was a trial judge for twenty-three years. She served in the 36th District and later, the Third Circuit, where she was the chief judge pro tempore, mediation tribunal chair, and presiding civil division judge. Before joining the bench, she was vice-chair of the Wayne County Charter Commission, associate general counsel to the Michigan Senate, and regional director for the National Conference of Black Lawyers. She's served on the National Bar Association's Executive Board and Judicial Council and was a State Bar of Michigan commissioner for sixteen years. In 2005 she received its highest honor, the Roberts P. Hudson Award. She also received the inaugural Woodrow Smith Community Service Award, the Golden Heritage Award, and the Susan B. Anthony Award. She's served with New Detroit, the Inner City Business Improvement Forum, the Detroit Metropolitan Association Board of Trustees for the United Church of Christ, the Greater Detroit Area Health Care Council, and the Girl Scouts. Stephens has served as faculty at several institutions and earned her bachelor's at the University of Michigan.
Alumni Service Award
The Alumni Service Award honors an alumna or alumnus who has contributed significant, sustained leadership and outstanding service to the Emory Law community.
Andrew M. Thompson 97L is a partner in the Environmental/Land Use Practice and a member of the Sustainability Practice Group at Smith, Gambrell & Russell. He litigates environmental, commercial, and insurance-related issues in state, federal, and administrative courts. He has represented clients in enforcement actions by the EPA and state environmental agencies, toxic tort litigation, and Clean Water Act permitting and compliance. He is a member of the Turner Environmental Law Clinic and Chattahoochee Riverkeeper Advisory Boards; the Metro Atlanta Chamber of Commerce Environmental and Sustainability Committee; and is a Class of 2012 graduate of the Institute for Georgia Environmental Leadership. Thompson clerked for the Honorable R. Lanier Anderson III, US Court of Appeals for the Eleventh Circuit. He earned his bachelor's in politics, summa cum laude, from Wake Forest University. He was elected to the Order of the Coif and was Notes and Comments editor of the Emory Law Journal. He serves as an adjunct professor at Emory Law and teaches a course in water law and environmental litigation.
---
Tags