Main content
Symposia, Colloquia, and Special Events
Corporate leaders show how diversity helps businesses thrive
Emory University School of Law |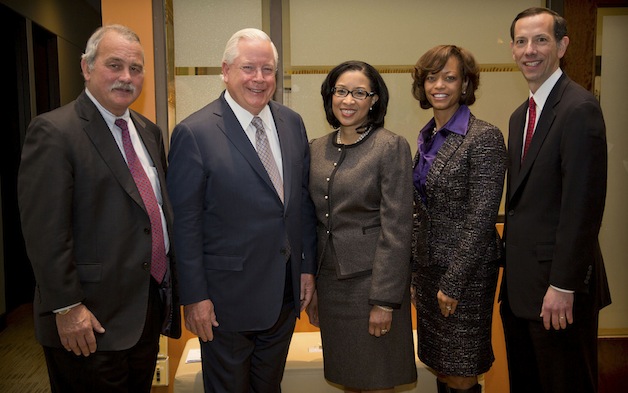 From the Daily Report
The first in a new series of conversations about diversity in the legal profession drew a crowd of about 200 to Emory University School of Law on Jan. 27.
"All of these firms and in-house departments have been doing their own diversity efforts, and we thought a law school would be a good place to engage in a conversation on best practices," said Melba Hughes, a partner at legal recruiter Major, Lindsey & Africa, who is organizing Emory Law's Diversity Speaker Series.
Corporate law departments have made more progress in increasing diversity than firms, said the three high-profile general counsel and the former CEO of MetLife who participated in Monday's panel discussion.
UPS's chief legal officer, Teri McClure 88L, moderated the panel, which was made up of Home Depot's general counsel, Teresa Roseborough; DuPont's general counsel, Thomas Sager; and the retired chairman, president and CEO of MetLife, C. Robert Henrikson 72L.
"The GC suite is changing," Sager said. "Our ability to attract women and minorities is at an all-time high."
Dupont and other corporate law departments may not pay as much as private firms, he said, but they offer work-life balance instead of an "eat what you kill" mentality, a more inclusive environment and a chance to participate in the business's strategy.
Read the rest of the story by Meredith Hobbs (subscription required) »
---
Tags