Main content
Alumni
U.S. District Court Judge O'Kelley to receive Emory Medal
Emory University School of Law |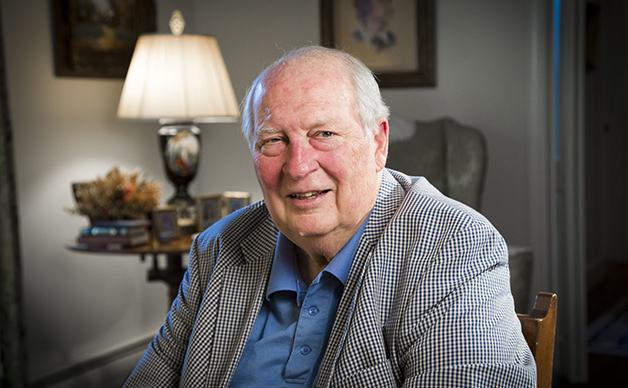 Emory Law alumnus Judge William O'Kelley 51C 53L will receive the university's highest alumni honor, the Emory Medal, Oct. 7. O'Kelley was praised in nominations for his even temperament and high ethical standards on the bench, combined with "genuine concern for the needs of all who appear before him." 
Medalists are honored for distinguished service to the university, extraordinary public service, or high achievement in their field, the professions or the arts. The medal was first awarded in 1946 and is given to one to three recipients annually.
"The Emory Medal recognizes alumni who represent the very best of Emory University," said Leslie Wingate 82C, senior director of the Emory Alumni Association.
O'Kelley is a senior U.S. district court judge for Georgia's Northern District. He was nominated by President Richard Nixon in 1970, served as chief judge from 1988 to 1994, and assumed senior status in 1996. U.S. Supreme Court Chief Justice Warren Burger appointed O'Kelley to the Foreign Intelligence Surveillance Court, where he served from 1980 to 1987. O'Kelley was appointed to the Alien Terrorist Removal Court for successive five-year terms by Chief Justices William Rehnquist and John Roberts. Prior to becoming judge, he was an assistant U.S. attorney and a special hearing officer for the U.S. Department of Justice. He also served in the U.S. Air Force Judge Advocate General Corps.
Following election by his peers, O'Kelley served on the Judicial Conference of the United States. U.S. Supreme Court Justice William Rehnquist nominated him for the Board of the Federal Judicial Center, the educational and training branch of the federal judiciary.
O'Kelley has received Emory's Law's Distinguished Alumnus Award and the Significant Sig Award from the national Sigma Chi Fraternity. The Judge William C. O'Kelley Endowed Scholarship Fund was created in his honor, an effort led by former Emory alumni who were his law clerks. He has served on the Law Advisory Board, the Emory Board of Trustees, and many university committees. 
He is married to Ernestine "Teeny" Allen O'Kelley. The couple has two children, Virginia Leigh O'Kelley Wood and William C. "Bo" O'Kelley Jr., as well as five grandchildren and one great-granddaughter. 
---
Tags