Main content
Public Interest
Georgia Supreme Court hears oral arguments at Emory Law
Emory University School of Law |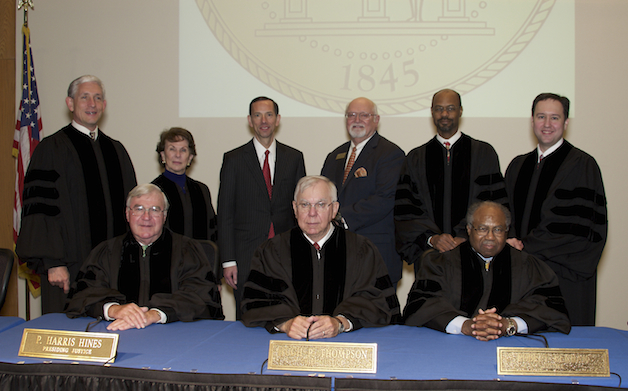 Atlanta, November 7, 2014— The Supreme Court of Georgia held a special session of oral arguments at Emory University School of Law in Atlanta on Friday, November 7.
During the session, the court heard appeals in two cases.  In Corvi v. The State of Georgia, the Court considered a Paulding County grand jury's decision to charge Maria Sonia Corvi with two counts of cruelty to children in the second degree and two counts of reckless conduct.  Corvi's attorney Andrew Fleischman argued that the language of the original decision is vague, lacking appropriate definition in the Georgia statute. The attorney for the State, District Attorney Donald Donovan, argued that the issue of vagueness is not sufficient to raise a constitutional challenge. In the second appeal, India-American Cultural Association, Inc., v. iLink Professionals, Inc., two India-American organizations appealed their trademark rights to use the name, "Miss India Georgia" and "Miss Teen India Georgia" for annual pageants.  The India-American Cultural Association (IACA) had hosted the two pageants for many years, but did not host them in 2011 and 2012 due to lack of staffing. In 2012, iLink held the pageants. William Brewster, the attorney for IACA, held that trademark rights belonged to the association through use rather than registration. The attorney for iLink, Michael Higgins, argued that IACA had abandoned their rights.  
Each year, the state's highest court hears cases around the state for the purpose of making the court's business and the judicial process more accessible to the public.
---
Tags