Main content
Centers
Retired professor gives $1 million to Emory Law
Emory University School of Law |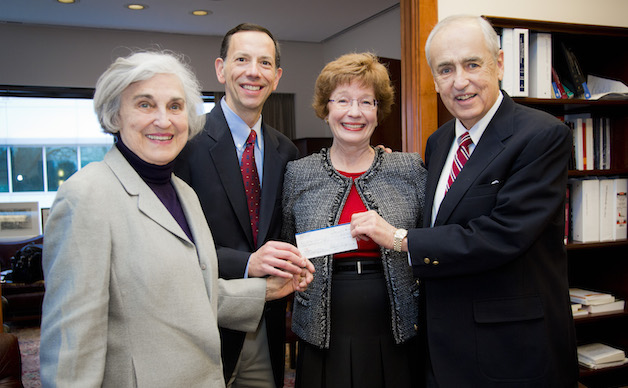 Emory Law Professor William J. Carney and his wife, Jane, have created a challenge grant of $1 million to benefit the law school's Center for Transactional Law and Practice.
The Carneys' gift will allow the center to hire an assistant director and to enhance both its experiential programs and academic offerings. When the law school has raised $1 million in matching funds, it will establish the William and Jane Carney Chair of Transactional Law and Practice, to be held by the center's executive director.
The gift is one of the largest named gifts from a professor ever given to Emory University.
"It's a difficult legal market and students are graduating with significant debt," Carney said. "Graduates need practical knowledge, and the center gives young transactional lawyers a realistic understanding of what they need to do on day one."
Carney, the Charles Howard Candler Professor of Law Emeritus, led the committee that developed the center and hired its first director. It has grown dramatically since its founding in 2007. More than 200 second- and third-year students are currently enrolled in its certificate program, now under the leadership of Executive Director Professor Sue Payne.
The center aligns with the law school's emphasis on connecting doctrinal and experiential learning. Thirteen full-time professors serve on its faculty, and more than 40 practitioners serve as adjunct professors. The center's certificate requirements include doctrinal, business and skills courses that build upon each other, culminating in a capstone course or transactional law externship. The center is also known for its biennial conferences on teaching transactional law.
"Bill Carney is securing Emory's position as the preeminent law school in teaching transactional law and practice, and as the leader in promoting effective transactional skills education," said Emory Law Dean Robert Schapiro. "With this gift, we will be in a position to recruit the staff needed to enhance the quality and diversity of our transactional skills curriculum and to provide the resources to develop new ideas."
"Carney has been among the leading professors teaching corporate and securities law for decades," said Emory Law Vice Dean Robert Ahdieh, who serves on the center's faculty. "But he has also always been committed to the idea that transactional lawyers need rigorous skills training."
Carney's experience in transactional practice served him well in academia, Ahdieh says. He is an interdisciplinary scholar who has explored the interconnections of law and economics.
Carney retired in 2012, after teaching 34 years at Emory Law. He is the author of two leading casebooks, one on corporate finance and another on mergers and acquisitions. A 1962 graduate of Yale Law School, he worked in private practice before accepting his first teaching job at the University of Wyoming in 1973. He has also taught in Belgium, Germany and Russia.
Carney served on the board of directors of the pharmaceutical company Pharmasset, Inc. The company developed an oral treatment for chronic hepatitis C, which affects roughly 150 million people worldwide. Pharmasset was acquired for an estimated $11 billion by Gilead Sciences, Inc., in 2011. Gilead's drug, Sovaldi, was approved by the U.S. Food and Drug Administration in December 2013.
---
Tags