Main content
Honors and Awards
Clement 15L honored as Distinguished Bankruptcy Law Student for 11th Circuit
Emory University School of Law |
Leia Clement 15L has been named the 2015 Distinguished Bankruptcy Law Student for the 11th Circuit by the American College of Bankruptcy.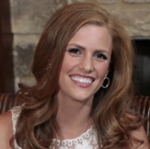 The award includes a trip to Washington, D.C., to attend the college's annual meeting and induction ceremony on March 13-14.
Clement said she is both honored and grateful for the award, and thanked Robert T. Thompson Professor of Law Rafael Pardo for nominating her.
"I am fortunate to be able to participate in such a renowned program and greatly look forward to the annual meeting," Clement said. "I am eager to participate in all that the college does, and to meet its leaders and fellows. Most of all, I feel encouraged and inspired by this honor and greatly look forward to practicing in this field of law that epitomizes my passions."
"I am thrilled that Leia Clement has been selected," Pardo said. "Throughout her law school career, she has exemplified a commitment to bankruptcy law and practice that undoubtedly will make her a successful practitioner. She has selected her courses carefully to expand her breadth of knowledge in anticipation of practicing bankruptcy law." 
Clement also made the most of opportunities beyond the classroom, he says, as a legal extern to the Hon. Mary Grace Diehl of the U.S. Bankruptcy Court for the Northern District of Georgia. After graduation, Clement will join the U.S. Department of Justice as an honors attorney for the U.S. Trustee Program, he added.
"From everything I know about Leia, I am confident that she will achieve greatness in the field of bankruptcy law," Pardo said.
The college's goal in selecting distinguished students is to "identify law students of demonstrated talent and interest in bankruptcy law." The college's regents and their councils contact law schools within their circuits to identify students, and then provide mentors for those who are chosen.
Clement earned a bachelor's degree in economics at Emory. A Dean's List student, she received several scholarships to aid pursuing her law degree. She is a Boisfeuillet Jones Scholar, Nat Gozansky Scholar and Southeastern Bankruptcy Law Institute Scholar. She also was awarded a scholarship from the Emory Alumni Association Board in 2013. She studied abroad at China's Beijing Normal University as an undergraduate.
Clement serves as the Notes and Comments editor for the Emory Bankruptcy Developments Journal. Her article "A Study on Bankruptcy Crime Prosecution Under Title 18: Is the Process Undermining the Goals of the Bankruptcy System?" will be published in a forthcoming edition.
Clement interned in summer 2014 with in the Atlanta offices of the U.S. Department of Justice, U.S. Trustee, and spent the previous summer working with the Georgia Public Defender Standards Council's Appellate Division.
---
Tags