Main content
Honors and Awards
McCoyd 93L appointed as DeKalb County magistrate
Emory University School of Law |
Matt McCoyd 93L, long-time Emory Trial Techniques instructor, has been appointed to serve as a judge with the DeKalb County Magistrate Court. "I am honored to have the opportunity to serve the citizens of DeKalb County in this position," McCoyd said, noting that he plans to continue teaching at Emory University School of Law.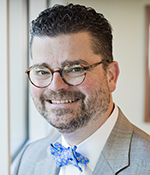 McCoyd has already had an impressive career, serving for seven years as a senior assistant district attorney in DeKalb County, primarily in the White Collar Crime Unit, where he prosecuted RICO, white collar, and other complex criminal cases. He received the "Master Advocate" designation from the National Institute for Trial Advocacy in 2005.
He currently teaches Evidence, Advanced Evidence, Cross-Examination, Advanced Criminal Trial Skills, Pretrial Litigation, Litigating Identity in the Age of Scientific Advancement, and Jury Selection/Jury Dynamics. He also serves as faculty advisor and a competition coach for the Emory Law Mock Trial Team. He is a past president of the DeKalb Bar Association, a founding member of the Georgia Innocence Project and a member of the American Constitution Society.
The Chief Magistrate nominated McCoyd to the Superior Court Judges, who voted in committee on whether to approve and appoint him. As the confirmed nominee, McCoyd's name was then sent to the governor for affirmation of the appointment. McCoyd was appointed midterm and will be sworn in on Friday, May 8, 2015. He will serve the remainder of the term through December 2016 and will be up for reappointment for a four-year term beginning on January 2017.
---
Tags