Main content
Students
Turner Environmental Law Clinic student Jeni Lamb 16L advocates for urban agriculture
Emory University School of Law |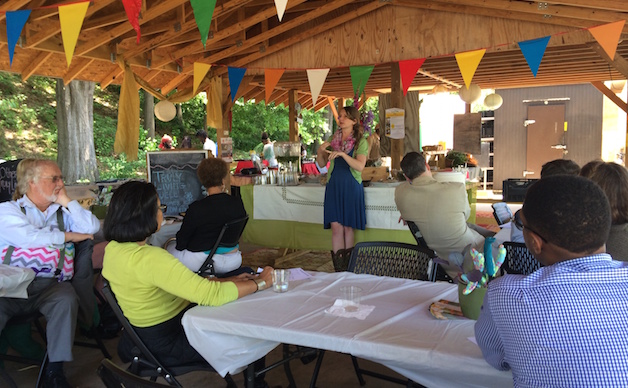 Turner Environmental Law Clinic student, Jeni Lamb 16L, presented her proposals to revise the Fulton County Zoning Ordinance to permit and promote urban agriculture. The presentation was held at Truly Living Well's Wheat Street Garden – one of Atlanta's largest urban farms. In attendance were several Fulton County commissioners, members of Fulton County's Board of Health, members of Fulton County Citizens Commission on the Environment, members of Atlanta's Regional Commission, and members of UGA's Agriculture Extension Office.
Building largely from the Clinic's urban agriculture expertise and lessons learned from drafting and implementing the City of Atlanta's urban agriculture zoning ordinance, Lamb recommended a streamlined, easy approach for Fulton County to encourage the growing of fruits and vegetables, the keeping of small animals, and the sale of produce.
In her proposal, she noted, "Urban agriculture, defined broadly, is the production of food in cities to feed local populations. Local food production may be accomplished by gardening, growing various types of crops, or raising livestock. Cities around the country have recognized the increasing importance of local food production for improving public health. Urban agriculture also promotes small business development, improves community building, and increases property values. Consequently, many cities have revised their zoning ordinances to permit and promote food production within city limits."
The City of Atlanta has now positioned itself as a regional and national leader in urban agriculture zoning reform. Several metro counties are following the city's lead, including DeKalb County,  which finalized a zoning ordinance update to allow for community gardens in all zoning districts, and Cobb County, which now allows individuals to keep hens on land under two acres through application for a variance. 
The Turner Environmental Law Clinic highlights sustainable and urban agriculture as one of its primary initiatives, promoting sustainable agriculture and local food production through a wide range of activities.
---
Tags