Main content
Symposia, Colloquia, and Special Events
Human rights expert Koh to speak at Emory Law
Emory University School of Law |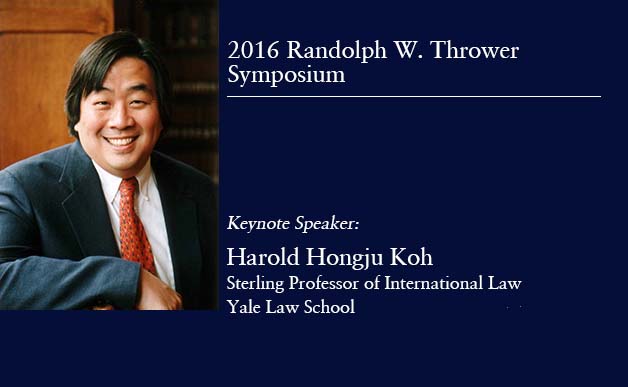 Harold Hongju Koh, one of the nation's leading experts in international law, national security and human rights, will be the keynote speaker at the 2016 Randolph W. Thrower Symposium at Emory University School of Law on Thursday, Feb. 11.
This year's day-long symposium, titled "Redefined National Security Threats: Tensions and Legal Implications," will explore the implications of three rapidly changing and developing areas of national security:
cyber security;
new technologies, including domestic drones; and
effect of transnational tensions on domestic security, immigration laws and cross-border security.
Koh, who is the Sterling Professor of International Law at Yale Law School, served for nearly four years as the 22nd Legal Adviser of the U.S. Department of State.
The event is scheduled from 8 a.m. to 4:30 p.m. in the law school's Tull Auditorium, 1301 Clifton Rd., Atlanta.
The Thrower Symposium is free and open to the public. Five CLE credits are available for a registration fee of $65 in advance (or $75 on the day of the symposium). Online registration closes Monday, Feb. 8, at 9:00 a.m. The registration fee is waived for judges and clerks.
---
Tags