Main content
Alumni
Eyes on a prize: The courageous life of John Lewis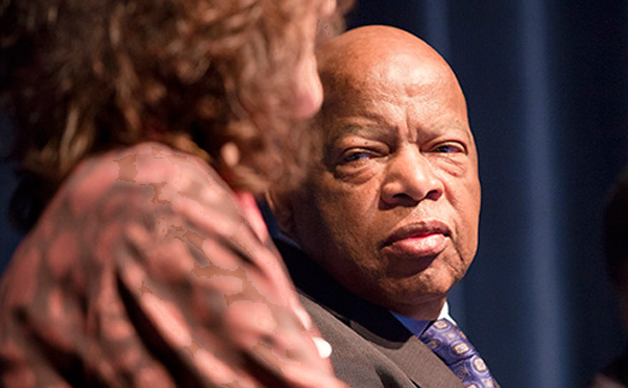 At a screening of a new documentary telling his life story, "Get in the Way: The Journey of John Lewis," Congressman Lewis drew laughs from a capacity crowd at Emory School of Law on March 26 when he noted of now being a film star, "It is almost too much for a boy who grew up in rural Alabama, 50 miles from Montgomery, on a farm, preaching to chickens."
Though Lewis' preaching would grow more sophisticated — he is a graduate of both Fisk University and American Baptist Theological Seminary in Nashville — he ultimately would make his mark as a man of action; the movement had its man of words in Lewis' idol, the Rev. Martin Luther King Jr.
The evening began with a welcome from Emory Law Dean Robert A. Schapiro, who honored Lewis as a man "who has committed his life to the highest ideals of social justice and public service." Alluding to Lewis' 2014 honorary doctor of laws degree from Emory, Schapiro proudly claimed him as an "Emory lawyer" — one of countless honors bestowed on Lewis, including the Presidential Medal of Freedom, awarded by President Obama in 2010.
A year ago the law school's relationship with Lewis further deepened when an anonymous donor gave $1.5 million to establish the John Lewis Chair in Civil Rights and Social Justice. The chair will be awarded to a distinguished scholar with a demonstrated commitment to upholding the rule of law through the study of civil rights.
The dean brought Emory President James Wagner to the stage, who reflected, "It is right that this celebration is happening at a university. John Lewis belongs here — actually, he belongs anywhere that people struggle in good faith to explore ways to protect human rights and secure civil liberties."
Before the screening got underway, Hank Klibanoff —James M. Cox Jr. Professor of Journalism — moderated a panel discussion that included the filmmaker, Kathleen Dowdey; Lewis; and Charles Floyd Johnson, executive producer of the documentary.
Dowdey revealed that she and Lewis met when she was making the 1988 documentary "Dawn's Early Light: Ralph McGill and the Segregated South." She recalls being impressed not only by the stories Lewis told but how he told them, and she realized that he "needed a voice to reach people more widely."
Although filming began in the early 1990s, funding issues meant that the film wasn't completed until 2015. The stop-and-start nature of the project suited Lewis, who said, "It is good, from time to time, to relive some of your life. It tells you something about where you come from, where you are, and maybe where you are going."
The premiere took place last year at Washington University in St. Louis, where Johnson described "everyone craning their necks to gauge the reaction of Congressman Lewis." They needn't have worried. Lewis describes being very moved by the results, especially by the comments of the colleagues in the film who fought with him on the front lines.
"You will hear," said Lewis, "Ambassador Andrew Young speaking out of the depth of his own being, speaking about Dr. King. Each time I think about it, I shed a tear."
"In the way in a good way"
The film takes its title from Lewis' penchant, as his mother ruefully described it, for "getting in the way." For a young man of Lewis' background and skin color — growing up one of 10 children of sharecroppers before desegregation — the risks of challenging the existing system were many: beatings, arrests, even death, along with the fear that the family farm would be bombed or set on fire.
However, Lewis — seeing injustice all around him in "White Only" and "Colored Only" signs at public facilities — chose to ignore his mother's advice "not to get in the way." As he said, "I got in the way in a good way."
Lewis continued, "I heard Rosa Parks. I heard the words of Dr. King on the radio and felt that he was speaking directly to me. The action of Rosa Parks and the leadership of Dr. King inspired me."
Lewis could see results beginning to shine through, as King later would say, "the long night of captivity." Indeed, the Montgomery bus boycott that Parks sparked mobilized everyday people. In the end, it lasted 381 days, and 50,000 people demonstrated the power of their purse by walking everywhere they went, hardly minding the rain or snow.
At the age of 17, Lewis wrote to King. Soon thereafter, he headed to Fisk and began studying nonviolence with the Rev. James Lawson. One of Lewis' professors had been with King at Morehouse and arranged for them to meet in Montgomery.  
King's first words to him were, "Are you Lewis?" He responded, "John Robert Lewis," desperately hoping his full name would indicate a man of even greater substance. In the film, Young describes King sometimes being aloof with members of the movement, but not so with Lewis. King "felt that Lewis was his true spiritual son."
"Get in the Way" deliberately highlights chapters of Lewis' life where profound personal change occurred. For instance, unbeknownst to his family, Lewis became a leading figure in the Nashville sit-ins, which occurred from February to May 1960. His first one was at the Woolworth's lunch counter, where students would spend the day waiting for service that never came and being arrested.
Lewis and his fellows were subject to demeaning epithets, had all manner of things poured on them, and were burned by cigarettes. Yet, Lewis reports, "I held my head up. I felt so free. I felt that I had crossed over." And, indeed, when the trial of the students was at hand and 4,000 protestors showed up at City Hall, Mayor Ben West conceded that the lunch counters should be desegregated.
Despite his youth, Lewis soon became known as one of the "Big Six" of the civil rights movement, whose other members included King, James Farmer, A. Philip Randolph, Roy Wilkins and Whitney Young. Lewis assumed the leadership of the Student Nonviolent Coordinating Committee (SNCC). As Eleanor Holmes Norton, also a SNCC member, comments in the film, "John became the chair of SNCC out of sheer courage. We were the guerillas of the movement."
"We cannot be patient"
As Norton indicates, Lewis served the movement, for the most part, through action rather than oratory. However, at the March on Washington in August 1963 — with a nation transfixed and an expected crowd of some 250,000 — words mattered.
The speech that Lewis drafted for the day was fiery, uncompromising. The night before the march, however, it mistakenly was leaked to the press, and the movement's leadership became concerned about seeming too strident. Specifically, Lewis was critical of the Kennedy administration's civil rights bill, which he described as "too little and too late." Lewis also indicated that if the March on Washington didn't bring results, the protesters would call for a subsequent "march through Dixie, the way Sherman did."
Lewis recalls a tense meeting with leadership the night before he was scheduled to deliver the speech. But the closing, with its reference to Sherman, stayed in until the speakers got to the steps of the Lincoln Memorial. There, A. Philip Randolph and King prevailed on him, with King saying, "This doesn't sound like you, John." Out of respect for them, Lewis changed the speech, a decision that he still defends. "I wasn't angry about doing so," he says, "but it is fair to say that as I wrote the speech, I reflected a sense of righteous indignation."
Its cuts notwithstanding, the speech is a powerful testament, proof that the man of action all along had an orator's poetry in him. As he closes, Lewis rouses the crowd, saying, "We shall splinter the segregated South into a thousand pieces and put them together in the image of God and democracy. Wake up, America, wake up. We cannot stop and we cannot be patient."
When the lights came up following the film, a visibly energized Lewis took questions from the audience. He was asked about ensuring other rights — for women and members of the LGBT community. His last question came from a small child asking about American immigration policy.
"You are never too old or too young to be involved in seeking justice," Lewis responded. "If you see something that is not right, you have a moral obligation to change it."
This story first appeared in Emory Report.
---
Tags