Main content
Honors and Awards
Freer to graduates: You've earned the right to believe in yourself
Emory University School of Law |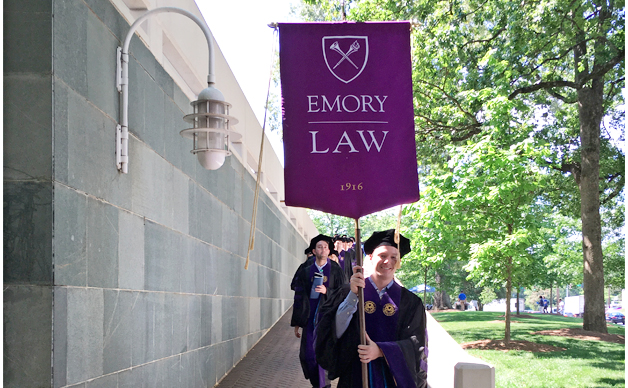 Today, Emory Law graduates received their diplomas during ceremonies held midday on the lawn of Gambrell Hall.
"There are few occasions in life when we can pause to remember the past, savor the moment, and take the pulse of the future," Dean and Asa Griggs Candler Professor of Law Robert Schapiro said. "This is one."
The graduates' purple velvet tams and trim are rooted in a scholarly tradition of enlightenment that stems from the Middle Ages. "We swelter in our robes for a purpose," Schapiro added, with a nod to temperatures approaching 80 degrees.
"I hope you will recall this law school as a place of broad and generous friendships, and remember your years here as a time that gave you a better understanding of the possibilities of your own life," he said. "We will certainly remember you with great fondness."
The new graduates join a fellowship of about 11,000 alumni spread across 50 states and 36 countries, Schapiro said. The class of 2016 was charged to support that community by Alumni Association President John Maggio 96L, a partner at Condon & Forsyth LLP in New York City.
 "Just as I invite you to call upon alumni as you enter the profession, some day students like yourselves will call upon you," Maggio said. "Please remember to support the next generation of Emory lawyers who will sit where you sit today, next year and for many years to come. Indeed, 20 years ago, I sat where you are sitting."
Student Marshal was Will Eye 12C 16L, who will soon clerk with the chief judge of the U.S. Court of Appeals for the 11th Circuit. A double Emory graduate, Eye is a Bobby Jones Scholar and Woodruff Fellow who has worked with humanitarian organizations worldwide. Related story.
Several other students were recognized for accomplishments and service:
Amelia Todd 16L received The Minister Gloria Jean Fowler Angel Award. 
Matt Johnson 16L was named Outstanding 3L Student. While accepting the award, he saluted his classmates for their 3,200 collective volunteer hours.
"For the past three years, I've been a witness to the selflessness and compassion of the Class of 2016. You have demonstrated, time and again, a selfless ethic and drive to help your peers, your community and our profession," Johnson said. "Some days it may be a small gesture for a friend who is struggling. On others, it may take the form of pro bono work—providing legal aid to veterans in the Veteran's Clinic, protecting the legal rights of children as part of the Barton Clinic, or working with partners at King & Spalding on the International Refugee Assistance Project. And that figure does not include the hundreds of hours that, no doubt, went unreported."
Tsering Choedon16L received The LLM Leadership Award. Choedon, an Indian-born Tibetan, attended the LLM program through The Tibet Fund. She plans to return to India to pursue a Ph.D. Related story.
Whitley McIntosh16L received The JM Leadership Award. Mcintosh will start medical school this fall at her home state's Kentucky College of Osteopathic Medicine at the University of Pikeville.
Bridget Steele Mourão 16L also received The JM Leadership Award. She is director of Fire Safety at Emory University.
Beau Goodrick 16L and Meghan McNulty 16L presented the Graduating Class Gift.
Nearly 100 students chose to have a friend or family member participate in the hooding ceremony, a rite that marks the transfer from student to graduate. The rest were hooded by Robert Howell Hall Professor of Law Richard Freer, whom the graduating class elected Most Outstanding Professor this year.
Freer reminded students that achievement is built on a series of decisions. "As you leave us and enter the profession, remember how you got to this point. You did not jump from your senior year of college to this day. The enormous accomplishment we celebrate today is the result of hundreds of days—just about 1,000 days—strung together. And in nearly every one of those, you did something to advance your goal. Saying that you earned your law degree encapsulates not one event, but thousands of individual decisions and actions," Freer said. "Our greatest accomplishments are rooted in these individual moments, he said, adding, "You have earned the right to believe in yourself."
Two other professors were recognized for excellence in teaching: 
Associate Professor Kay Levine received the Emory Williams Teaching Award.
Professor Charles Shanor received the Ben F. Johnson Faculty Excellence Award.
Degrees awarded included Doctor of Law, Doctor of Law and Master of Business Administration, Doctor of Law and Master of Public Health, Juris Master, Master of Laws, Master of Comparative Law, and Doctor of Juridicial Science.
---
Tags