Main content
Emory Law student travels the world to find his calling at home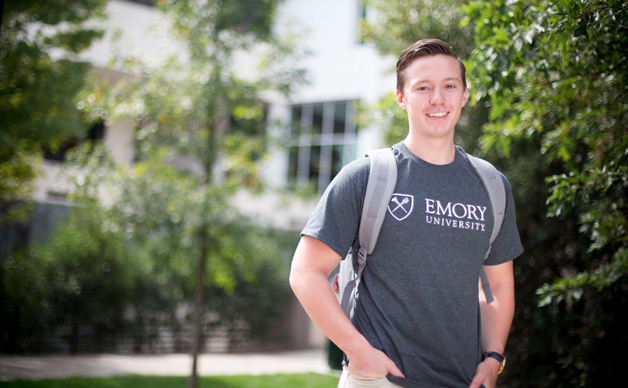 He's been mugged in Johannesburg, eaten camel tongue with Somali refugees in Atlanta, and played violin for crowds in South Korea. And in each of those situations, he's turned his mind toward helping others to thrive.
From prison reform to education reform to music therapy, Emory University School of Law student Will Eye has traveled the globe making change. Yet Eye, who graduates May 9 with a juris doctor degree, says he never felt pressure to be great. Instead, he felt a call to advocate for the disenfranchised — that and a slight pull to one-up his "genius" neurologist brother.
As a child, Eye aspired to become a happy farmer and, later, to be a marine biologist. (The rigor of middle-school science classes quickly squelched that desire.) In high school, when he began practicing his violin for up to four hours a day, he considered becoming a professional musician. He traveled with Music Without Borders using music to help people deal with the aftermath of war and conflict. He was able to see the world, and what he saw was powerless people living a depressed existence.
Eye came to Emory first as an undergraduate, planning to learn more about the needs of those people and to continue his music. Soon, he determined that if the violin were to be his solace, it could not also be his work. He signed on to study philosophy, a decision that would help him define his worldview and build upon the empathy he'd inherited from his mother.
"My mother is the most patient person I know," says Eye, who graduated from Emory College in 2012 and was one of four students awarded the prestigious Bobby Jones Scholarship. "When I told her I was going to go to college to study violin performance and philosophy, she wondered what I'd do with that, but she didn't discourage me. She is a remarkably selfless person."
As a single mother, widowed when Eye and his older brother were small, she taught her children that bad things happen to good people and that social safety nets are sometimes necessary, he recalls. Eye now credits his mother's lessons for making him more compassionate.
That compassion shaped his fervor for human rights work, which led him to law school. He had studied in South Africa as an undergraduate and says he learned there that "legal systems can be a serious impediment to liberty and, at the same time, they can unchain people who have been down for a long time."
"Law as a vehicle for social change"
At Emory Law, Eye excelled academically as a Robert W. Woodruff Fellow, a Dean's Teaching Fellow, an admission ambassador and executive notes & comments editor for theEmory Law Journal, while maintaining a commitment to the ideals that led him to study law.
During his first year, he coordinated a benefit concert for Syrian refugees that raised enough money to vaccinate hundreds of children displaced by crisis. "While some people go to law school because it seems like a pragmatic conclusion to a liberal arts degree, I believe in law as a vehicle for social change," he explains.
Eye counts Frank Alexander, Sam Nunn Professor of Law, among his most influential teachers.
"Will Eye has an unusual combination of gifts in his intellectual capacity, his wisdom and his spirit of generosity," Alexander says. "Any one of these is a great gift for any person to have. To have all three such gifts and judgment about using them is rare indeed."
Eye used that judgment, honed in coursework such as Alexander's class on property law, to shift his focus from international human rights issues to domestic ones. He is moved by unemployed and homeless people who don't have the power to be the "arbiters of their own destiny."
"When I lived in South Africa," he says, "I expected to see abject poverty. I did not expect to see the same things among my neighbors."
Eye hopes to one day help solve problems like domestic poverty and limited access to resources through work for the Department of Justice or the Solicitor General's Office. His road toward the DOJ starts with confirmed one-year stints working for a law firm and then clerking in a court.
As he prepares to leave Emory, he says that what he will miss most is the idea of learning just for learning's sake.
"In law school, when I would get really stressed, I'd remind myself, 'Boo hoo. I'm stressed. I have to read a lot of books today and write papers. I have to grapple with great ideas,'" he says. "I'm not very religious, but it's a blessing. In the big scheme of things, this is such a privileged life."
This article previously appeared in Emory Report.
---
Tags