Main content
Randall Kessler 88L: At the top of his game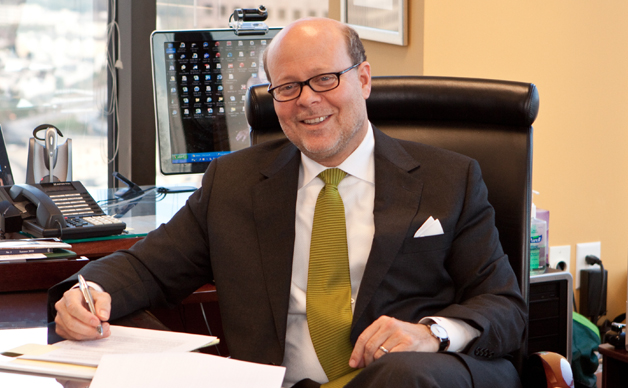 For a man who handles divorces all day, Randall Kessler 88L is surprisingly good at relationships. In fact, it's what his firm is founded on. Just ask Nancy Miller, Kessler's paralegal and right hand since he opened his solo practice 24 years ago, when the now-glamorous suite of Kessler & Solomiany was just one small room, with barely enough space for Kessler and Miller to have a desk each.
"It was fun back then," Miller says, when she and Kessler were taking any work they could get. "We grew the firm together. And it was no accident. You don't sit next to Randy on an airplane without getting his business card. He's a networker."
When you start your own practice, you certainly have to be. Even before graduation, Kessler began surrounding himself with Emory Law self-starters like Steven Montalto 79L, whom Kessler worked for during and right after law school, and Dr. Pamela Tremayne 83L 85G (deceased), whom Kessler worked for before deciding to go solo.
"To start my own practice," Kessler says, "I talked to anybody who knew anybody who was a partner or had their own firm. Benjamin Landey 62C 65L had his own immigration firm, so I went to talk to him about whether I should open my own practice. He was in this little space with one extra office, and he said, 'Why don't you share space with us? You can pay $400 a month.' It was just happenstance, and I feel like life took me by the hand."
That's how Kessler describes much of his success — a lot of being in the right place at the right time. Once he established a reputation as a family law expert, Kessler and his firm began attracting high-profile clients, from professional athletes to some of the stars of The Real Housewives of Atlanta (Kessler even appears in several episodes). And with CNN's headquarters only a rock's throw from his office, Kessler has also been interviewed on various news shows as a legal expert.
"I'm on a lot because I'm across the street from CNN, and I always wear a suit," Kessler laughs. "The producers are comfortable with me and know I won't make them look bad."
With a growth in fame came a growth in business, and Kessler now has gained 12 attorneys and nearly 30 staff members since first opening his doors in 1991. In 2003 the firm transformed into Kessler & Solomiany when Marvin L. Solomiany 98L, another Emory Law connection and Kessler's longtime associate, became a partner.
"I don't want to say I'm successful, but if there's a secret to my success, it's because I'm a little insecure, so I've always needed people around to ask, 'Am I doing the right thing? Is this the way to handle it?'" he says. "That's why I kept hiring good lawyers, like Marvin, because otherwise I'd go crazy." 
That same investment in people has given Kessler & Solomiany a reputation for caring and sincerity, and it's what keeps bringing in clients, from the celebrities to the regular dad in crisis.
"It's nice to have the front row tickets at the game, and I get a kick when a player picks me out of the crowd and gives me a bear hug," Kessler says. "But it's not any different than when I see a mother at Kroger years later and she thanks me for being there for her when things were bad. The gratification is definitely delayed in divorce law, but when I see my clients back on their feet later down the road, and I know I was a small part of that, it makes me feel good.
This story first appeared in  Emory Lawyer  magazine. 
---
Tags