Main content
McDonald Agape Foundation Commits $1 Million to Advance Witte's Work in Christianity and Law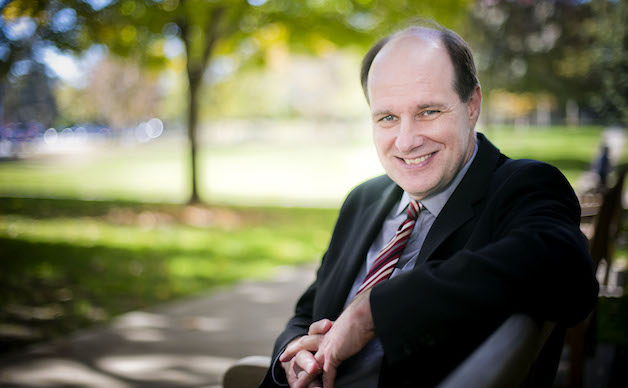 The McDonald Agape Foundation has committed $1 million to extend CSLR Director John Witte, Jr.'s McDonald Distinguished Professor of Law and Religion through 2028.  The gift will ensure the continuation of Witte's internationally renowned scholarship in law and Christianity, and a continuing a 12-year relationship between Witte and the Foundation.
The McDonald Agape Foundation encourages distinguished Christian scholars at leading global universities such as Harvard, Yale, Oxford, and Cambridge. The Foundation's goal is to, "leave a small footprint for Christ in great universities with scholars who have attained the highest levels of scholarship and represent strong models of spiritual knowledge and faith," said Ambassador Alonzo L. McDonald, Chairman. "John Witte is such a scholar, and it is a privilege to support him and his scholarship."
The Foundation's collaboration with Witte started in 2004 with a major five-year project on Christian jurisprudence. In 2006, the McDonald Distinguished Professor of Law and Religion at Emory Law was created in partnership with Witte. In 2013, the Foundation collaborated with Witte for a five-year lecture series, which brings leading scholars from around the world to Emory to tackle complex issues such as human rights, human flourishing, and human suffering.
Looking ahead, the lecture series will include a major conference at Emory on April 3 and 4, 2017 on the 500thAnniversary of the Protestant Reformation. The nine distinguished international scholars presenting at the conference will include three McDonald Distinguished Professors: Professor David Ford, Emeritus Regius Professor of Divinity at the University of Cambridge; Professor Mark Noll, Francis A. McAnaney Professor of History at the University of Notre Dame; and Professor Michael Welker, Senior Professor and Director of the Research Center for International and Interdisciplinary Theology at the University of Heidelberg.
"Our aim has always been to shine the brightest lights of faith on the hardest questions confronting religion and state," Witte said. "It has been my honor to contribute to the discourse in this important, growing field, and I am deeply gratified and humbled to be able to continue for another ten years with the McDonald Agape Foundation's generous support."
In addition to McDonald Distinguished Professor and Director of the Center for the Study of Law and Religion, Witte is Robert W. Woodruff Professor of Law, the highest honor Emory University bestows upon faculty members. A specialist in legal history, marriage law, and religious liberty, he has published 250 articles, 16 journal symposia, and 30 books. His writings have been translated into 15 languages, and he has delivered more than 350 public lectures worldwide.
The Center for the Study of Law and Religion at Emory University is the field's oldest, most recognized scholarly center. It engages 1,600 scholars worldwide and offers six advanced degrees, forty cross-listed courses, research projects, public forums, and international conferences.
---
Tags