Main content
Emory Law hosts screening, panel discussion of HBO's 'Suited' documentary featuring student Everett Arthur 17L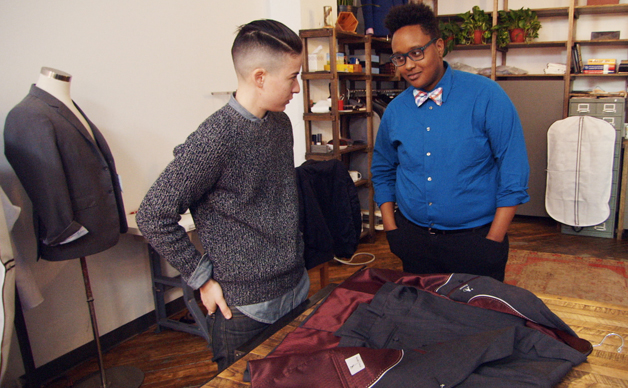 Emory University School of Law's OUTLaw group, with the university's Office of Lesbian/Gay/Bisexual/Transgender Life, is honored to host a screening of Suited, an HBO documentary featuring law student Everett Arthur 17L. A panel discussion including the documentary's director, Jason Benjamin, and cast member Rae Tutera will follow the screening on October 20 at 5 p.m. in Gambrell Hall, Tull Auditorium. Suited follows clients of Bindle & Keep, a tailoring company out of Brooklyn, New York, as they navigate the social pressures surrounding clothing in various environments. Bindle & Keep creates bespoke suits for gender non-conforming and transgender clients.
The documentary follows six clients of Bindle & Keep, including Emory's own Arthur. While he is admittedly nervous to watch the documentary with his classmates, Arthur is excited about the strides toward inclusivity that his experience has helped further. He said about the documentary being screened at Emory, "One of the only ways to effectuate change is to bring the conversation to the source. I love that Emory is working towards creating more accepting and inclusive spaces. I am still in awe of how much has changed for the better at Emory."
Tim Holbrook, professor of law and noted commenter on issues surrounding the LGBTQ community, will moderate the panel discussion that will feature Arthur along with Tutera, former apprentice at Bindle & Keep and current owner of Willoughby General, and Benjamin, who is also a producer of the documentary.
Free parking is available after 4 p.m. in Lowergate South parking deck, 1705 Lowergate Drive, Atlanta, GA.
---
Tags