Main content
Sherburne 16L named first Buchsbaum fellow
Claire Sherburne 16L has been named the first recipient of the Aaron L. Buchsbaum Fellowship, which was established in 2014 by the late Buchsbaum and his wife, Esther. The gift to the law school aligns with Aaron Buchsbaum's strong belief in public service, access to justice and equal treatment under the law. Buchsbaum, a 1954 graduate of Emory Law, had previously funded internships with Georgia Legal Services, with whom Emory Law will partner in administering the fellowship. One recent Emory Law student will be chosen every other year to receive the award.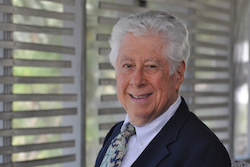 The yearlong fellowship at Georgia Legal Services represents a real grounding in the practice of law, while benefitting Georgians who cannot afford legal representation.
The job responsibilities include circuit riding to several counties to handle cases in state and federal courts; conducting legal education sessions and outreach; and participating on action teams "that explore and solve systemic issues affecting significant numbers of clients." To apply, applicants must have previous experience in working with low-income clients or on poverty law issues.
Sherburne was a member of Emory Law's Family and Child Law Society who cut her legal teeth at an internship with the Georgia Law Center for the Homeless, representing a client in a Section 8 case before the Atlanta Housing Authority. That was followed by work with the DeKalb County Juvenile Public Defender's Office and the DeKalb County Child Advocacy Center. She finished her last year of law school serving as a student attorney with Emory Law's Barton Juvenile Defender Clinic. Her work included preparing for an arson trial, representing clients and cross-examining witnesses in a school disciplinary/suspension hearing, and various motions to suppress.
As a Georgetown University undergraduate, Sherburne volunteered as a tutor in low-income school districts in the Washington, D.C., area and participated in homeless outreach.
"I came to see how issues of education, race, poverty, immigration and homelessness are closely intertwined with one another, and bound up with a disregard for the legal rights of marginalized communities," Sherburne writes. "I pursued law school with the hope that it would afford me the most effective opportunity to fight for and alongside these communities."
Preference is given to students who wish to work in Georgia Legal Services' Savannah, Ga., offices, where Buchsbaum lived and practiced for many years. During a 1967 death penalty trial, he became the first attorney to challenge racial discrimination in Georgia's grand and petit juries. On appeal, the landmark case resulted in the state having to expand jury pools from property owners to all registered voters. The end result was desegregation of state juries. Buchsbaum was president of the Legal Aid Society of Savannah and a member of the NAACP who worked locally with the American Civil Liberties Union. For 40 years he served as attorney for the local antipoverty agency, the Economic Opportunity Authority. In 1974, former Gov. Jimmy Carter appointed him to the Governor's Commission on Criminal Justice Standards and Goals. Buchsbaum passed away in 2014 at age 83.
Recruiting for the 2018 fellowship will begin in late 2017.
---
Tags