Main content
Honors and Awards
Emory's Black Law Students Association wins National Chapter of the Year
Emory University School of Law |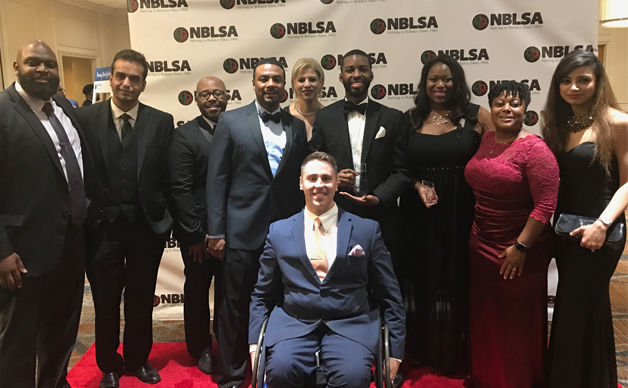 Emory's Black Law Students Association (BLSA) has, for the second consecutive year, won National Large Chapter of the Year at the 49th Annual Convention in Houston Texas. The chapter of the year award is given to three chapters: small, medium, and large for excellence in: advocacy, community service, socio-political awareness, pre-law division/alumni relations, career development, regional and national programming participation (mock trial, moot court), and international relations. 
Dion Robbins 17L, chapter president, was interviewed by a panel of National
BLSA board members, during which he talked through the legacy of the Emory Law chapter and presented a scrapbook documenting the year's events. Both the interview and the scrapbook (themed "The Road Less Traveled") were scored and compared with other large BLSA chapters such as NYU Law, George Washington Law, and Indiana University Maurer School of Law.
Robbins said that community service has been at the forefront of the BLSA journey this year. Emory BLSA has spent a significant amount of time in various service efforts, including preparing meals with Open Hands Atlanta and volunteering at the Atlanta Community Food Bank. Robbins took care to specifically highlight the chapter's service at the Ronald McDonald House of Atlanta where cancer patients and their families to stay free of charge during their treatment and recovery. "Our school is connected to a university with a teaching hospital. We thought it would make sense to commit to volunteering for an organization that focuses on treatment and healing, as well." 
Although all the chapters were excellent In their own right, Emory was able to edge out the  others because of the unique programs such as the HBCU Admissions and outreach initiative, the social advocacy protests and demonstrations, BLSA members' leadership in organizations throughout the school, and the legacy of prominent alumni and ability to attract notable civil rights icons such as US Representative John Lewis (D-Ga.) and Cornell Brooks, the CEO and president of the National Association for the Advancement of Colored People (NAACP).
Tayler Bolton 17L also received the Best Petitioner Brief for Frederick Douglas Moot Court competition out of more than 50 teams nationwide.
---
Tags