Main content
Honors and Awards
President Bill Clinton, Senator Sam Nunn 61L 62L to attend Emory Law Centennial Gala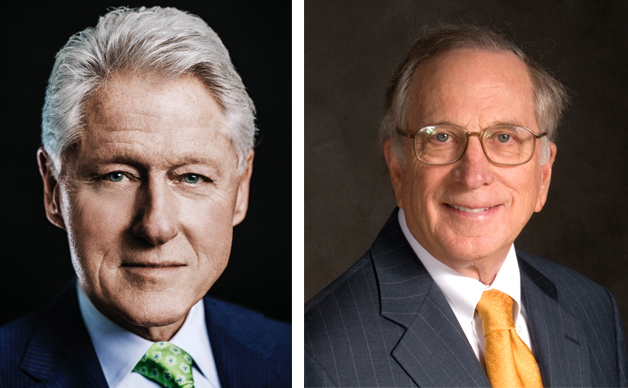 Former President Bill Clinton will deliver the keynote address at Emory University School of Law's Centennial Gala at 6:30 p.m. Saturday, April 29,in Atlanta. Former US Senator Sam Nunn 61L 62L will receive the school's Centennial Lifetime Achievement Award. 
The Centennial Gala will be a private, black-tie-optional celebration that is the culminating event after a weekend of reunion and alumni celebrations. 
Emory Law has hosted several speakers locally and across the country to commemorate its centennial. Speakers have included faculty members as well as the CEOs of Moody's, GlaxoSmithKline and MetLife; US Representative John Lewis (D-Ga.); and the president of the NAACP, Cornell Brooks, among others. Former President Jimmy Carter, University Distinguished Professor at Emory, joined that roster April 6 as speaker at the law school's annual David J. Bederman Lecture.
Robert Schapiro, dean and Asa Griggs Candler Professor of Law, said, "Emory is honored President Clinton will join us as we celebrate advancing the rule of law for a century. For the last 100 years, Emory Law has educated and inspired some of the century's greatest legal minds and leaders like Senator Sam Nunn. We celebrate a rich history, as well as the beginning of a new century of Emory leaders who, like President Clinton and Senator Nunn, will confront global challenges head on and, in the process, advance our shared society."
The Centennial Gala event is now sold out and registration is closed. 
---
Tags