Main content
Alumni
Stombock leads Emory Law's development, alumni relations team
Emory University School of Law |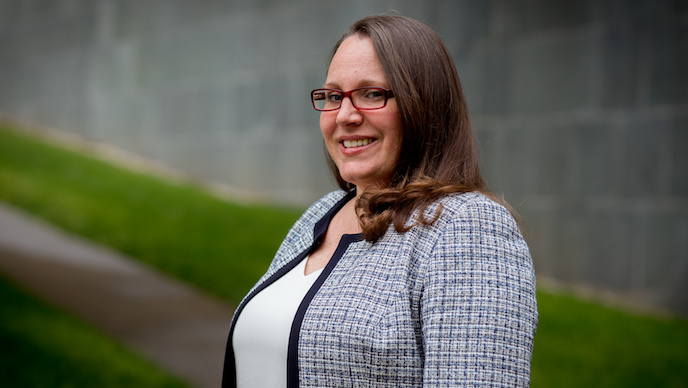 Courtney Stombock recently joined Emory Law as associate dean of development and alumni relations. She previously served as senior associate director for major gifts at the University of Cambridge in the United Kingdom. She will be a passionate champion of the law school's mission, said Emory Law Dean Robert Schapiro. 
"Courtney has 15 years of experience working with alumni, faculty, foundations, corporate donors, and other supporters of higher education in the United States and around the world," he said. "She understands the importance of these relationships, and has a demonstrated ability to succeed in advancing key academic priorities." 
Stombock was attracted to the job because Emory Law's faculty, programs and resources allow students to excel in many important fields, she says—from government, social justice, family law and global policy, to finance, transactional law and intellectual property. 
"Well-trained legal experts and interdisciplinary research are essential to preserving and protecting our rights, health and environment," Stombock says. "Working with Emory Law allows me to promote philanthropic investment in vital legal teaching and research." She is especially passionate about scholarships and access initiatives. "I believe Emory Law should be able to accept the best students in the world regardless of socioeconomic background," she said. 
Stombock spent the past three years at Cambridge, after the university recruited a worldwide team of six fundraisers to lead its academic units in the silent phase of a 10-year, £2 billion campaign. She led the School of the Humanities and Social Sciences development team, which includes the faculty of law. That team's efforts resulted in more than £47 million in philanthropic support for academic priorities during Stombock's tenure. 
Stombock is well-acquainted with the South, having begun her career at her alma mater, Mississippi State University, where she earned a bachelor's degree in economics. She later held leadership roles in development at Florida State University College of Education, the Florida State University Foundation, and the Southern Scholarship Foundation.  She received an MBA from the University of Cambridge Judge Business School. 
Stombock began work on March 29, and looks forward to meeting the law school's alumni and other friends and supporters. You may contact her at Courtney.Stombock@emory.edu.
---
Tags