Main content
Alumni
Emory Law presents annual alumni awards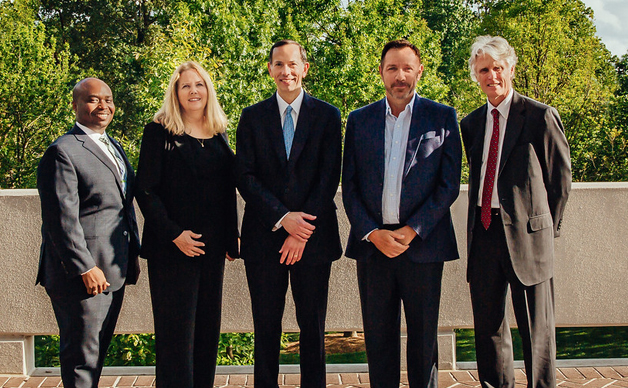 Emory Law held its annual Alumni Awards Thursday, April 27, honoring Kareem Madison 03L, Patti H. Bass 83L, Randy L. New 76C 82L, and John Latham 79L.
Madison was presented with the Young Alumni Award, which recognizes the professional and personal achievements of an alumna or alumnus who graduated within the past 15 years and has made notable leadership and service contributions to Emory Law and to the legal profession. He is a partner in Lueder, Larkin & Hunter's Tucker/Northlake office. He has been a dedicated and longtime supporter of Emory Law, serving on the Black Law Students Association Advisory Committee. He is a member of the Emory University Alumni Board and the Emory Law Alumni Board, where he is a member of the Nominations and Leadership Committee. He was the associate producer of the Hollywood Black Film Festival-winning independent film Big Ain't Bad, which he co-produced with a group of fellow Atlanta residents.
The Eléonore Raoul Trailblazer Award was presented to Bass. This award commemorates Eléonore Raoul 20L, the first woman admitted to Emory University and a national leader in the women's suffrage movement. It is given to an Emory Law alumna who has blazed a trail for others through her own professional and personal endeavors. Bass is the Founder of Bass & Associates, P.C. in Tucson, Arizona, and serves as its president and chief executive officer. She has served as an adjunct professor for Emory Law - National Institute of Trial Advocacy (NITA). Bass and her husband, Charles, endow the Bass Career Summit held each year at Emory Law.
New earned the Alumni Service Award, which honors an alumna or alumnus who has contributed significant, sustained leadership and outstanding service to the Emory Law community. New is the managing member of Kitchens New Cleghorn LLC, a firm he started with fellow classmate Joyce Kitchens. New has maintained a close relationship with Emory Law, serving as an adjunct professor in the transactional law program, on the Emory Law Advisory Board, and the Emory University Board of Visitors. He was selected by his peers as one of Georgia Trend's 2010 Legal Elite. In addition to his professional commitments, New is active in the civic life of Atlanta, having served on the boards of directors of several nonprofit entities and sponsoring community based projects ranging from politics to the arts.
Established in 1985, the Distinguished Alumni Award is given to an alumna or alumnus who embodies the values of the school and has demonstrated extraordinary achievement in the legal profession and in service to society. Latham earned this award. He is a partner at Alston & Bird in Atlanta. He counsels boards through corporate crises and internal investigations. Since 2001, John has also served as the firm's national chair or co-chair of diversity and inclusion. Latham is committed to seeing that every individual has the same opportunity to succeed as he did at Alston & Bird.
Together, Latham and his wife Sheri have created a need-based scholarship, the Latham Law Scholarship. They have also contributed to the Donna and Marvin Schwartz Center for Performing Arts. Latham was appointed to the Emory Law Advisory Board in 2017. Alumni Award winners were also recognized at the law school's centennial gala on April 29 in conjunction with the recognition of the Emory Law 100 honorees.
---
Tags