Main content
Honors and Awards
Jim Elliott 66L receives Thrower Lifetime Achievement Award from State Bar
Emory University School of Law |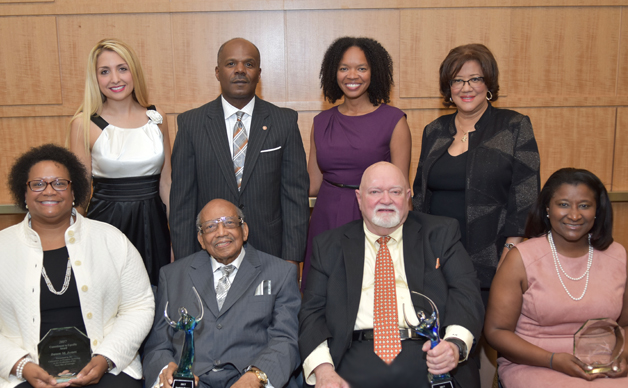 Emory Law Professor A. James Elliott has been honored by the Committee to Promote Inclusion in the Profession of the State Bar of Georgia with the Randolph Thrower Lifetime Achievement Award. At the recent Commitment to the Profession Awards, Elliot received the honor alongside other honorees Senator Leroy Johnson (Thrower Award winner), Dawn M. Jones and Hon. Willie Lovett Jr., both of whom received the Commitment to the Profession Award, Lovett receiving his posthumously.
The Randolph Thrower Award recognizes an outstanding individual who has dedicated his or her career to providing opportunities that foster a more diverse legal profession for members of underrepresented groups in Georgia. Named in honor of Randolph Thrower, a 1936 graduate of Emory Law, the award is presented to a lawyer who not only personally excels in his or her own practice, but who has demonstrated a commitment to promoting diversity in the legal profession. 
After graduating from Emory Law in 1966, Elliott practiced law in Atlanta with the firm of Alston & Bird for 28 years prior to returning to Emory. He is a past president of the State Bar of Georgia and of its Young Lawyers Division. He has served on several Supreme Court commissions dealing with professionalism and lawyer discipline. Elliott is a co-founder of Georgia's Legal Services Program, which has provided legal services to almost one million indigent Georgians, and of Georgia's mandatory IOLTA program, which has raised $100,000,000 for legal services programs and other legal charities.
He is a fellow of the American College of Real Estate Lawyers as well as the American and Georgia Bar Foundations. In 2012, Elliott received the University's Emory Williams Distinguished Teaching Award. This award goes to faculty members who foster participation, inquiry and creative expression in the classroom; provide a model for teaching and scholarship; and serve as a friend and counselor to students. 
Robert Schapiro, dean and Asa Griggs Candler Professor of Law, said of Elliott, "Jim has long been a leader in promoting diversity and inclusion.  Through his commitment to this vital goal, as well as through his lifelong dedication to providing access to justice, he represents the highest ideals of the legal profession."
Elliott teaches Legal Professionalism, Banking, and Commercial Real Estate Finance.
---
Tags