Main content
Public Interest
EPIC announces Inspiration Award winners
Emory University School of Law |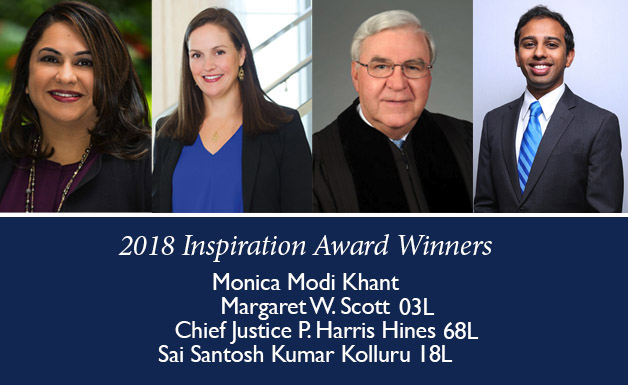 The Emory Public Interest Committee has announced the recipients of the 22nd EPIC Inspiration Awards. EPIC annually honors a student and three community members for their outstanding contributions to public service.
Unsung Devotion to Those Most in Need
Monica Modi Khant is the executive director of the Georgia Asylum and Immigration Network (GAIN), where she oversees, supervises, trains and mentors pro bono attorneys who represent immigrant victims of violence and asylum seekers. Khant received her BA from Rutgers University in 1995 and her JD from New England School of Law in 1998.  After law school, she worked as the Detention Attorney at the American Friends Service Committee (AFSC) where she represented detained asylum seekers. She also worked in private immigration firms in Boston, MA, and as director of legal services at the International Institute of Boston (IIB).  She serves on the advisory board of Raksha, a Georgia-based nonprofit organization for the South Asian community, is a graduate of Leadership Atlanta Class of 2015, and has served as pro bono liaison of the Atlanta chapter of the America Immigration Lawyers Association (AILA). Khant is also an adjunct professor at Georgia State University, teaching Human Trafficking & Modern-Day Slavery. In 2017, she was recognized as one of Atlanta Magazine's "Women Making a Mark." 
Outstanding Leadership in the Public Interest
Margaret W. Scott 03L is a partner with Alston & Bird, LLP, where she focuses on estate planning, estate settlement, trust administration, charitable planning, and exempt organizations. Scott earned her BA from Duke University in 1996 and her JD, with honors, from Emory University School of Law in 2003. Prior to law school, she worked as a speech writer and policy analyst for the US Department of Education in Washington, DC.  She has served on the Alston & Bird Pro Bono Committee since 2003 and founded Alston & Bird's Wills Program for emergency services personnel and indigent Atlantans. Scott currently serves as secretary of The Charles Loridans Foundation, secretary/treasurer of The Vasser Woolley Foundation, as a member of the board of the Chastain Park Conservancy, the Emory University Board of Visitors, and the Warren T. Jackson Elementary Education Foundation board. She served on the board of the Atlanta Volunteer Lawyers Foundation for more than 10 years. Scott is a fellow of the American College of Trusts and Estates Counsel.  She was recognized in the 2018 edition of The Best Lawyers in America in the area of Trusts and Estates, and as a Georgia Rising Star by Super Lawyers magazine.
Lifetime Commitment to Public Service
Chief Justice P. Harris Hines 68L was appointed to the Supreme Court of Georgia in 1995 by Governor Zell Miller and was sworn in as chief justice in January 2017 by Governor Nathan Deal.  Before his appointment to the Supreme Court, Chief Justice Hines served as a judge on the superior and state courts in the Cobb Judicial Circuit. An Atlanta native, he graduated from Emory University in 1965 and received his JD from Emory University School of Law in 1968.  After law school, he clerked for Judge E. A. Wright, senior judge of the Civil Court of Fulton County, and then joined the firm of Edwards, Bentley, Awtrey & Parker of Marietta, Georgia.  Chief Justice Hines is a member of the Board of Visitors of the University of Georgia School of Law, a former trustee of the Kennesaw State University Foundation, a member and past distinguished president of the Kiwanis Club of Marietta and a past distinguished Lt. Governor of the Georgia District of Kiwanis International.  He served on the inaugural board of directors of the Cobb-Marietta Girls Club and is a past president of the Cobb County YMCA. He received the Big Voice for Children Award from Voices for Georgia's Children in 2015, and in 2016 and 2017, Georgia Trend Magazine named him "One of the 100 Most Influential Georgians."  In 2017, he was recognized as one of the "Emory Law 100," graduates who have made extraordinary contributions.  Chief Justice Hines is married to the former Helen Holmes Hill and they have two children and four grandchildren.
Mark and Rebekah Wasserman Public Service Award
Sai Santosh Kumar Kolluru 18L currently serves as president of the Immigration Law Society and communications chair for the South Asian Law Students Association. Despite transferring to Emory in his second year, Sai has become an indispensable member of Emory Law School's public interest community. He is chief of staff and assistant managing editor of peer review for the Journal of Law and Religion. Kolluru has hosted a weekly Meditation & Mindfulness for the Emory Law community throughout the academic year and coordinated a clinic to support DACA students and takes the lead on all policy matters for Emory Law's IRAP chapter.  Outside of Emory, Kolluru founded Hindॐs Against Hunger to bring back the concept of food donation. He holds a bachelor's degree in mechanical engineering from Case Western Reserve University.
Honorees will receive their awards at the ceremony on Tuesday, February 6, at 7 p.m. in Tull Auditorium within Gambrell Hall at Emory Law. The EPIC Inspiration Awards dinner is open to the public. Public tickets are $50 each are available here. Students may purchase tickets for $10 and a canned good by contacting the office of the dean of public service.
The Emory Public Interest Committee (EPIC)
was founded by law students in 1988 to promote awareness and increase understanding of public interest law, encourage and facilitate the employment of Emory students in public interest legal positions, and acknowledge the professional responsibility of lawyers and law students to make legal services more accessible to those who do not have adequate representation.
---
Tags