Main content
Symposia, Colloquia, and Special Events
Supreme Court Justice Sonia Sotomayor visits Emory Law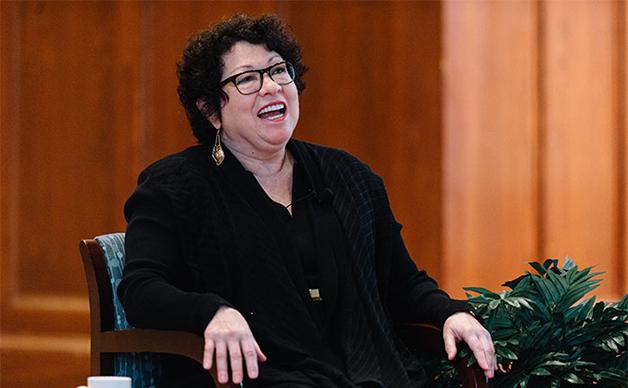 She left the dais, preferring the proximity to audience members, and succeeded in turning the imposing grandeur of Glenn Memorial Auditorium into a living room. It is rare for any speaker to be that personable — to say nothing of an associate justice of the U.S. Supreme Court being nervously watched by security personnel. But that, in a nutshell, is Sonia Sotomayor.
Nominated to the Supreme Court by President Barack Obama in 2009, Sotomayor was nominated by President George Bush to the U.S. District Court, Southern District of New York, in 1991, serving in that role from 1992 to 1998. She was a judge on the U.S. Court of Appeals for the Second Circuit from 1998 to 2009.
During her Feb. 6 visit, Emory Law Interim Dean James B. Hughes Jr. and Emory President Claire E. Sterk offered welcome messages, with the president expressing confidence that Sotomayor would help us "understand why the rule of law is more important now than it ever has been." Stefanie Angel, president of the Latin American Student Association and a beneficiary of the Sonia and Celina Sotomayor Judicial Internship Program, introduced the justice. 
As was evident in the question-and-answer session with Emory Law professor Fred Smith Jr., a constitutional law scholar who clerked for her during the October 2013 term, Sotomayor considers both her life and career to be about relationships. The crux of the law, she asserts, is "about helping people," with the role of lawyers and judges being to help us navigate, if not improve upon, our relationships with one another.
She began with the simple example of stoplights. None of us craves sitting at them, but we understand why they are necessary. "Of course, it gets more complex from there," she said. "But all of it is part of the law's beauty. Laws are made by people, for themselves. As citizens, we have an obligation to be part of these conversations."
As a Latina from the South Bronx who often felt sidelined owing to juvenile diabetes, no phase of her life brought easy answers about fitting in. At Princeton, where she earned a BA, she "felt like an alien," hearing classmates recount trips to Europe while her travel bounced between visits with relatives in Puerto Rico and Camden, New Jersey.
Perhaps as a result of the barriers, Sotomayor emerged with a strong sense of self, which is why, following her first term on the Supreme Court, she wrote her memoir, "My Beloved World." She didn't want, as she described it, to "lose Sonia." And she was determined to restore a sense of humility perhaps at risk from the many giant steps she had taken up life's ladder. 
"I am not self-made," she insisted. "All of us have people who support and guide us. I wanted the book to capture that, to pay tribute to those critical in my life."
Even today, as the object of so much admiration, a full sense of belonging still eludes her. But that's okay. As she says, "I may not belong 100 percent, but I'm there." She laughs at some ways she is out of step. Her fellow justices adore opera; she likes jazz. 
And even with her presence among them, diversity on the highest court remains a work in progress: for instance, every justice still hails from the Ivy League, and their faith traditions remain narrow.
But while change comes slowly to a body with life terms, it is clear that Sotomayor takes pride in the institution of which she is now a part. "The Supreme Court," she noted, "explains fully our every decision. We are the only branch that does that. Most people react to our outcomes.
"Next time you don't like something the Supreme Court has done," she concluded with a wink, "read our opinions first."
This article originally appeared in Emory Report. 
---
Tags