Main content
Students
Beyond rank and file: New journal editor-in-chief Song 19L finds familiar camaraderie at Emory Law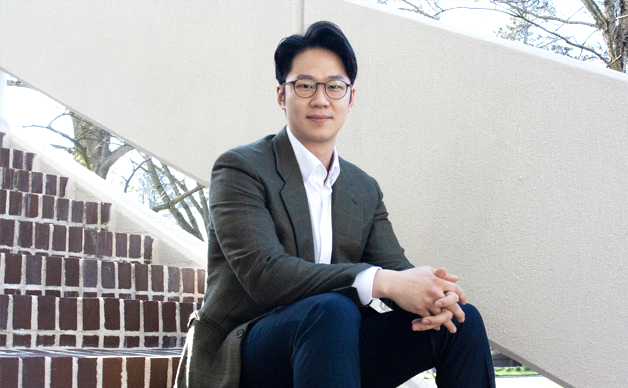 Shoulder-to-shoulder. That's how Kiyong Song was accustomed to working. Five years ago, those shoulders belonged to his fellow soldiers in the Republic of Korea attached to the US 8th Army, 2d Infantry Division. He was in charge of personal and professional development of Korean personnel assigned to the division, counseling and mentoring young soldiers.
He began his military career. "Serving in the military was like going to another educational institution. It was an obvious next move in my life. I decided that the military would be my graduate school," he explained.
But he knew that he could help in other ways, too. He began considering a legal career.  Song studied for the LSAT and completed applications while doing his military service, and Song was accepted into several law schools within the United States. Ethan Rosenzweig 02L, dean of admission, financial aid, and student life, along with Robert Schapiro, then dean of the law school and Asa Griggs Candler Professor of Law, had planned a visit to Korea that would allow Song to check out Emory University School of Law – one of the schools that offered him acceptance. But Song would be coming in from a field assignment that day and declined the offer. It was Rosenzweig's handwritten note and persistence that made him change his mind.
At the meeting, he listened to what the Emory Law envoys had to say, taking it all with "a grain of salt." He said, "They were talking about their own school, so I listened less to what they were saying and paid more attention to how they were saying it. It was the sincerity that convinced me to consider Emory." Not easily convinced, Song explained that he was looking for some very particular things in a school – and that he wouldn't compromise on any of them: proactive people who are genuine in their interests, passionate individuals who are self-aware, and a community that would appreciate and celebrate diversity.
Song chose Emory. And, now that he's part of the Emory community, he is most interested in bankruptcy and criminal law. These interests were informed by his childhood experiences of coming to the states after the Asian financial crisis of the late '90s and growing up around young people whose only constant was street life. The overlap between bankruptcy and criminal law is the ability to give people a second chance when they deserve it, he said. "And I'm willing to do that." 
Song started by joining the National Security & Military Law Society, the International Law Society, the Asian Pacific American Law Students Association, and, eventually, the Emory International Law Review (EILR). Before joining the journal, he talked to everyone he could – former journal editors and participants, people who decided not to affiliate with a journal, and current journal members. He knew that legal writing was a deficiency of his, and he thought that being on a journal could help him improve upon it. He entered the write-on competition and was offered a spot on the journal that meant the most to him. Now, he prepares for his role as EILR's editor-in-chief for the 2018-2019 school year. 
"I have found that there is a great deal of peer-to-peer mentorship within the journals – but it's not hierarchical. It's shoulder-to-shoulder. I've been there before," he says. "We're telling each other, 'Let me make sure you don't fail. My failures will be your blueprint for success.' That's the journal environment. I also think that's Emory Law."
---
Tags