Main content
Honors and Awards
Emory's Fineman wins Albany Law School's Miriam M. Netter '72 Stoneman Award
Emory University School of Law |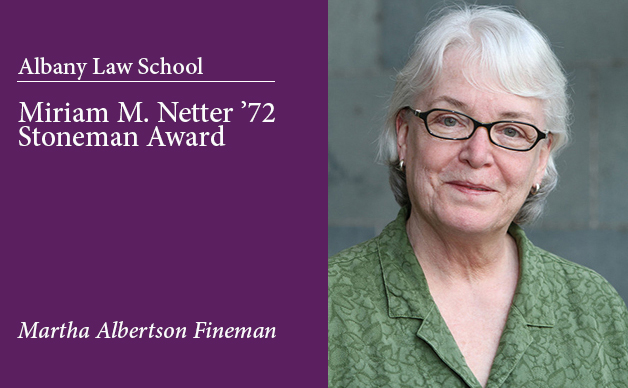 Emory Law Professor Martha Albertson Fineman, founding director of the Vulnerability and the Human Condition Initiative and of the Feminism and Legal Theory (FLT) Project at Emory University, recently received the Miriam M. Netter '72 Stoneman Award from Albany Law School in recognition of her efforts to expand opportunities for women. Last year's honoree was Hon. Sonia Sotomayor, associate justice of the Supreme Court of the United States. 
The Kate Stoneman Awards are given to individuals in the legal profession who have demonstrated a commitment to seeki​ng change and expanding opportunities for women.​​
Fineman is a Robert W. Woodruff Professor. An internationally recognized law and society scholar, she is a leading authority on family law and feminist jurisprudence. Her scholarly interests are the legal regulation of family and intimacy and the legal implications of universal dependency and vulnerability. Fineman has received awards for her writing and teaching, and her courses and seminars include family law, feminist jurisprudence, law and sexuality, and reproductive issues. 
---
Tags