Main content
Honors and Awards
Emory Law third-year student O'Carroll wins national writing award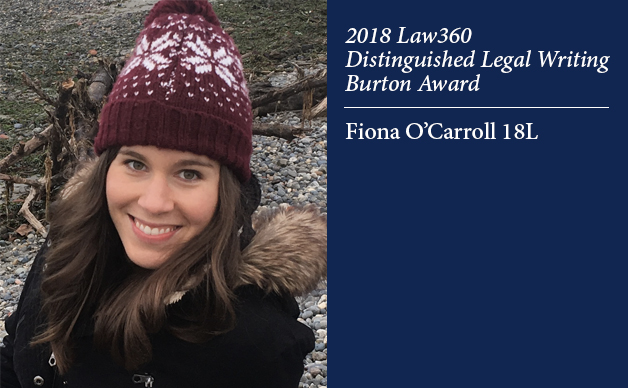 Fiona O'Carroll 18L has been named a 2018 Law360 Distinguished Legal Writing Burton Award winner, an honor given to only 15 people for articles submitted by the nation's top law schools. O'Carroll won with her comment entitled "Inherently Governmental:  A Legal Argument for Ending Private Federal Prisons and Detention Centers." She will receive the award on May 21 at the Library of Congress.
 
Professor Deborah Dinner, who chairs Emory Law's Colloquium and Scholarship Committee, said, "We nominated Fiona's note because of its lucid writing, deep research, elegant and clear analysis, and topical importance. This is a fabulous personal achievement and also a great honor for the law school."
Professor Alexander "Sasha" Volokh, O'Carroll's comment advisor, said, "Fiona's comment was a complicated topic involving statutes and regulations, but Fiona soon wrapped her mind around it and got hard at work researching. When Deputy Attorney General Sally Yates unexpectedly announced in August 2016 that the Bureau of Prisons would wind down its private prison contracting, we were concerned that the topic might become moot. Then Jeff Sessions rescinded the Yates memo, and Fiona's topic became more relevant than ever. At the end of that roller coaster ride, Fiona did a spectacular job explaining a complicated area and making it interesting."
 
O'Carroll graduated from Emory College in 2014 and earned a master's degree in modern history from the University of St. Andrews. During her time in law school, Fiona has worked as a student attorney in the Turner Environmental Law Clinic, interned twice in federal district court, assisted other students as a Dean's Teaching Fellow, and served as executive notes & comments editor for The Emory Law Journal. She has also served as president of the International Refugee Assistance Project, which was selected as a recipient of the Graduate Organization of the Year Award by Emory's Office of Student Involvement, Leadership and Transitions. After graduation, O'Carroll plans to work as a law clerk to a Second Circuit Court of Appeals judge and then return to Atlanta to join the Litigation & Trial Practice Group at Alston & Bird.
 
The Burton Awards is a non-profit program, run in association with the Library of Congress. It is presented by lead sponsor Law360 and co-sponsored by the American Bar Association. The program, celebrating its nineteenth anniversary, is dedicated to rewarding achievements in law, with a special emphasis on writing and reform. The award winners are selected by judges and law school professors, including professors from Harvard Law School, Stanford Law School, and UC Berkeley Law School. An Emory Law student last won the award in 2012.  
---
Tags