Main content
Students
At Emory, juris doctor student finds confidence to embrace excellence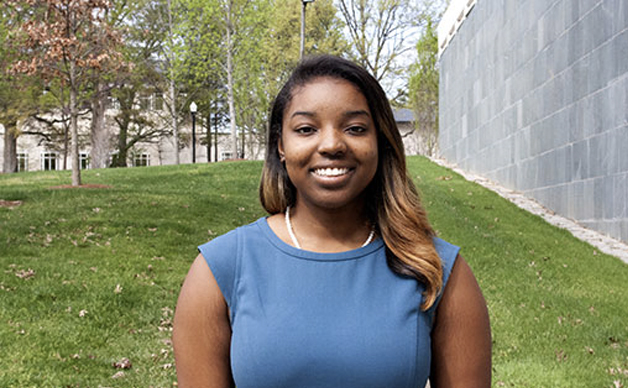 Ten-year-old Victoria Sparks didn't know exactly what she wanted to be when she grew up, but it was between Supreme Court justice and cardiothoracic surgeon. Or, if you caught her on another day in which she had searched the Internet for professions with impressive-sounding names, she might have given a different answer. If the job title dazzled the adults, she committed it to memory.
Ever since she was a child, Sparks feared mediocrity. She says she was never content with not being great. Years later, Sparks 18L is graduating from Emory University School of Law with a juris doctor and a position at a law firm in the pipeline — an enviable accomplishment, even for a girl who was in no danger of ever being mediocre.
Sparks' mother is an attorney, but that initially did nothing to sway the younger Sparks toward the profession. As a child, she assumed that all lawyers did was paperwork. Her mother, the high school mock trial coach, had her attend a practice and serve as a witness. It piqued her interest, so, as usual, she went all-in. She attended law camp the summer after 10th grade and continued doing mock trial competitions in college. 
"I liked the intellectual challenge it gave me, having to grapple with complex legal issues and reason my way in and out of predicaments," she says.
Her freshman year, she went to a competition at which her competition was so cutthroat she decided she wanted no parts of the law after all. She turned her focus to numbers. 
After an education in economics and a corresponding pre-PhD program, she planned to move forward in a related career — but Eric Garner was tragically killed by a police chokehold while selling cigarettes outside a convenience store. Protests proliferated on her college campus.
Devastated by the news surrounding this fatal arrest-gone-wrong, Sparks considered how she could participate in the fight against police brutality. That's when she recognized the true potential attorneys possess. She took the LSAT and decided to apply to law schools. 
After a short time at Emory, Sparks developed an interest in real estate law, but was conflicted, fighting a feeling that she'd be a "sell out" for not helping communities of color by becoming a civil rights attorney.
It was a conversation with Emory Law professor and civil rights icon Kathleen Cleaver that changed her mind: "She helped me see that I can do civil rights work in other ways. I wouldn't be a Black Panther like she was, but I could do pro bono work, make a living, and still serve the community that I love so much."
In Sparks' last year at Emory, another icon would confirm that sentiment. United States Supreme Court Associate Justice Sonia Sotomayor visited Emory Law in February 2018, and Sparks was unexpectedly seated next to her at a private brunch that preceded her public talk.
"She asked questions about my interests and told me that I could still help people of color without committing to only doing civil rights law," she recalls. "Hands down, it is a moment I will never forget; it was the capstone on my career here."
Embracing excellence
Sparks, who has accepted a job as an associate with Atlanta's Eversheds Sutherland, accomplished so much while at Emory: symposium editor for Emory International Law Review, president of Emory Black Law Students Association, and recipient of the Delores P. Eldridge Commitment to Diversity Award and the Excellence in Leadership Award in 2017. It was never her intent, though, to be top of her class. She wanted to experience law school deeply, and she believed that would preclude her from being number one — and she was OK with that. She was not OK with being average though, and, without doubt, she is not.
Ethan Rosenzweig, senior assistant dean for Admission, Financial Aid, and Student Life, agrees: "Victoria personifies our aspirations for the Emory Law student experience. She arrived with a broad idea of how she could use her gifts to better the legal field. 
"By engaging with development opportunities, she learned how to sharpen her natural skillset to produce tangible results," Rosenzweig continues. "Victoria is leaving a strong legacy that our newest students are eager to continue, and for that, Emory Law will be forever grateful."
And she has her own takeaways: "The biggest lesson I learned being here? Don't run from the excellence others see in you. Before Emory, I would never have done the things I've done here. I didn't think I was worthy. It took others seeing things in me and pushing me. At Emory, I got my stride. I found my confidence."
Her mother couldn't be prouder.
"Recently, my mom said that I did everything she wishes she'd known to do," Sparks says. "My mom will hood me at the ceremony. She got emotional when I told her. It is beautiful for me to see things come full circle. She's my biggest fan."
---
Tags