Main content
Students
Open House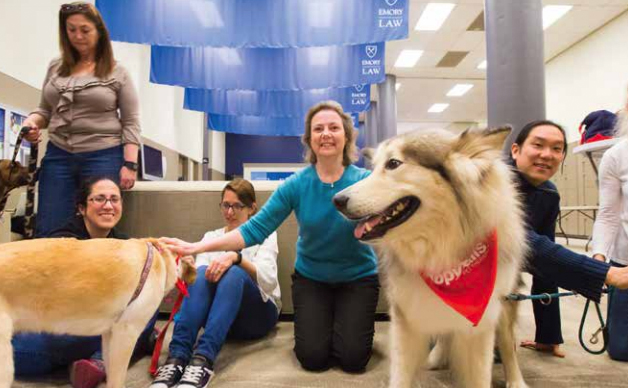 Emory Law's Houses Program owns a philosophy which, at first blush, seems contrary to the general competitiveness inherent in law school — one in which law students are advocates for each other rather than adversaries. Started in 2013 by Katherine Brokaw, assistant dean for academic engagement and student success, it's a rare law school program that operates under the assumption that resilience through mutual support is the recipe for success. Through the program, more seasoned students, along with faculty and staff, help advise students both on the traditional requirements for the law degree and on the skills required to finish the marathon of earning the law degree.
"Legal education is set up in a way that puts law students in competition with each other, especially for grades," Brokaw says. "But there's a key problem with that way of thinking if it pervades all their interactions. I tell students, 'It's your peer group who may be the ones who come through when you really need it — throughout your career, for many years after you graduate. You need to build strong relationships with each other.' Houses are meant to help them do that."
Of course, they'll first have to get through law school. And the Houses program seeks to help with that, too. Houses are "learning communities," designed to support students' learning in and out of the classroom, in addition to supporting their well-being, which is known to improve academic success. Membership is based on the required legal writing classes, which are the only first-year courses that meet together both semesters and are small in size; transfer students and LLM  students are randomly assigned to existing Houses. The Houses are named for various Atlanta neighborhoods and are designed to include in each students with a diverse array of backgrounds, interests, and undergraduate colleges. 
House keeping
House activities run the gamut from icebreakers such as meet-and-greets to social breaks like movie nights and exam study breaks. One popular highlight occurs during Welcome Week, when students are involved in bonding through friendly competition. "The Amazing Race" pits House against House in a timed scavenger hunt. "Many students found their closest friends for law school through the race," Brokaw says. "Instead of starting off with anxiety, they get a chance to begin their experience here in a team setting that promotes collaboration and mutual support." Houses are also the basis for the breakout groups in that week's Professionalism Program, when students are introduced to legal ethics.
Another standout House program, "Real Talk with an Attorney" saw 10 attorneys of diverse practice areas, backgrounds, and career levels share their wisdom about law school and law careers last spring. Sponsored by two Houses, it won a coveted American Bar Association Award for Diversity, Law Student Division.
Each of the seven houses comprises two House coordinators, a Dean's Teaching Fellow, and a few associated faculty. The Dean's Teaching Fellows program, which creates a cadre of high-performing students to help mentor their peers, celebrates its tenth anniversary this academic year. "The House coordinators are similar to social directors, working hard to create events students will be enthusiastic about," Brokaw explains. "Dean's Teaching Fellows are like academic coaches who can help students with things such as outlining or working with them on practice questions and exam preparation."
Her colleagues Jennifer Geada Fernandez 03L and Sei Yoshioka-Cefalo manage the Dean's Teaching Fellows and the House Coordinators, respectively, in addition to their other duties. Geada Fernandez had many of the same courses and professors as today's students; with her years of practicing law in Atlanta, that makes her a valuable link for students between their learning and the careers they hope to have in the legal profession. 
Structural support
Samuel Steele McLelland 19L, for one, found the Houses philosophy nothing less than vital when he was a 1L. "My first year was one of the most transformative years of my life," he recalls. "From getting back into the academic sphere after taking time off, to dealing with the rigor of law school generally, and dealing with the passing of my grandmothers, my friends in Decatur House were there to support me. I do not how I would have survived 1L year without the great friends I made. 
But not only does the program provide support directly, it is even a vital aid to the law school's counselor. "With so many students here, it would be impossible for me to keep an eye on all of them on my own," says Yoshioka-Cefalo, associate director for student support. "But, with House leaders, they can keep me informed of when someone is having difficulties." When it comes to students' well-being, Yoshioka-Cefalo plays a unique role among law school staff. In the past, law schools would refer students to counselors at the main university for assistance. They still do, but with a licensed professional counselor on site, Emory Law is able to offer the intermediate step of providing a trained professional in the building who can assess a student's needs.
"It's difficult to get law students to go across campus to a different facility — partly because of their time pressures. They can talk with Sei and together decide if there is a need for further intervention," Brokaw explains.
The Houses Program, now in its fifth year, banks on the support students can provide each other when they share a common goal. In fact, it's a tribute that McLelland still finds the program offering him reinforcement as he supports others in the role of House coordinator this year. He notes, "Watching students grow and learn inside and outside the classroom has kept me grounded in what truly matters during this hectic 2L year — that we have to look out for each other, and we have to pull people up as we climb."
---
Tags