Main content
Alumni
Going International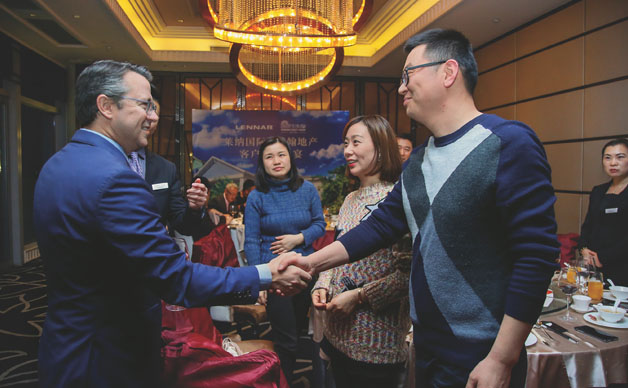 Are you an alum working in the international arena? Tell us what you're doing at lawcommunications@emory.edu. 
The practice of law in the international sphere often presents challenges unique to this concentration. Yet, as these alumni have demonstrated throughout their careers— whether working around the globe or in immigrant communities domestically— the skills they honed and education they received at Emory Law paved their way to success.
The business of law
Chris Marlin 97L's Emory Law experiences have informed every aspect of his rise up the corporate ladder. More than two decades into his career, he still calls upon lessons learned about the way organizations of integrity work and the injection of ethics and internationalism into the practice of law to conduct business.
"I worked with The Carter Center all three years at the school of law, where I got my first real-world perspective on how globally connected we all are," says Marlin. "And I recently referenced both an article I wrote for the Emory International Law Journal and a briefing project for The Carter Center when discussing Rwandan innovation in drone technology governance with the World Economic Forum in Geneva. I call upon that foundation built at Emory Law every single day." 
In the mid-2000s, Marlin was serving as deputy general counsel of litigation for Lennar Corporation (NYSE: LEN)
— the country's leading home construction and real estate firm — when the company discovered a serious defect in a common construction product.
"It was the beginning of the global financial crisis, and Lennar discovered an issue which became known as 'Chinese drywall,' " Marlin recalls. "It was a particular kind of dry- wall produced in China which contained elevated levels of elemental sulfur and, under certain circumstances, could have negative impacts on certain aspects of homes, including eroding copper in air-conditioning systems. Some people were concerned about whether health issues could arise from exposure. 
"When we discovered the issue, we took a global leadership role industry-wide, meeting with varied interests in China and in Washington, D.C., educating leaders and addressing the issue. As a result, Lennar gained a tremendous reputation worldwide for doing the right thing during what was unquestionably the most financially stressful time in the history of the company."
With the organization now in the spotlight, opportunities began to open up on a global scale. In 2013, Marlin founded and was named president of Lennar International, Lennar Corporation's international business and global engagement arm. It was the first of its kind in the US homebuilding industry and opened the door for Marlin to use his Emory Law degree and years of legal experience in a challenging new role.
"I now run a globally focused international business and represent our interests all over the world," says Marlin. "It's crucial Lennar is involved in the most critical conversations occurring globally which can impact its business, and I have had the privilege to lead Lennar International in that campaign. Recently, I attended a closed-door meeting with China's president, Xi Jinping, and other business leaders during the Boao Forum for Asia in Hainan, China; spent time at the World Economic Forum in Geneva, where Lennar is contemplating how to influence the future of housing, construction, and cities; and helped connect Lennar to the global real estate investment community at the world's largest property market in Cannes, France."
He continues, "I couldn't do my job without a strong understanding of the law. Everything we do in the international sphere is informed by both US law and the law of the jurisdiction in which we are targeting a particular business activity. My career path is a great illustration of the idea that a law career isn't limited to its practice. I've found there are many, many ways to make your Emory Law degree work for you and to honor your time at Emory, including in the world of business."
Culture and the law
For close to four decades, Gary Freed 81L has built a solid career crafting a reputation for excellence in litigation, arbitration, and mediation. Through the years, his position as partner at various firms in the greater Atlanta area has allowed him the opportunity to represent a broad spectrum of clients around the United States, including major financial institutions, real estate entities, manufacturers, judges, restaurants and entertainment establishments, and developers. 
"My work is ofttimes in what I call 'business divorce,' where you end up with disputes among owners, members, officers, etc.," Freed explains.
About eight years ago, Freed took a case that changed his life and his practice. "A new client — a Chinese business operating in Tampa, Florida — reached out to me with a problem," Freed recalls. "In this particular case, I was able to get the client a mediated resolution that was three times more than they expected."
The client was so thrilled, they set the wheels in motion that eventually would introduce Freed to his now-wife, Rui Li Freed, and they opened the door to a new focus within an extensive network of Asian-owned businesses in the United States.
"I really fell into international law," Freed explains. "After that first client, I became much more involved in Asian and Chinese matters. I had previously represented Korean businesses, but this gave me the opportunity to branch out and utilize my familiarity with Asian culture to help a new group of clients who may be approaching issues in a different way than an American business would." 
Aside from the cultural differences, Freed says his work is often challenging from a legal perspective. "With Chinese companies, you need to listen and you need to communicate well," he says. "They're new to the legal system here and often don't understand how it works and how much it costs, so it's important for me to fully explain these concepts so that we're both on the same page."
He continues, "In the Chinese culture, relationships are very important — and building trust is even more critical than it is here. I've found there often is an initial suspicion of the US legal system and of American lawyers, so it's very important to help these clients understand from the beginning that you understand their needs and are sensitive to their culture."
Although Freed's work is primarily domestic, disputes have occasionally sent him to engage counsel in China. "I think the biggest difference between the law here and the legal system there is the rule of law and, at times, the difficulties in obtaining the rule of law in China on behalf of US citizens or corporations," Freed reflects. "Sometimes you have to think outside the box to gain due process for matters against Chinese companies." 
Though Freed never expected his practice to evolve into an international concentration, he says his days in Gambrell Hall prepared him for it. "Emory Law provided an excellent education and sound training in the fundamentals of various areas of the law," Freed says. "That foundation, combined with my own abilities to fashion strategy and help clients, has allowed me to expand at every point in my career. That legal training — the nuts and bolts of the theory of law— carries through to this day."
International waters of law
In the late 1970s, Leo M. Gordon 77L was just beginning his legal career on Capitol Hill, serving as assistant counsel to the House Judiciary Committee. At the time, the United States had just completed negotiations for the Tokyo Round of the General Agreement on Tariffs and Trade (now the World Trade Organization) and in that environment of change, there were certain judicial review provisions that also needed to change in order for Congress to make the substantive legal changes needed to implement the Tokyo Round. 
"The political decision was made to take care only of those judicial review functions that were absolutely necessary as part and parcel of the substantive law changes in the Trade Agreements Act of 1979, and then to spin the rest of it out into a separate bill as well as to deal with some other issues going on in the world of customs and international trade law," Gordon recalls. "I was doing antitrust work, but one day, the chairman of the Full Committee and the general counsel handed me that spin-off project."
For the better part of the next two years, Gordon immersed himself in the world of customs and international trade law. "I learned everything I needed to know about customs and international trade law," he remembers. "I set up the hearings, drafted the legislation to effectuate the recommendations, coordinated with my opposite number on the Senate side and, at the end, we ended up with a bill called the Customs Courts Act of 1980, which created the US Court of International Trade." 
That early career highlight paved the way for the next 25 years of public service, during which time he developed his expertise in helping to implement the new structures and statutes governing the work of the court. In 2006, Gordon received an appointment to the bench, where he continues to serve with distinction.
"My work is challenging because we're dealing with challenges by private parties to administrative agency decision- making, principally by US Customs and Border Protection, the US Commerce Department, and the US International Trade Commission," Gordon explains. "International accords and decisions by international dispute resolutions and entities impact our work at the court, yet we don't interpret or apply international law. Instead, we interpret and apply US law while being cognizant of the decisions by those international dispute resolution bodies interpreting the international accords. For example, if the World Customs Organization issues an advisory ruling regarding the Harmonized Tariff Schedule (HTS), it may be brought to my attention in a particular case as something that is instructive, but it isn't binding because, as a federal judge, I am interpreting the US version of the HTS." 
Looking back on his career achievements, Gordon holds the education he received at Emory Law in high regard. "I had a really good grounding from Emory Law in legal analytics," Gordon reflects. "When you put that together with the clinical I had with the US Attorney's Office, and my summer experiences on Capitol Hill, where I learned how words matter and [about] the care and precision necessary when drafting legislation, I entered my career with good fundamentals running underneath my experience that continue to inform how I deal with cases. Customs and international trade law is something I wandered into, yet it has become my life over the last 40 years. Emory is a big part of that."
The foundation for success
Emory Law graduates can be found all over the world, from the highest offices in government to corporate compliance, real estate and investments firms, the courtroom, and in private practice, to highlight a few. Yet wherever their work takes them, the fundamentals of the law learned during their education at Emory Law provide a valuable education that helps equip them to effect global change.
---
Tags