Main content
Students
Learning Law in the Peace Palace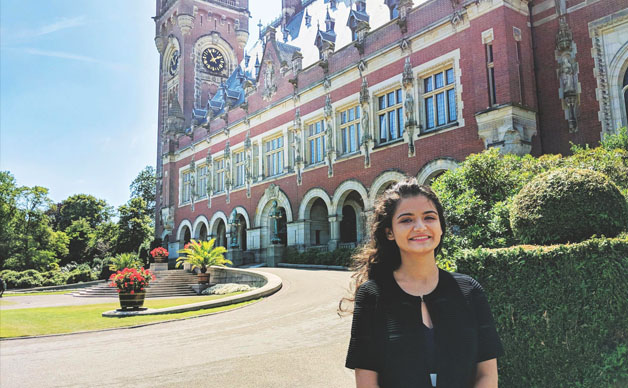 "See you in The Hague" is the type of threat one might expect in a social media screed under a politician's picture, but each year, for two Emory Law students, it is a life-changing promise.
Every summer, two David J. Bederman Fellows spend three to six weeks at the Academy of International Law in the ancient Dutch city on the North Sea coast. Fellows receive grants of $5,000 to $7,000 to cover tuition and fees, travel expenses, and living expenses in The Hague.
As the host of many human rights trials, the Dutch city evokes images of war criminals and dictators sentenced before stern-faced tribunal judges, but The Hague's centrality to international law, diplomacy, and commerce provides a profusion of learning opportunities for students interested in those fields.
And the academy's Summer Courses, first taught in 1923, are a highly coveted opportunity for those planning to pursue careers in international law. A unique institution, the academy is not a university and does not employ a permanent teaching staff. Instead, its curatorium invites diplomats, academics, and other practitioners of international law from around the world to teach and lecture each summer. There are two periods of three weeks each, one focused on public international law and the other on private international law. In addition to the weeks-long courses, there are weekly seminars along with visits to a selection of the 140 embassies that reside within The Hague.
The academy itself is housed in the Peace Palace, a grand, early-20th-centyury neo-renaissance building that also accommodates the Permanent Court of Arbitration, the Peace Palace Library of International Law, and the International Court of Justice, which serves as the United Nations' judicial arm. With so many embassies and the International Criminal Court also nearby, the academy places its students at the heart of the mechanisms of international law, with access to the people practicing at the forefront of the field. 
The fellowship is named for Emory Law Professor David J. Bederman, a renowned scholar and practitioner of international law. Aside from being one of the preeminent attorneys dealing with maritime salvage and custom law, Bederman argued four cases before the Supreme Court and helped plan the fellowship that would bear his name before his untimely passing on December 4, 2011. 
It is easy to see why a fellowship to The Hague would appeal to Professor Bederman. Attending the summer courses in 1986 as a student was transformative to him, and he eventually returned to sit for the more formal exam and was awarded the academy's prestigious diploma in 1989 as one of only 34 Americans given that award in the program's 68-year history.
"His time at the academy was critically important to not only his understanding of international law but also his commitment to it," said Lorre Cuzze, his widow. "This gave him a really broad perspective in a way that you didn't have in American Law schools, at least certainly not in 1986."
The ethos of the renowned professor, his well-known curiosity and intellect, is carried on by the students who benefit from his namesake program.
"Professor Bederman wrote about the law being able to take you places you'd never have an opportunity to experience," said 2018 fellow Daniel Bergmann 19L. "The summer before I started law school, I was working in a hair salon. To now study in The Hague — this has sent my life in a much different direction."
For Bergmann, his time at The Hague allows him to dive deeper into matters he's already studied. 
"One of the lectures is going to be on the role of the African Union in human rights law, which is what I was looking at last year when I studied in Togo. I do see what I [learned] over the summer to be applicable to what I would like to do, to be involved in international public interest. I've also [worked] this summer for Human Rights First as a national security intern. So many of the things I'll learn have a direct impact on these fields. I've done some work on the periodic review board for Guantanamo detainees also this summer and actually [observed] some Guantanamo hearings . . . in August." 
For Bhavinee Singh, a 2018 LLM graduate, her time at the academy affords the opportunity to explore aspects of international law that she hasn't been able to focus on before. 
"One class I'm really looking forward to is on the return of displaced cultural objects to the country of origin," she said. "It's something I'm really interested in. When wars happen, a lot of people are displaced and a lot of cultural objects get lost in history, and there's a whole team that is trying to return such things to the countries of origin. I want to see what goes on in this particular field. 
"I had read about Professor Bederman in law school back in India," she said as she prepared to leave for the Netherlands. "I remember reading his name, but I never knew I would eventually end up at Emory University, or go for a fellow- ship with his name on it. There was a whole discussion on custom law that really remains with me from my law school back home."
"Coming from a small place in India, I never thought this would be happening for me," she added. "The fact that I have this opportunity from the law school is just surreal."
Professor Blank sees the Bederman Fellowships as an important offering from the school. "Of course, the criteria for selection is excellence in study, but also a passion for the subject, and a sense of where they'll go with it," she said. "These students will be great ambassadors for Emory. They will bring their passion to the classroom and into engaging with other students." 
In addition to the coursework, there's a robust social calendar, including a reception at the Municipality of The Hague and even a beach party, affording the students the opportunity to get to know their colleagues from across the world. There are few better chances for students to expand their networks of relationships into the international arena than the Summer Courses at the Hague.
"The opportunity to have this fellowship is very exciting for the law school," Professor Blank said. "If we can inspire  students at Emory Law who bring a fraction of what David did, then we have made a real difference in the world."
"I think this is a remarkable way for the faculty to honor David's years at Emory. It was his academic home. He wanted the law school to be the very best," Cuzze said. "That's the way he treated his students. His commitment to the law school was long and deep. I'm especially happy about the scholarship because it's not about the present; it's about the future."
---
Tags