Main content
Honoring Supreme Court Chief Justice Harris Hines 65C 68L
Emory University School of Law |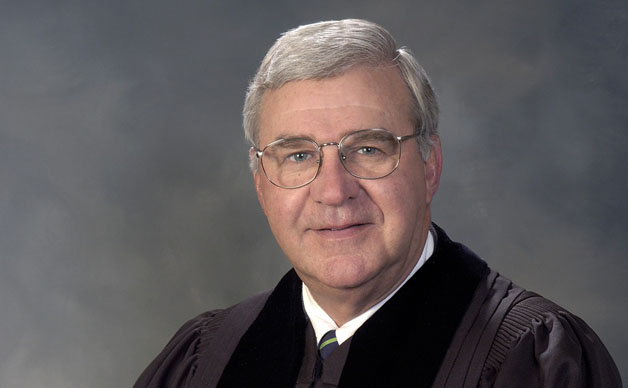 It is with incredible sadness that we announce that retired Supreme Court Justice Harris Hines 65C 68L was killed in a car crash on Sunday, November 4. 
Earlier this year, Chief Justice Hines was awarded the Lifetime Committee to Public Service Award at the annual EPIC Inspiration Awards.  He was an active alum, hosting sessions of the court at the Law School, speaking at professionalism sessions, participating in swearing-in sessions for new lawyers, and judging moot court competitions.  In 2017, he was recognized during the Law School's Centennial celebration as one of the "Emory Law 100," graduates who made extraordinary contributions to the Law School, University, or legal practice. 
An Atlanta native, he graduated from Emory University in 1965 and received his JD from Emory Law in 1968.  After law school, he clerked for Judge E. A. Wright, senior judge of the Civil Court of Fulton County, and then joined the firm of Edwards, Bentley, Awtrey & Parker of Marietta, Georgia. 
He was appointed to the Supreme Court of Georgia in 1995 by Governor Zell Miller and was sworn in as chief justice in January 2017 by Governor Nathan Deal.  He retired from the Court earlier this year.  Before his appointment to the Supreme Court, Chief Justice Hines served as a judge on the superior and state courts in the Cobb Judicial Circuit.
Chief Justice Hines was a member of the Board of Visitors of the University of Georgia School of Law, a former trustee of the Kennesaw State University Foundation, a member and past distinguished president of the Kiwanis Club of Marietta, and a past distinguished Lt. Governor of the Georgia District of Kiwanis International.  He served on the inaugural board of directors of the Cobb-Marietta Girls Club and was a past president of the Cobb County YMCA.  He received the Big Voice for Children Award from Voices for Georgia's Children in 2015, and in 2016 and 2017, Georgia Trend Magazine named him "One of the 100 Most Influential Georgians."
Chief Justice Hines was married to the former Helen Holmes Hill; they had two children and four grandchildren.
James B. Hughes Jr.
Interim Dean 
---
Tags