Main content
Honors and Awards
Emory Law receives award for its role in diversifying the legal profession
Emory University School of Law |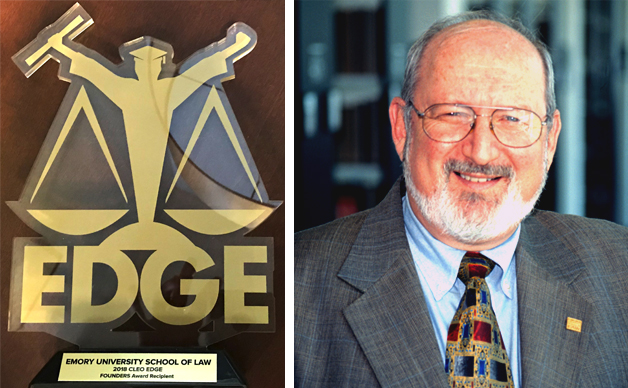 Emory Law has been recognized by the Council on Legal Education Opportunity (CLEO) with a 2018 CLEO Edge Founders' Award in honor of CLEO's 50th anniversary. One hundred fifty individuals, law schools, and legal organizations were recognized, from over 600 nominations, as having significant impact on diversifying the legal profession. Both Emory Law and Professor Emeritus Nathaniel Gozansky received awards. 
In 1961, Emory Law led the charge to admit minority law students when two Emory administrators successfully sued Georgia to overturn a discriminatory state constitutional tax provision that blocked minority students from enrolling in private schools. (See Emory v. Nash 218 Ga. 317 (1962).)  Shortly thereafter, the school enrolled its first African American students. Their careers set milestones within the Atlanta and federal judicial communities. However, while legal obstacles to admitting law students from diverse populations had diminished, economic barriers precluded many minority students from enrolling.  
In 1966 and 1967, armed with a grant from the Field Foundation, Emory Law introduced the "Pre-Start" program, CLEO's predecessor, to allow minority students to attend summer legal courses. Based on this hands-on classroom training, twelve students were admitted to Emory Law's next class. In 1968, Emory became one of four institutions to host CLEO's inaugural summer program. CLEO established its national offices in Atlanta and, shortly thereafter, Professor Nat Gozansky became its associate director. Nat not only expanded the program, he navigated the political currents that threatened CLEO's growth and future. By 1972, his and others' work led to CLEO's move to Washington, DC. 
"Emory Law's support of CLEO remains as steadfast as it was fifty years ago," said Interim Dean Jim Hughes, "We are acutely aware of the pathways CLEO provided for our first fifty years of minority alumni, which in turn expand the opportunities for our current students. We will continue to work proactively to ensure that our community exemplifies Emory's core values of diversity, inclusion, and respect."
---
Tags