Main content
Alumni
2019 Emory medalists: Adelman 89L, Hubert 60L
Emory Law and Elizabeth Cobb Durel |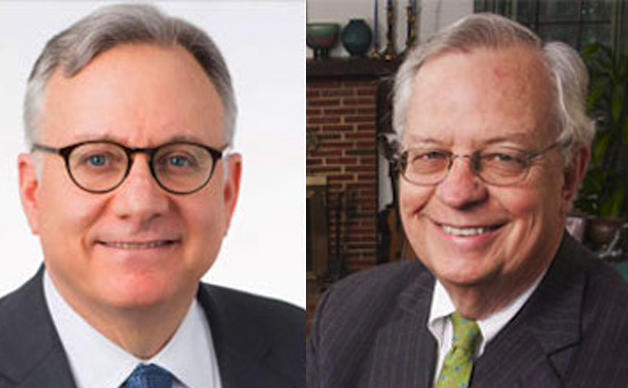 David Adelman 89L and Richard Hubert 60L, the two alumni chosen as this year's Emory Medalists, share both a global worldview and a JD from Emory Law. Adelman served as the 15th U.S. ambassador to Singapore from 2010 to 2013. Hubert demonstrated his commitment to philanthropy by establishing the Hubert Department of Global Health at the Rollins School of Public Health, the first such named department in the United States.
Prior to his unanimous confirmation as ambassador, Adelman worked in both private and public sectors. Early in his career he served as Georgia assistant attorney general, then joined Sutherland, Asbill and Brennan LLP, where he became a partner. He was elected to the Georgia Senate in 2002 and served for eight years prior to his appointment as ambassador, including as minority whip. In addition to his service on Emory Law's Alumni Board and the Emory Public Interest Committee Advisory Board, in 2017 Adelman was included among the Emory Law 100, a short list of graduates and faculty who contributed to advancing the rule of law and the legal profession during the law school's first century.
"At Emory, I was introduced to young people from all over the world," Adelman told Emory Wire. "My time at Emory really developed my world view and appreciation for the importance of the rule of law and high ethical standards." He is now a partner at Reed Smith LLP who works in New York City, Hong Kong and Singapore. He also is a member of the Council of Foreign Relations and teaches international relations at New York University as an adjunct professor.
Hubert's philanthropy began early, and is rooted in his family's commitment to feed the hungry and heal the sick. He recalled his father saying, "You're all going to have more than enough, so we should think about what we should do with the rest." Thus, the Hubert Foundation has been key to Emory's reputation as a leader in global health, through the establishment of the Hubert Department of Global Health at the Rollins School of Public Health. The foundation has also created endowment funds and fellowships.
"We intended to support the kind of health care we want to deliver to populations that otherwise would simply be without," Hubert told Emory Wire.
The O.C. Hubert Fellowships in International Health have funded the research and fieldwork of more than 700 public health students throughout the world. Their work has ranged from refugee health surveillance in Belgium and assessing disaster preparedness in the U.S. Virgin Islands, to evaluating interventions for domestic partner abuse in Nepal.
Here in Atlanta, Hubert has served as president of the Druid Hills Civic Association, and also president of the Lawyers Club of Atlanta. A high point in his community service was leading the Druid Hills community's efforts to save its Frederick Law Olmsted-designed parks on Ponce De Leon Avenue. Professionally, Hubert was recognized as one the Best Lawyers in America for eminent domain and condemnation law. 
The Emory Medal is the highest university award given to alumni. It honors distinguished service to Emory or the Emory Alumni Association, service to the community, or outstanding professional achievement. Medalists typically are recognized for their accomplishments in at least one of the following areas:
Distinguished service to Emory, the association, or a constituent alumni association
Achievement of the highest distinction in a field of learning, the arts, the professions, or public/community service
Compelling reasons why it would be particularly fitting for the Emory Alumni Association to honor the nominee
---
Tags